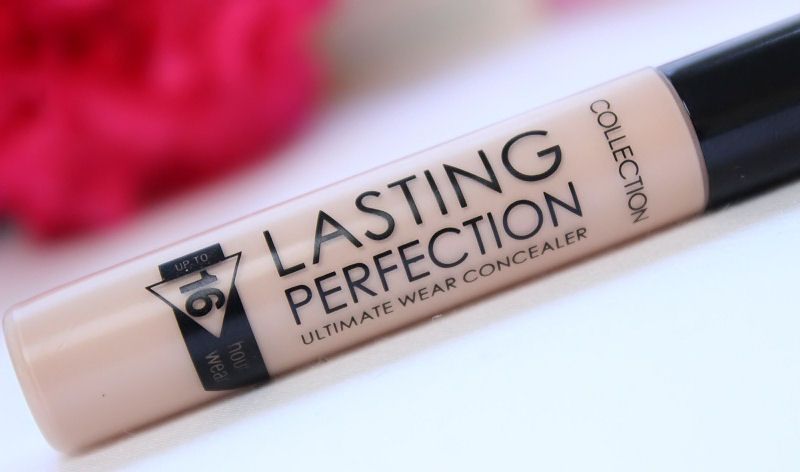 Okay, you guessed it, today's write up is on a very well known concealer in the blogging world – the Collection Lasting Perfection Concealer.

This concealer is available in four shades.  There isn't a wide variety available so you may find it difficult to find one suitable for your skin tone. The shades you can get are:

1 – Fair
2 – Light
3 – Medium
4 – Dark
The shade I use is no.2 light and I find the formulation to be thick, soft and creamy.  I find this concealer is ideal to use around my nose and to cover any blemishes rather than under my eyes because although it covers any dark circles it is a little heavy for my liking.  The Lasting Perfection concealer is very blendable and is easy to work with as it doesn't dry too quickly and isn't cakey.  I find it is best to apply it with your fingers so you warm it slightly rather than with a brush but that really is down to personal preference.. I don't like to apply any concealer with a brush. This product provides medium to full coverage and is buildable so if you have a particular area which needs more coverage you can easily cover it with another layer.  The doe foot applicator also means you can be pretty precise about where you place Lasting Perfection on your skin.
Lasting Perfection concealer claims to conceal flaws, imperfections and blemishes for up to 16 hours; transfer proof and water resistant for full and lasting coverage.  I'm afraid I would disagree with part of this claim.  Yes, this product is very good at concealing flaws etc. but it doesn't last anywhere 16 hours on it's own.  To be fair, the packaging does say 'up to' so it isn't suggesting it doesn't last less than this time.  For the best results use both primer and a setting spray, if you do this your concealer lasts soo much longer! (as well as the rest of your makeup).  However, I don't see this as a negative point because I would never need my concealer to last for 16 hours anyway.

There isn't much to say about the packaging of this product because it is very basic – just a slim line, transparent plastic tube with a black lid.  However, I feel two things should be mentioned.  Firstly, I love that this packaging really shows off the product i.e. you can see the concealer well and get a better idea of the colour and amount of product you are buying.  Secondly, the print does rub off the packaging very quickly which is a downside for the brand because if you like it and want to buy it again but can't remember the brand then you have a problem.  As you can see from the pictures in this post all of the writing on my concealer has completely disappeared and this didn't happen long after purchasing.
The Lasting Perfection Concealer is available from Boots for only £4.19.. bargain!

What is your favourite concealer? What do you think of this concealer if you have tried it?