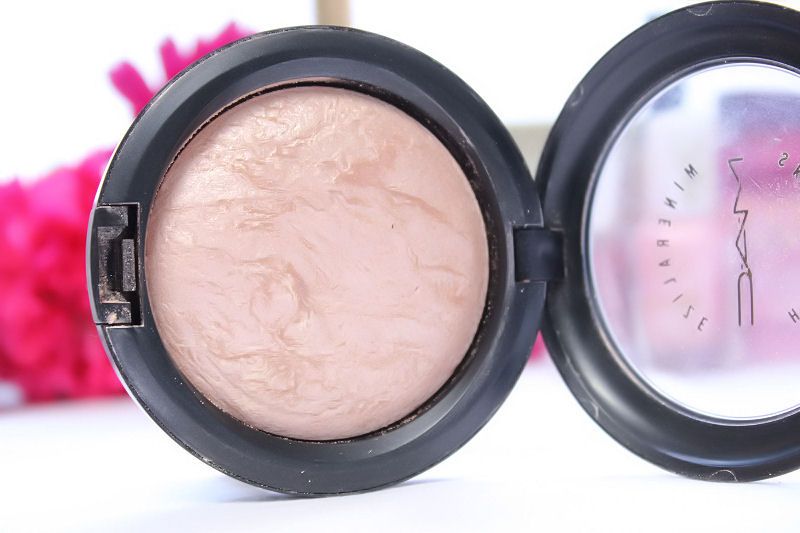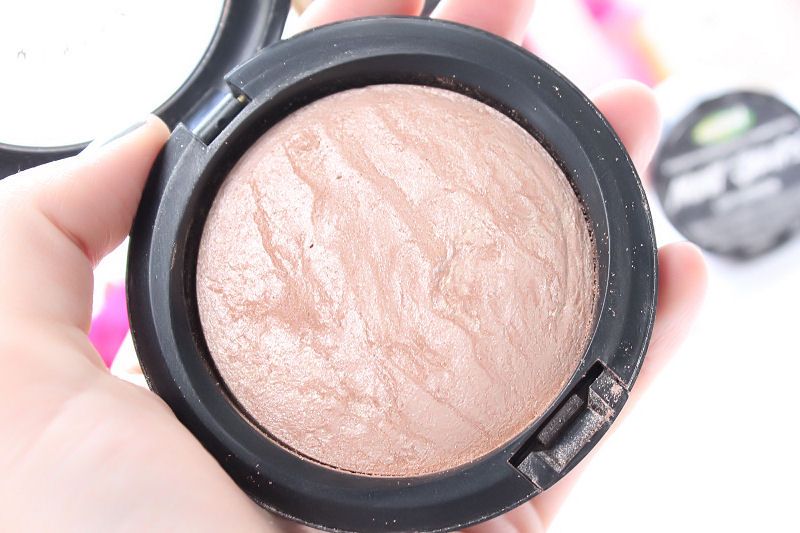 Hello Everyone! I hope you're all well.  Today I will be talking about Soft and Gentle which is a Mineralise Skin Finish (MSF) product from Mac.

This is a product I always thought was pretty but I didn't buy for a while because I kept asking myself 'Do I really need to put yet another product on my face?'. I like to have a natural look so I'm always wary of looking like I've got stacks of makeup piled on and Soft and Gentle does look very shimmery in the pan so I didn't want to end up looking like a disco ball.  Anyway, I don't really know what changed my mind about this product.. I hadn't even swatched it but something made me pop it into my basket whilst shopping online and before I knew it there it was sitting in my Muji drawers waiting to be used.

Soft and Gentle is a gorgeous soft, smooth powder highlight which looks a shimmery beige in the pan but when swatched turns into more of a champagne tone as it is very sheer.  This is quite odd to explain but the shimmer is part of the product, not an addition to it.  I guess the best way for me explaining what I mean by this is for you to imagine those eyeshadow's you buy which look great in the pan but when you swatch it the colour stays where it is and only the glitter or shimmer gets deposited.  When you swatch or apply Soft and Gentle it isn't that you're only picking up a shimmer.. it IS the shimmer.. if you get what I mean? This means that this product is smooth and isn't gritty as it doesn't have big chunks of glitter or anything in it.

Since I first applied Soft and Gentle onto my cheeks I haven't looked back.  I've had it for quite some time now and I can honestly say I have worn it every single day/evening I have done my makeup.  It gives you a gorgeous subtle glow to your cheek and brow bones which really wakens up your skin.  I also think this gorgeous champagne shade is pretty versatile so will suit a wide variety of skin tones and is buildable so if you want to wear a little more in the evening then you can. Since wearing this people have really noticed a difference and I have often had compliments on how healthy I look.

I absolutely love this product and I definitely believe it is a must have in everyone's makeup bag. The pan holds a massive 10g of product too which will easily last forever as you use so little (although you shouldn't really keep your makeup that long).

You can just about see a hint of Soft and Gentle on my cheek bones in these pics.

What is your favourite highlighter?

| Twitter || Instagram || Blog Lovin' ||  You Tube |
If you like my blog please nominate my blog for the Best New Beauty Blog.   It would really make my year and it only takes a few seconds! Click HERE!