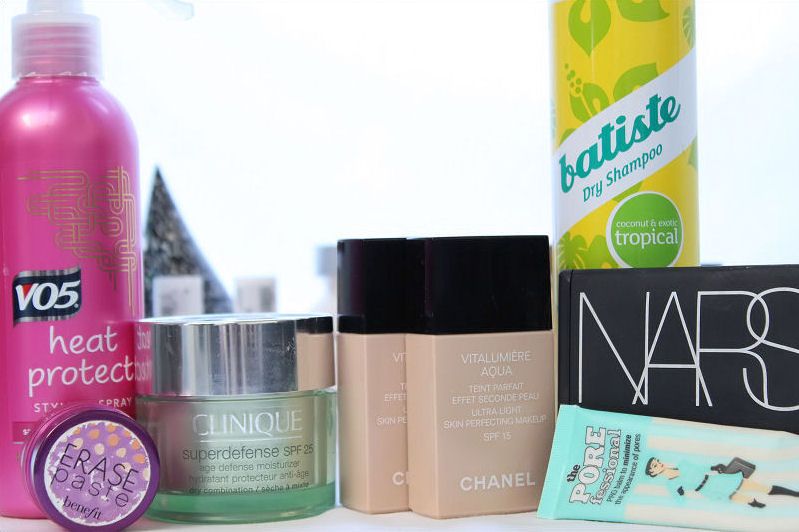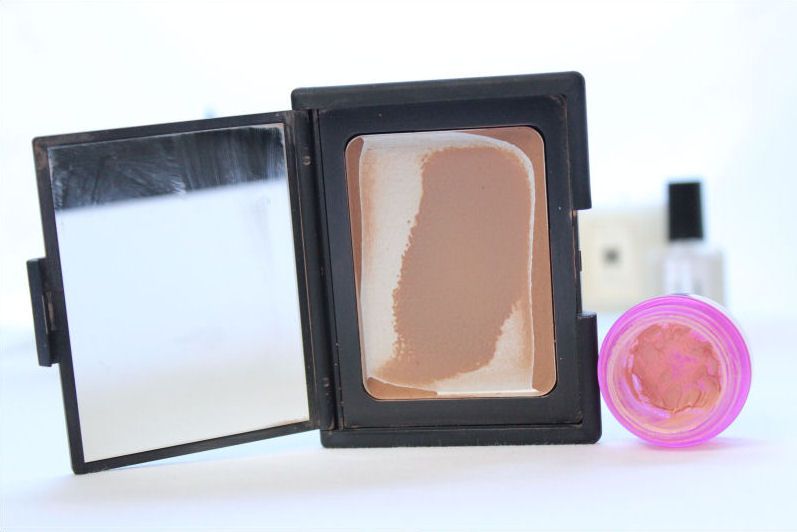 Hello Lovelies, how are you all? As I'm writing this blog post it looks like a beautiful Spring day outside which really makes a refreshing change from the dull grey skies and rain we haven't been getting lately.  The sky is a beautiful bright blue, the sun in shining and everything looks bright and green.  It makes me really want Summer to arrive soon so the temperature also warms up and I can start working on that tan I love so much.. I'm fed up of sporting the pasty look!
Today's blog post is all about products I have used up and isn't something that features on my blog very often.  This isn't because I don't use up products but instead because I am awful and remembering to save them when I have! This time around I managed to though, so without further ado let me introduce the products I have recently used up and my thoughts on each of them.
Chanel Vital Lumiere Aqua // Review // Link

I have used up not one but two of these foundations over the past few months and this is a product I would definitely purchase over and over again.  Vital Lumiere Aqua is my all time favourite foundation because it provides light coverage, blends well, is long lasting and looks very natural.  The bottles are also really misleading because they last a lot longer than you think.  I've re-purchased this twice when I thought I was nearing the bottle but in fact there were many more applications left in it which is good because this is an expensive product at £32.00
Nars Laguna Bronzer // Review // Link

  It was a sad day when I hit pan on Nars Laguna and not long after I had used up the whole product.  This is most definitely my favourite bronzer at the moment and although it is expensive at £26.00 I would definitely re-purchase it (in fact I already have!).  Laguna is a beautiful easy to wear shade whether you are pale or have a deeper olive complexion and is blends beautifully onto the skin.  I love that this bronzer gives a really natural glow to the skin and as the powder is very fine and light it doesn't ever look cakey or streaky. Nars Laguna is well known in the world of beauty and is often called a cult product which I definitely think it deserves.
Benefit Erase Paste // Review // Link

Benefit is a make-up brand a really love and the first ever product I got from there was the Benefit Erase Paste.  One of my colleagues at work kindly bought me this is a gift and I've been hooked ever since.  This tiny pot contains a thick, creamy concealer that works perfectly to cover blemishes as well as under eye circles and I would definitely re-purchase it.  Surprisingly this little pot has lasted me at least a year if not longer so even though it may been seen as a little pricey at £19.50 it has lasted me an awful long time! Erase Paste is also one of those concealers that applies beautifully whether you use your fingers or a brush but I prefer the latter as it is more hygienic.
Benefit Porefessional // Review // Link

Porefessional is not only a primer which is great for making your skin tone look more even but at looks makes your make-up last longer and reduce the size of pores.  The primer unlike so many others on the market is nude rather than a transparent gel and it can also be worn over foundation as well as under it.  I've seen people give mixed reviews of Porefessional so if you want to try it I would definitely suggest getting a sample size first but personally I love it as it works very well with my combination skin and Chanel Vitalumiere Aqua. I've already re-purchased this product in the biggest size available!

Clinque Super Defense Moisturiser // Review // Link

When I first purchased this Clinique moisturiser I really loved it and have gone through two pots but recently I noticed my face felt sore or irritated after using it.  I've felt this a little in the past on rare occasions but I didn't realise it was this moisturiser until it got much worse recently so I've had to stop using it. I'm almost at the end of my last pot and the small bit I will give to my mum to try  but needless to say due to the allergic reaction I seem to be having when I use this product I will not be repurchasing it. I'm disappointed because it hydrated my skin really well.


VO5 Heat Defense Spray // Review // Link

I have long naturally curly hair which I often use heat on to style.  Almost on a daily basis I either use my straightners or curling tongs so my poor hair has to ensure an awful lot so it's really important that I regulary use a good heat defense spray to try and keep it in the best condition possible.  A product I have used for years and keep going back to is the VO5 Heat Defense Spray because it smells good, lasts a long time, sprays evening overly my hair and most importantly protects my hair without changing it's texture.  I will definitely re-purchase this product but I've been using it for a long time now without trying any others so I am tempted to see what else the market has to offer.
Batiste Dry Shampoo // Review // Link

I've been using Batiste dry shampoo for years and my favourite in the huge range they offer is Tropical because the scent is refreshing and reminds me of holidays.  In the past I always would have said I would re-purchase this product without a second thought but the last canister I bought which was especially for brunette hair was faulty so I couldn't use it. I tried to get a refund but  Superdrug where I bought the product were extremely un-helpful as were Batiste themselves so unfortunately that experience has put me off re-purchasing.  I'm not going to say I will never go back to using this dry shampoo but for the time being I'm definitely going to try out some other brands. Are there any you would recommend?
What do you think of these products? Do you want to see more posts like this?
Check out these great blogs by my lovely advertisers:
Pink Champagne: Hoad Shoes – An Independent Little Shoe Shop  
Pink Swirl: Beky Lou, Dulcie's Beauty Blog, Bethany Worrall
Pink Pearl: MissLJBeauty, Dee's Beautiful Life, Satchels and Pearls


To advertise with Kimberley's Beauty Blog find out more info here