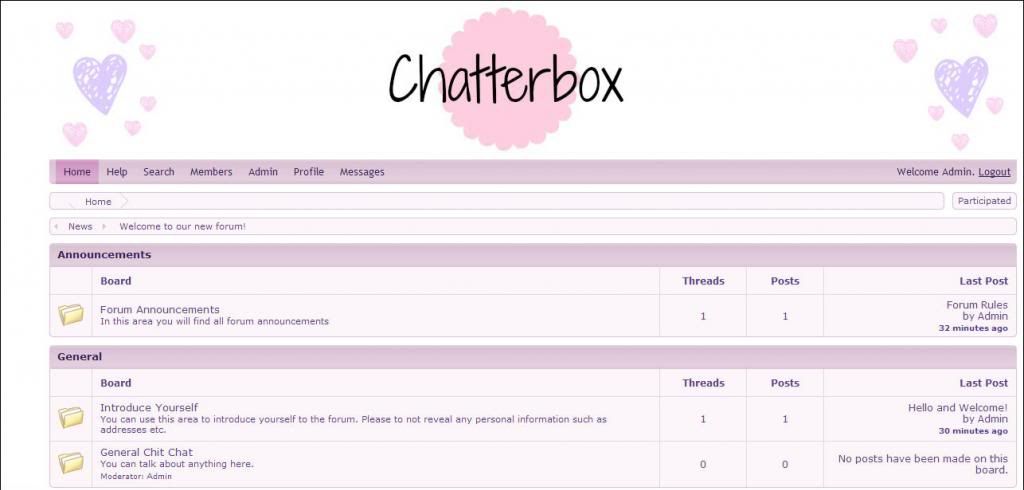 Hello Everyone!
Around an hour ago I launched my beauty and fashion forum Chatterbox. I've always had websites and when I was at school I ran a successful forum which was fun and a great place to chat to new people and share common interests.
The forum has a focus of beauty and fashion as that is what my blog is mainly about but there are also other areas where you can talk about anything you like from baking, gardening, tv, film or work. The choice is yours!
Here's a little more about the boards
– It is completely free to become a member (and quick)
– Available 24/7 to anyone in the world
– You can add pictures and videos
– You can chat about beauty, fashion, blogging, You Tube and other topics
– You can get to know new people
– You can share your blog
– You can start your own posts and threads or join in others that are already there
– You can send private messages
– There are different ranks so the more replies/posts you do the higher you go!
As it's only just started it is a little quiet at the moment but the more people that join (it takes seconds and is free) and post the more fun it will be.  So please make my day and pop by to say hello!
Join here: www.chatterbox00.boards.net
What do you think of the Chatterbox boards? Are you going to join?
| Twitter || Instagram || Blog Lovin' ||  You Tube | Forum |
 Check out these great blogs by my lovely advertisers:
Pink Champagne: Hoad Shoes – An Independent Little Shoe Shop
Pink Swirl: Beky Lou, Dulcie's Beauty Blog, Bethany Worrall
Pink Pearl: MissLJBeauty, Dee's Beautiful Life, Satchels and Pearls
To advertise with Kimberley's Beauty Blog find out more info here