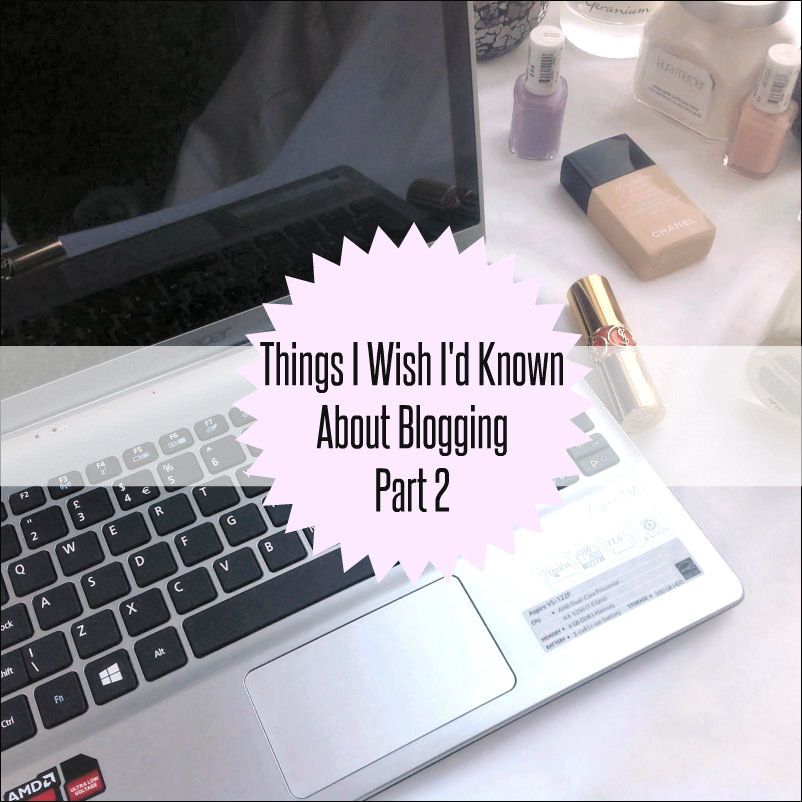 Hello Beauties! I've been blogging for 13 months now and I have learnt a huge amount along the way. It has definitely been a steep learning curve but I've loved every minute of it. Back in October I wrote a blog post named 'Things I wish I'd Known About Blogging' which was part 1 of this mini series which you can read here.  This post marks the next chapter and I hope you find it useful.
Google Analytics
When I first started blogging I thought the obvious place to find out how many people visited my blog, their locations amd my most popular pages would be to use the 'stats' tab in Blogger.  In hindsight, however, I have discovered Google Analytics is the place to be as the statistics are much more reliable and thorough.  Google Analytics is easy to set up as you simply paste tracker code onto your blog so it can log every visit and it is extremely interesting to review.
Readers & Followers

When you first start blogging it is easy to focus on the amount of readers and followers you have or haven't got and compare yourself to others.  The truth is, the beauty and fashion community is so lovely it really doesn't matter how many you have as you are treated just the same. Everyone is very friendly and whether you are taking part in a Twitter chat, commenting on other people's blog's or publishing your own posts for your readers you are part of this wonderful community and will make some great friends.. whether you 1 follower or 1000.

Editing Photo's

I'm lucky enough to have some great editing software from when I was younger playing around with graphic design.  I've been interested in websites from about 14 years old and I taught myself HTML, CSS and graphic design so I could create my own website and have it looking exactly how I want.  I still love dabbling in that from time to time and have created a couple of my blog layouts but due to my job I do find it hard to dedicate the time to re-design it very often.  

Despite having this great software, I still sometimes use the free online tools to edit my blog photo's when wanting to add a header or simple text onto a picture.  They are super easy to use and you can quickly achieve a really nice looking header for blog posts with very little effort.  These tools can also be used to enhance photo's you have in your post but I would suggest doing the absolutely bare minimum as I always think it's better to have the products in your pictures looking as natural as possible. The free online tools you can use are Pic Monkey and iPiccy.


Events and Meet Ups

When I first started blogging I didn't even know it was possible to be invited to product launches or be sent products to review  but after reading more blogs and through chats and Twitter I realised this whole other world existed and it happened very often.  

Meet ups in particular are a brilliant way to meet new bloggers and if your're shy is the perfect way to make new friends.  The meet ups are almost always hosted by a blogger and you can often hear about new meet-ups going on all around the country through Twitter.

From my experience I have found events are promoted in three ways.  Firstly, I have been contacted directly by companies to attend, secondly I've seen events pop up on Twitter (rare, but it does happen) and lastly my lovely blogging friends have been able to have a plus one so I have invited me. It is amazing to go to an event and speak first hand with people who are passionate about their products and try them.  You often see people you know there too so it's great to catch up with people.
Ad Sense

Ad Sense is another function available through Google which as the name suggests, allows you to have advertisements on your blog.  This isn't something I added until recently but it is super simple to set up if you want it on your blog.  It allows you to make a tiny amount of money per click but there are thresholds you have to reach before you actually benefit in any way so it may not be something everyone is interested in.  

There are many companies offering something similar and I have often been contacted by them but the difference with Ad Sense is that it is connected to Google which I like because it is the same location as other things I use (e.g Google Analytics), and the advertisements aren't too in your face so hopefully they don't annoy my readers

What do you think of this blog post?

Check out these great blogs by my lovely advertisers:
Pink Champagne: Hoad Shoes – An Independent Little Shoe Shop
Pink Swirl: Beky Lou, Dulcie's Beauty Blog, Bethany Worrall
Pink Pearl: MissLJBeauty, Dee's Beautiful Life, Satchels and Pearls
To advertise with Kimberley's Beauty Blog find out more info here