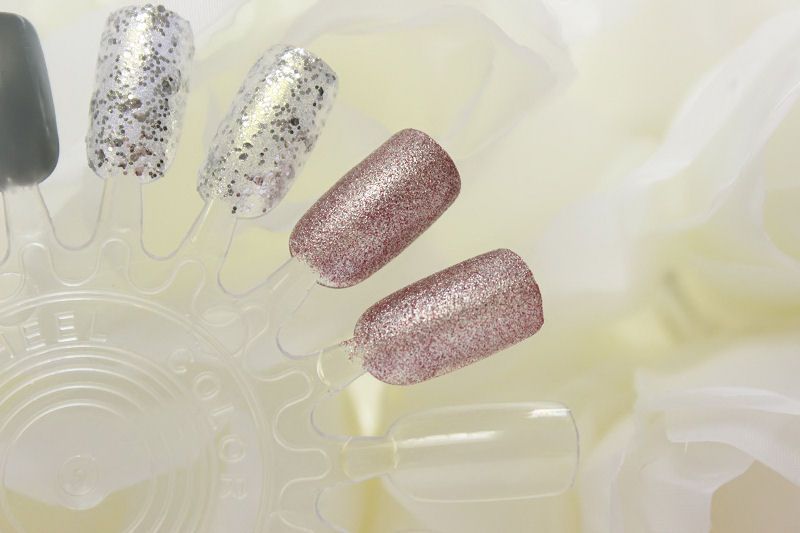 Everyone knows I love a bit a sparkle and pink so why not combine the two in a polish? I picked up Barry M Pink Silver Polish in my most recent haul and I've worn it almost every day since.  Unlike other glitter polishes in my collection, this one is very fine so it looks subtle and pretty on the nails even when you wear it on all of them rather than just on an accent nail. I also love the pretty pink shade in this polish as it isn't so pale you could call it a pastel but at the same time it isn't bright and in your face. Without doubt Pink Silver Glitter is definitely one of my favourite polishes at the moment!
Pink Silver Glitter applies beautifully and after two coats you get a gorgeous opaque finish and after a third a flawless finish.  The staying power is also pretty good as it lasted around five days before chipping, however, when it came to removing it naturally it was a nightmare as it's a glitter polish.  I seem to remember reading a trick for removing glitter polish sometime ago but I can't remember what it was now… if you know please leave a comment below as I'd be very grateful!
Priced at only £2.99 this polish is a bargain and one I will definitely be using a lot over Spring and Summer. You can buy it in your local drugstore, such as Superdrug.
For anyone who is wondering, the other polish pictured above is Essie Hors D'Oeuvres which is a very pretty silver glitter suspended in gold liquid.
What do you think of Barry M Pink Silver Glitter?

Check out these great blogs by my lovely advertisers:
Pink Champagne: Hoad Shoes – An Independent Little Shoe Shop
Pink Swirl: Beky Lou, Dulcie's Beauty Blog, Bethany Worrall
Pink Pearl: MissLJBeauty, Here Comes Clo, Satchels and Pearls
To advertise with Kimberley's Beauty Blog find out more info here