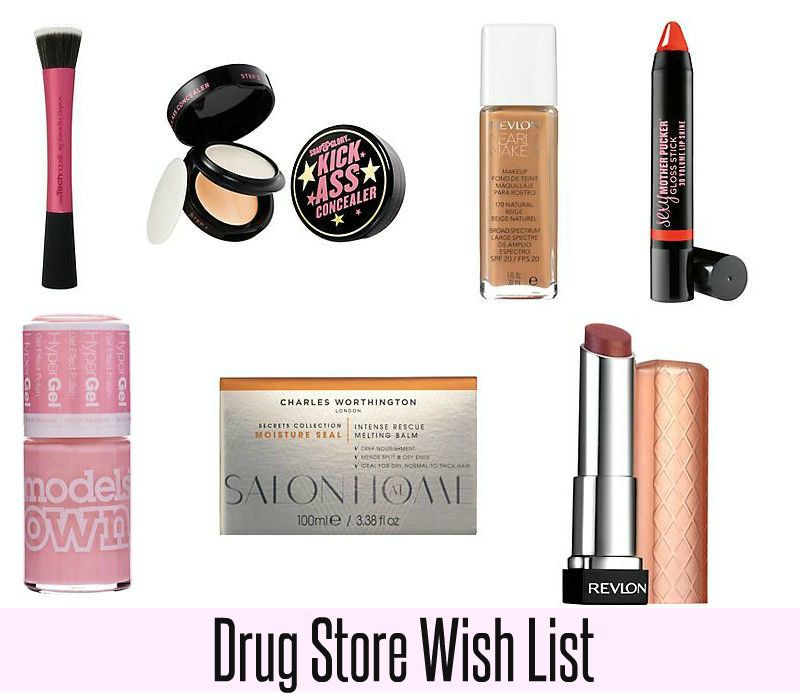 Revlon Nearly Naked Foundation | £8.99 | Link
Soap & Glory Sexy Mother Pucker Gloss Stick | £8.00 | Link
Soap and Glory Kick Ass Concealer | £10.00 | Link
Real Techniques Stippling Brush | £11.99 | Link
Charles Worthington  Moisture Seal Intense Rescue Melting Balm | £16.99 | Link
Models Own HyperGels Nail Polish | £5.00 | Link
Revlon Lip Butter | £7.99 | Link


Lately I've been featuring quite a lot of high end products on my blog so I thought it would be nice to share some of the drug store beauty products I have my eye on at the moment.  I'm not looking to buy any of these soon as I want to save my pennies and only treat myself to one or two small things a month but they are definitely products that have caught my eye and ones I would like to add to my collection sometime.

First on my list is the Real Techniques Stippling Brush as I'd like to see what it is like to apply foundation.  My favourite brush to use is the Sigma F80 which is a dense flat kabuki but I really need more than one 'go to' foundation brush in my collection because it will be much easier when it comes to cleaning.  At the moment I'm having to use a flat foundation brush or my fingers which is okay but not ideal.  From what I have seen, the Real Techniques Stippling brush has had good reviews and it is the closest brush to the F80 I have come across. Out of all the items on my wish list this is definitely the one I want to try the most.

Second on my list is the Soap and Glory Kick Ass Concealer. If I'm honest I don't actually need another concealer in my collection as I recently bought a brand new pot of Benefit Erase Paste and the Collection Lasting Perfection Concealer in a recent haul so I won't consider buying this until one of those is finished but I keep hearing so many great things about this concealer I would love to try it.  I'm a big fan of Soap and Glory and this concealer is three in one so sounds perfect for covering dark under eye circles, blemishes and keeping them in place.

The Models Own HyperGels range was recently launched and I've been seeing them popping up on blogs, Twitter and Instagram non stop since.  The colours selection are pastels from what I have seen and they all look like gorgeous colours which are perfect for Spring. They also all have a high gloss finish which I love! I have never actually tried any products from models Own either so I'm intrigued to see how they compare to my favourite nail polish brands Barry M, Essie and OPI.

Last year when the Revlon Lip Butters were launched I bought two which I loved and used regularly. One shade was Sweet Tart, a vibrant pink which is great to wear in Spring and Summer and the other a pale every day shade that sadly met a horrible end as I left it in my handbag on the floor with the underfloor heating turned on…. Oops.  I love the formulation of the Lip Butters because they are buttery, soft and moisturising so I would love to add one or two more to my collection.  The quilted packaging is also super cute!

I'm a big fan of Soap and Glory products and one of my favourites has been the Sexy Mother Pucker Gloss Stick.  I have the deep red which is Plum Jam and I love it because it has a high gloss finish, is moisturisng and the colour is buildable.  This is the perfect product for people who want to try a red lip colour but don't want anything too vibrate as you can layer it and choose how much pigmentation you want.  Unfortunately the colour selection of the Soap and Glory Gloss Sticks is small but I'd love the try the nude and pink shades.

Next on my wish list is the Revlon Nearly Naked foundation.  I'm a little dubious about trying this because I love my Chanel Vitalumiere Aqua foundation so much nothing seems to compare to it but I keep hearing really good things about this Revlon one so I've been tempted to try it for a while now!

Lastly is the Charles Worthington Melting Balm – how delicious does that sound?! I love using hair masks regularly on my hair because it is long, I don't get it cut very regularly any more and I use a lot of heat and products on it so I think it is important to give it a deep nourishing treatment.  I really like Charles Worthington products as they work well with my hair and smell amazing so I have high hopes for this one!

What do you think of my wish list?

Check out these great blogs by my lovely advertisers:
Pink Champagne: Hoad Shoes – An Independent Little Shoe Shop
Pink Swirl: Beky Lou, Dulcie's Beauty Blog, Bethany Worrall
Pink Pearl: MissLJBeauty, Here Comes Clo, Satchels and Pearls
To advertise with Kimberley's Beauty Blog find out more info here