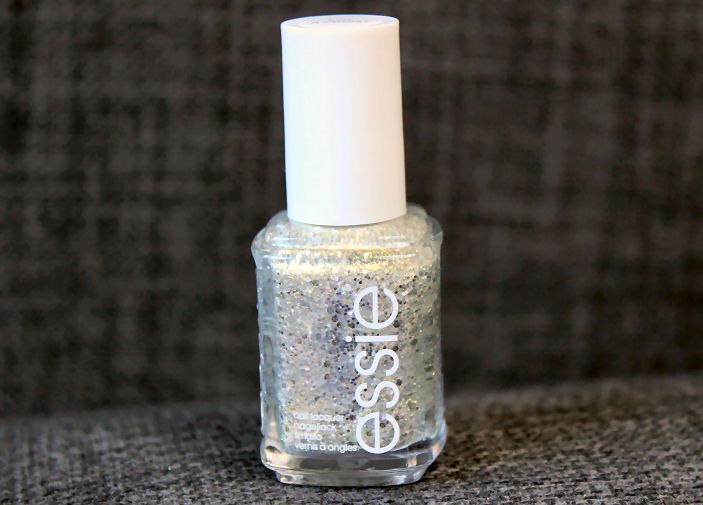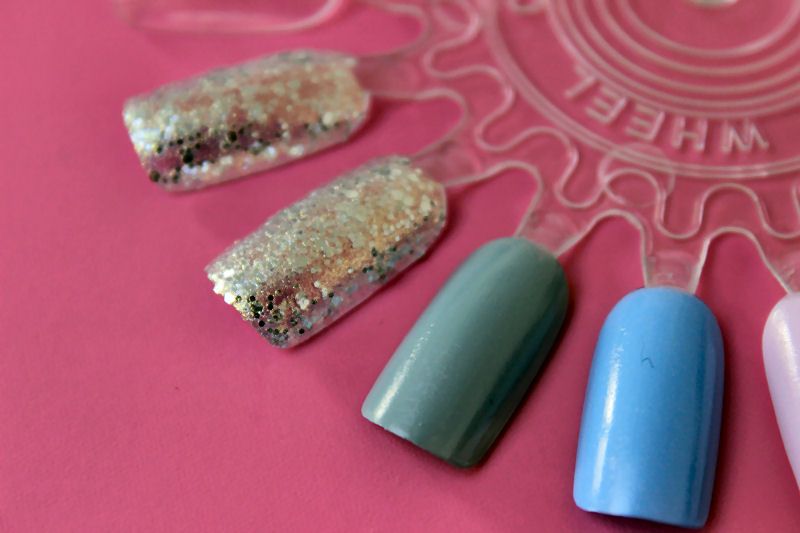 Today's post will be a short and sweet review of a super sparkly nail polish by Essie called Hors D'Oeuvres.  This polish is beautiful and I just couldn't resist buying it on my last shopping trip as well as some other glitters which also featured in my most recent haul post.
Hors D'Oeuvres is an assortment of iridescent large silver glitter suspended in a light gold liquid which very pretty layered over a different polish or built up as an accent nail.  When I last wore this polish I teamed it with Essie Maximillian Strasse Her which is a lovely duck egg blue shade and this glitter worked perfectly as an accent nail which broke up the colour. I have also seen it teamed with nude shades such as Barry M Lychee, pink, like Essie Not Just A Pretty Face and deeper shades added only the tips which also looks very nice! One of my favourite combinations is Essie Midnight Cami with Hors D'Oeuvres painted lightly on the tips.. it's very pretty!
This polish is very versatile and the formula is perfect so you can get a light coverage with one layer or an opaque finish with three.  This polish isn't as long lasting as some I have tried but I did have it on for four days before there were any signs of chipping. Naturally being a glitter this polish is also very hard to remove with normal nail remover unless you have a little patience!

I think I will get a lot of use out of this polish and I would definitely recommend you checking it out if you are into glitters.  Personally, I don't think the picture does this polish justice as it doesn't seem to pick up particularly well.
You can buy Essie Hors D'Oeuvres from Superdrug for £10.99 which is more expensive than the majority of polishes Essie polishes and for me verging on the expensive side but it is lovely.
What do you think of this sparkly polish?

Check out these great blogs by my lovely advertisers:
Pink Champagne: Hoad Shoes – An Independent Little Shoe Shop
Pink Swirl: Beky Lou, Dulcie's Beauty Blog, Bethany Worrall
Pink Pearl: MissLJBeauty, Satchels and Pearls, Here Comes Clo
To advertise with Kimberley's Beauty Blog find out more info here