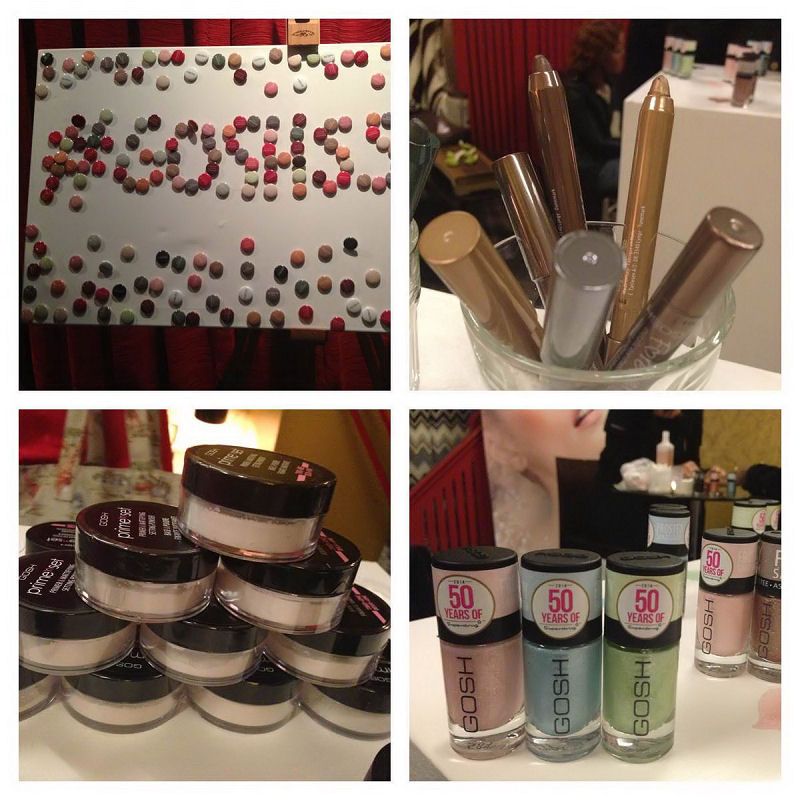 Hi Guys! Last week I attended the launch of the Spring/Summer 2014 collection for GOSH cosmetics with the lovely Rachel from Beauty Queen UK so in today's post I would like to share what we got up to.
I was really looking forward to attending this event because I hadn't actually tried any GOSH product before so I was intrigued to see what they were like and of course it's always exciting when a new range is launched.  When we arrived we were greeted by our lovely hosts as well as a glass of bubbly and quickly introduced to one of the make-up artists who was giving make overs using the new products. This gave us a really great opportunity to learn more about the products whilst having our own little make-over. 
After browsing and swatching the other products on offer we headed over to the nail area where we both had a manicure.  After taking some deliberation I decided to have a manicure with Frosted Plum which is a gorgeous deep, matte plum with specs of gold and red glitter. I've had this polish on my nails all week and a lot of people have commented on how lovely it is so this one is definitely a winner!
The GOSH Cosmetics Spring and Summer collection is full of bright and playful colours which I was very impressed with.  The collection includes eight very pigmented lipsticks in a range of colours so whether you're into nudes or brights there is something for everyone.  During my make-over they applied 'Yours Forever' which a bright red which I really like because it is a true red rather than being orange toned.  It left my lips with a beautiful shine, felt very comfortable to wear and surprisingly it stayed in place all evening.. very impressive! These lipsticks also include vitamin E and oils to protect the lips and keep them nourished.  
The new collection also includes eight lip lacquers which are a hybrid between a lipstick/stain and lip gloss. This is definitely a product you could wear on it's own or over a lipstick to give it a more glossy finish and the range includes highly pigmented colours as well as more sheer shades.  The lip laquers are enriched with vitamin E and Argan oil too so they don't dry out your lips which is great because these are products you would wear for many hours at a time.  I had the red shade 'Hot Lips' over the top of my lipstick and it finished off the look really one.  Anyone who likes to add a beautiful shine to their lips should definitely check these out.
The stand out products for me in the GOSH SS14 collection are the Forever Eyeshadow Sticks. All of the colours in this collection (eight in total) are stunning and easy to wear and I love the metallic finish they have. The formula is extremely creamy and soft so they are very easy to blend but when you stop working with the product they settle and are very long lasting. I had swatches of these eyeshadows on my hand all evening and they didn't smudge at all. In fact, it took quite a lot of effort to get them off when I got in, however, the product was removed easily from my eyes using make-up remover. These eyshadows are definitely a must see!
Next in the collection is an assortment of five nail lacquers which are all packed full of glitter but have a matte finish.  I'm not normally a fan of textured polishes but I really like these ones because they have the pretty glitter running throughout them. My favourite in the collection is Frosted Plum quickly followed by Frosted Rose.
Last but not least is a very unique product called Prime 'N Set. This is a fine white powder which can can used to set your make-up as well as a primer too. I love the idea of a two in one product and I'm really interested to see how this works and give it a try as it's so different from anything I have used before. Prime 'N Set is also said to minimise pores, fine lines, redness and imperfections
I will be doing a detailed review on each of the products from the SS14 collection so if you're interested in finding out more about them watch this space!
What do you think of the GOSH SS14 collection?

Check out these great blogs by my lovely advertisers:
Pink Champagne: Hoad Shoes – An Independent Little Shoe Shop
Pink Swirl: Beky Lou, Dulcie's Beauty Blog, Bethany Worrall
Pink Pearl: MissLJBeauty, Here Comes Clo, Satchels and Pearls
To advertise with Kimberley's Beauty Blog find out more info here