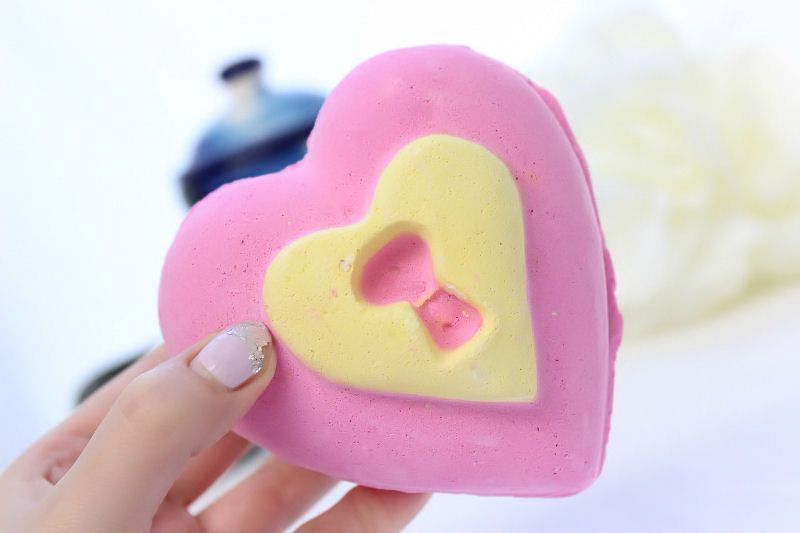 Regular readers of my blog will know I'm a big fan of Lush and my favourite products are the bath bombs.  I have a few favourites from the permanent range such as Honey Bee but I equally love the limited addition ranges which are brought out on a regular basis. These range are always so tempting because I know they won't be around for long and because the products follow a theme they always look adorable! (the Mothers Day and Easter ranges are currently out).

You may think it's a little late to do this post featuring the *Lush Love Locket which was from the Valentines range but it's so cute I couldn't resist so I hope you don't mind. Priced at £6.95 this is the most expensive bath bomb I have seen but it actually works out more economical than the standard ones as you get not one, not two but three baths from it. This is because when you crack the outta shell it reveals another bath bomb inside and so on, each equally as nice as the one before.

This bright pink love heart smells amazing too as it has a sweet yet floral scent. It's actually one of my favourite's as it's strong enough to linger for a while but at the same it isn't too overpowering… I love it!

Although this particular bath bomb isn't available at the moment, you can check out the other products Lush have on offer here.

What do you think of the Lush Love Locket?

Check out these great blogs by my lovely advertisers:
Pink Champagne: Hoad Shoes – An Independent Little Shoe Shop
Pink Swirl: Beky Lou, Dulcie's Beauty Blog, Bethany Worrall
Pink Pearl: MissLJBeauty, Here Comes Clo, Satchels and Pearls
To advertise with Kimberley's Beauty Blog find out more info here