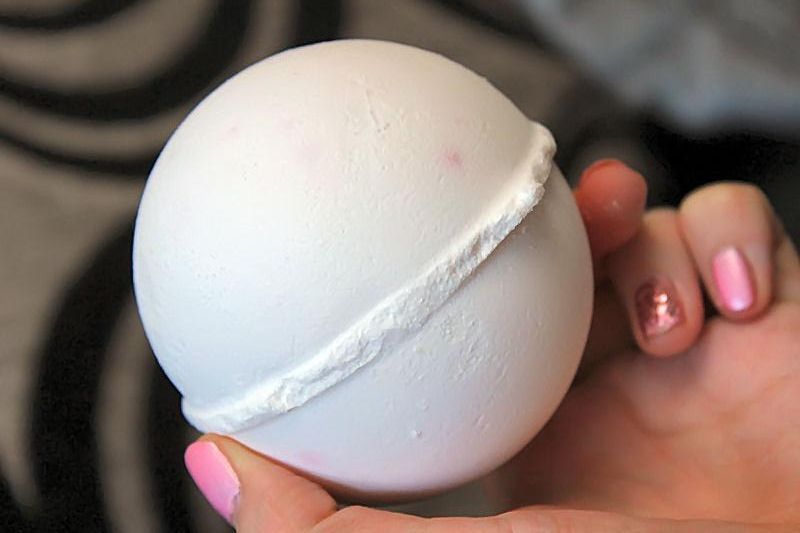 Way back in January I was lucky enough to get my hands on some Lush products in the sales (50% off whoop!) and one bath bomb I got which I had never tried before is So White. This bath bomb may not look as interesting as the others in the shop from the outside but there is a secret hidden within which turns the bath a pretty colour (that's all I'm saying so I don't spoil the surprise for anyone) so it just goes to show you shouldn't judge a book by its cover… or in this case, a bath bomb.
So White smells unlike any of the other bath bombs I have tried because it has more of a fruity fragrance than floral. The scent that fills your bathroom as it dissolves is of fresh apple with a slight musky undertone which as you can imagine is delicious! The citrus fruit oils (bergamot oil, neroli oil and orange flower absolute) are used to refresh the body and mind as well as add a beautiful shine to the hair.  I also find they leave my skin feeling soft and soothed.
It's a real shame this bath bomb isn't around all year because it would be perfect to use on Summer evenings as well as Winter nights.  To me the scent doesn't scream 'Christmas' although the white outta shell does represent pure balls of snow perfectly.  I may well have to stock up on a few more of these bath bombs when they are back on our shelves.
What do you think of So White?

Check out these great blogs by my lovely advertisers:
Pink Champagne: Hoad Shoes – An Independent Little Shoe Shop
Pink Swirl: Beky Lou, Dulcie's Beauty Blog, Bethany Worrall
Pink Pearl: MissLJBeauty, Here Comes Clo, Satchels and Pearls
To advertise with Kimberley's Beauty Blog find out more info here