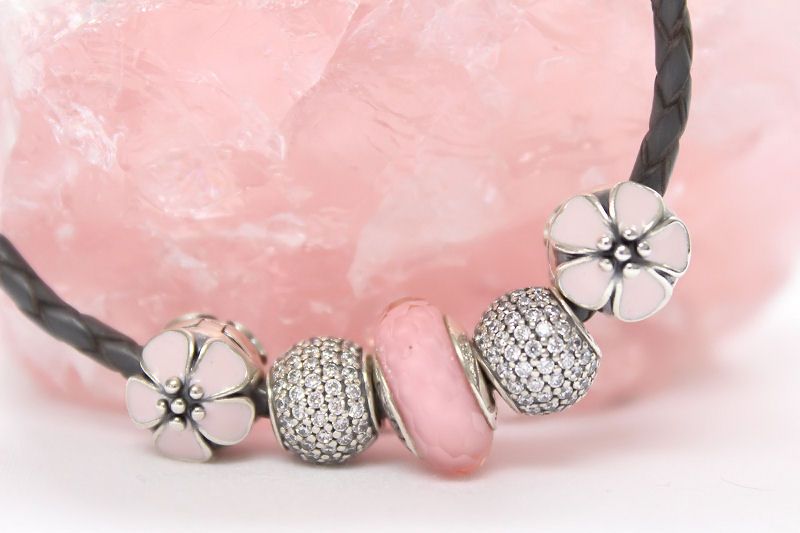 Pandora is a brand that everyone has heard of and it's no surprise as their jewellery is beautiful!  The company was founded in 1982 and they now have 1100 stores in more than 80 countries which is great news for us Pandora fans.
I've been a fan of Pandora for years and I could quite easily spend a fortune on their jewellery because it is all stunning, whether it is a necklace, ring or bracelet.  I also love that they bring out different ranges throughout the year which have a slightly different theme.
When I created my first Pandora bracelet I decided to go with a pink theme as that is my favourite colour and because at the time their leather bracelets were on offer I decided to go for one of those rather than the more classic silver bangles (although I would absolutely love to own one of those too and plan on buying one with different colour charms at some point in the future). The leather bracelet I chose is a single wrap in a charcoal grey as I found it made the charms stand out well but wasn't as harsh as black.  It also gives the bracelet more of a smart/casual feel.
The hard part when creating my Pandora bracelet was definitely picking the charms. I found it really difficult to narrow them down to a small selection because there were so many I loved but in the end I settled for three different ones as I wanted my bracelet to look completely symmetrical.
My bracelet is made up of the following:
Single woven Leather Bracelet – £40 – Link
2 Pave Ball Charms – £55 each – Link
2 Pink Cherry Blossom Clips – £45 each – Link
1 Pink Faceted Murano Charm – £35.00 – Link
I love the mix of charms I chose because I have a hint of pink and sparkle without it looking too over the top. I also like that with just five charms you can see the pretty woven leather of the bracelet so I don't plan on adding any more charms to it.
I absolutely love my Pandora bracelet and I wear it all the time. I can't wait to create another one with a silver bangle and lilac or blue charms. If you want to see what else Pandora have to offer you can see their stock list on their website here.
What do you think of my bracelet?

Check out these great blogs by my lovely advertisers:
Pink Champagne: Hoad Shoes – An Independent Little Shoe Shop
Pink Swirl: Beky Lou, Dulcie's Beauty Blog, Bethany Worrall
Pink Pearl: MissLJBeauty, Here Comes Clo, Satchels and Pearls
To advertise with Kimberley's Beauty Blog find out more info here