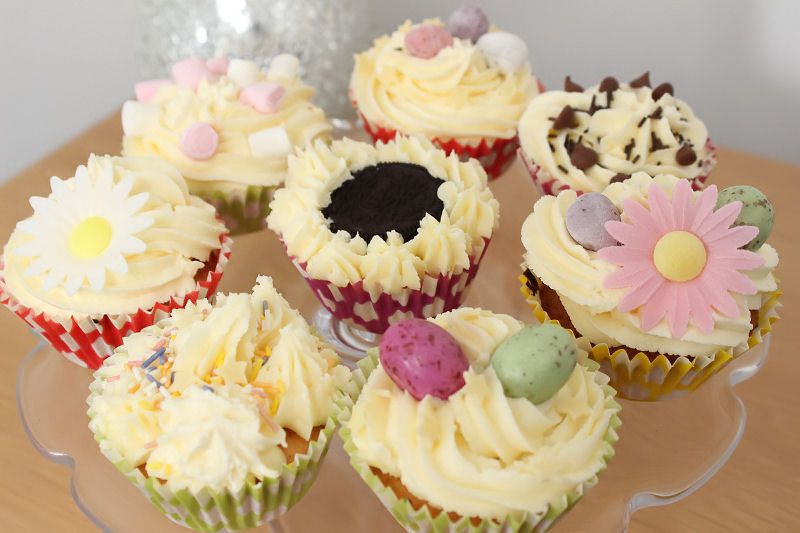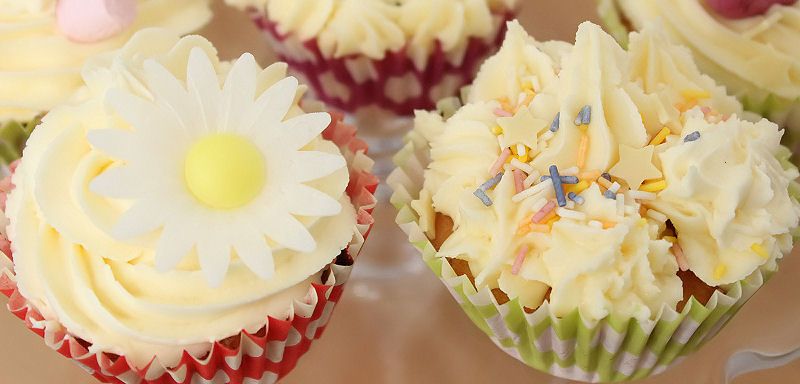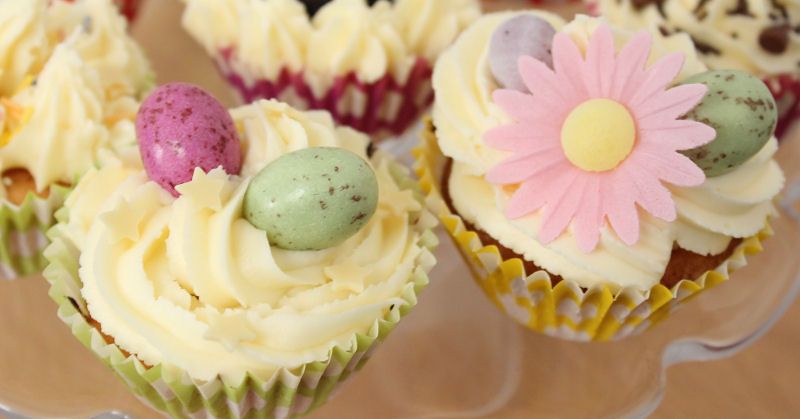 Hello Beauties! Today's second post will be a little different from others that have appeared on my blog as it is baking related.  I have loved baking and cooking ever since I was small and used to often make things with my mum such as cupcakes, cornflake/rice krispie cakes and Christmas cakes. As I have got older I have continued to bake and cook, although as I'm so busy I often find I can't do it as often as I would like. I find baking to be really relaxing and I love how you can take  simple recipe and make it your own. You can take the same recipe and turn it into something different every time through creativity.
As Easter is approaching I have been inspired to make some Easter cupcakes which have a simple vanilla cupcake base an exciting Salted Caramel topping and a variety of pretty decorations. In the past I would have made my own topping simple using plain icing sugar, butter and vanilla essence but the lovely people at Sugar and Crumbs recently sent me some of their flavoured icing sugar (the flavours sound delicious) which I will be using with tthis receipe today.
Here are the ingredients you will need to make 12 cupcakes:
The cake:
110g | 4oz softened butter
110g | 4oz caster sugar
110g |4oz self-raising flour
2 medium eggs
1/4 teaspoon vanilla essence
The Salted Caramel Topping:
Softened Butter
*Salted Caramel Flavoured Icing Sugar
The Decorations:
Oreo Biscuits
Sprinkles 
White Chocolate Stars
Mini Eggs & big chocolate eggs from Marks and Spencer
Waffer Flowers (tesco)
Chocolate drops
Marshmallows
Cup cake cases
I have omitted the amount on some of the ingredient for the toppings as I find this is down to personal taste. Personally, I never weigh these out as I just add more as necessary. The above ingredients can be adapted to make more cupcakes or a whole cake.
Method:
1. Preheat the oven to 180C | 350F | Gas Mark 4. 
2. Grease and flour 12 cupcake cases
3. Cream the butter and sugar together until the texture is fluffy and the colour has lightened
4. Mix the eggs together in a separate bowl and beat the eggs into the mixture a little at a time. Tip: Add a little flour to stop the mixture from splitting.
5. Fold in the flour and vanilla essence
6. Fill the mixture into the cupcake cases, around two-thirds in each. Tip: Heat a spoon in boiling water and the mixture will slide off)
7. Bake for 15-20 minutes. Tip: Insert a skewer or fork and if it comes out clean the cakes are ready.
8. Leave to cool on a wire rack
9. Mix the butter and icing into a paste
10. Pipe onto each cake
11. Decorate
It has been so nice to do some baking again and I really love the idea of using natural flavoured icing sugar as it really speeds up the process of making interesting cake toppings. The salted caramel one smells and tastes absolutely delicious! It isn't overpowering at all so it compliments the cake perfectly.

I can't wait to use some the others, especially the black cherry and chocolate.. yum! If you want to buy flavoured icing sugar you can order it from the Sugar and Crumbs website. There is a massive 23 flavours to choose from! Delivery is super quick and the prices range from £1.99 – £2.99. You need at least two packets of icing sugar for the above recipe to make a generous amount of frosting.

What do you think of my Salted Caramel cupcakes?

Check out these great blogs by my lovely advertisers:
Pink Champagne: Hoad Shoes – An Independent Little Shoe Shop
Pink Swirl: Beky Lou, Dulcie's Beauty Blog, Bethany Worrall
Pink Pearl: MissLJBeauty, Satchels and Pearls, Here Comes Clo
To advertise with Kimberley's Beauty Blog find out more info here