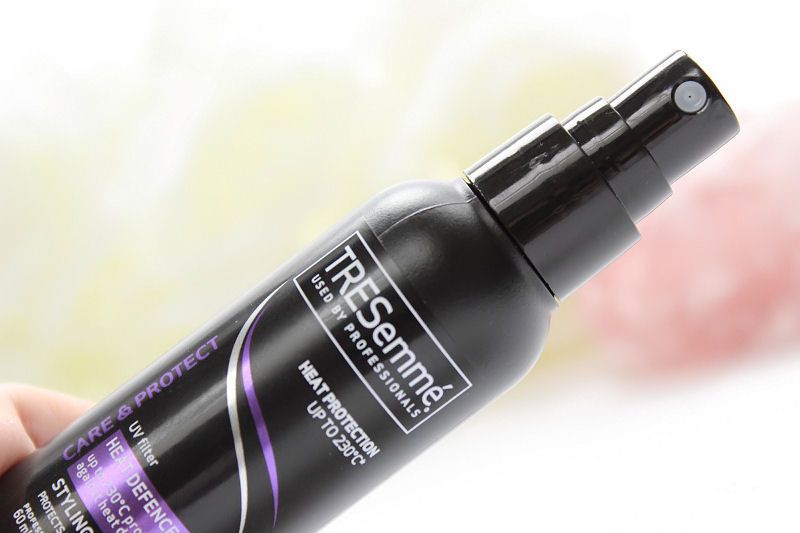 Before I start today's post I just want to quickly share my evening with you. Last night I was lucky enough to be invited to an event with Haagan Daz in London where we learnt about using ice-cream as edible art and we even got the opportunity to make our own Ice cream Easter Egg! I will be writing up a blog post about the event including pictures so I won't give away too much now.. but it was Amazing!!  
Onto today's post which is all about hair care….My hair is often subjected to heat on a regular basis so it is really important I use a good heat protector on it. For years I have been very loyal to the VO5 Heat Defense Spray which works perfectly with my hair and I love the fine formulation but when my last bottle ran out I fancied a change so was on the hunt for a new product to try. The heat protector I reached for is the TRESemme Heat Defence spray which is in a travel size bottle (I thought it was best to start off small in case I didn't like it).
The TRESemme Heat Defence Spray is said to provide heat protection up to 230 C as well as seal in shine which sounds perfect. I don't usually use heat at such a high temperature as this but it's great it offers this much protection as styling tools seem to be heating to higher and higher temperatures these days.
One of the key things I look for in any products I apply to my hair is that they do not leave any kind of residue. I hate it when you're left with that heavy, sticky feeling and the texture is crisp instead of being light and bouncy.  Being a fan of TRESemme, I had high hopes for this product and I wasn't left disappointed. The dispenser allows you to spray the product evenly all over the hair and I have found the formula to be exactly what I look for. The packaging says to use the product on damp hair which I do before blow drying it but I also apply it once my hair is dry so I am providing my hair with an extra layer of protection before using styling tools such as straighteners or a curling wand.
Overall I've been really impressed with this product and I'm glad I've given it a try. I will always go back to my VO5 Heat Defence Spray as it is definitely my 'holy grail' product but I would definitely re-purchase the TRESemme equivalent. If you want to give it a try you can buy it from Boots for £5.99 (full size version).
What is your favourite heat protector?

Check out these great blogs by my lovely advertisers:
Pink Champagne: Hoad Shoes – An Independent Little Shoe Shop
Pink Swirl: Beky Lou, Dulcie's Beauty Blog, Bethany Worrall
Pink Pearl: MissLJBeauty, Here Comes Clo, Satchels and Pearls
To advertise with Kimberley's Beauty Blog find out more info here