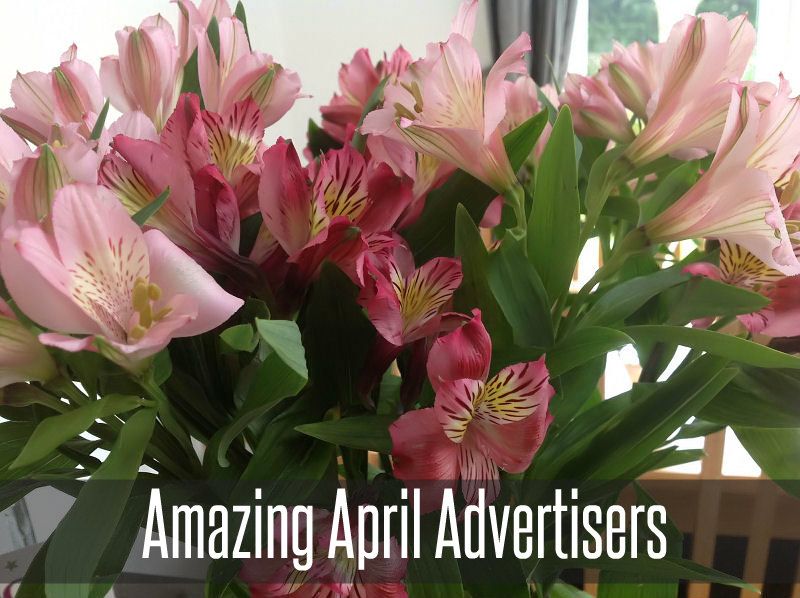 Hello Beauties, as we are nearing the end of another month it's that time when I share the wonderful advertisers that have been sitting in my side bar. I hope some of you have already had a sneaky peak at their blogs/website and have found some great new reading material but for those of you who haven't here is a little more about each of them:

So here we go.. please let me introduce my April Advertisers….


HOAD SHOES


Established in 1898 Hoad Shoes is situated in the heart of Sevenoaks in Kent providing footwear for all the family. We pride ourselves on excellent customer service, superb product knowledge and a vast range of products from fashion boots and shoes to extra wide fittings for swollen feet and orthotic insoles for foot problems. We have recently opened our online shop hoadshoes.co.uk selling a wide range of products such as Gabor, HB, Pedro Miralles, Dubarry and Timberland to name a few. We offer free postage on all online orders and a click and collect option if you are local to the area.
 Website | Twitter | Facebook | Pinterest | Instagram
BEKY LOU


My name is Beky and I started BekyLou in late September of this year; I've had an overwhelming response and it's become such a hug part of my life. BekyLou is a beauty,fashion and lifestyle blog in which I share all of my beauty/fashion loves and lusts with you all, review products and also mix in some personal lifestyle posts such as 'My Journey with Anxiety and Depression', which has been my most viewed and most personal post to date. I'd love it if you could take a peep over via my links below and follow – I'm aiming for 300 bloglovin followers by the end of January! 
 Blog | Twitter | Facebook | Instagram |  Blog Lovin

DULCIE

Dulcie's Beauty Blog – A Beauty and Lifestyle blog where I share my beauty favourites and my reviews of products I've tried and products I've liked. Make-up is my thing, with nails as a close second.  Created with inspiration from my beautiful friends, the blog features my make-up looks and outfits, nail polish favourites and skin care picks. A creative space, Dulcie's Beauty Blog brings beauty products, style and fun together.
 Blog | Twitter |  Instagram |  Facebook

AMANDA LOVES

Hi everyone! My name is Amanda and I started Amanda Loves a few years ago so that I could chatter about all of my fashion and beauty related loves, since I'd been reading blogs and watching Youtube videos for so long. Naturally, Amanda Loves is my little space on the internet to share make-up reviews, O.O.T.D's and make-up/fashion hauls, but I love to throw in lifestyle posts too! In fact, my post on 'The Perfect Body Debate' has been my biggest success so far. I'd really appreciate if you could take a look at my blog (and other social media if you like what you see!) and follow on Bloglovin or GFC! 
Thank you so much x x x 
Blog | Twitter |  Blog Lovin | Instagram

WHAT SHELL SAYS

Hi, my name is Michelle and I started my blog – What Shell Says – in January. It's been a very new and exciting journey for me – getting invited to events, meeting lots of lovely new people and even being asked to write an article for an online magazine! I blog about beauty, fashion and lifestyle at What Shell Says and I'd love you to check out my links and help me reach my next big target on Bloglovin. If you do pop over, please leave a comment and say hi as I love meeting new bloggers!
Blog | Twitter |  Blog Lovin

MISS LJ BEAUTY



Hay everyone, 
How are you today? My wee blog contains a bit of everything but beauty is my passion. I am getting married in June so expect a few post on that. As with a wedding coming up I'm on a fitness and weight loss kick ATM.  I am currently running a series called inspirational people on Sunday to give us all a boost that dreams can come true! 
MissLJBeauty
Xoxo
 Blog | Twitter | Instagram |  Blog Lovin
SATCHELS AND PEARLS


Satchels + Pearls is a lifestyle, beauty, fashion and motherhood blog by Michelle, a recently new mum to a baby boy and living a long distance relationship with her husband across the sea. On Satchels + Pearls you can find beauty reviews, DIY, recipes, all topped off with a quirky sense of fashion from a blogger with a buzz cut. Michelle has a passion for afternoon cake and tea, and will take you on adventures around West Yorkshire. So why not check out her blog and follow her life journey?
 Blog | Blog Lovin | Twitter | Facebook | Instagram
SCOTTISH STEF'S NAILS


Hey everyone!I'm Stef from scottishstefsnails.blogspot.com and I am really excited to be featured in Kimberley's post! My blog documents my polish discoveries including swatches and reviews of polishes and nail products. I also post about easy nail art designs that I would like to think that everyone can have a go at. The nail art designs I write about are usually quite expressive rather than precise and intricate so you don't have to worry about whether your nails looks perfect. I love a good beauty/fashion tag post too! Hopefully you will be able to find inspiration from some of the polishes in my blog if you are ever feeling bored with your nails. I love interacting with all the lovely bloggers out there so feel free to leave me a comment or tweet me anytime!
 Blog | Blog Lovin | Twitter | You Tube |
ONE STOP SAVVY


I'm Clare I'm not always a beauty expert, I have spots, chipped nails some days and probably should lose a stone in weight. I have days I find it acceptable to wear pyjamas instead of the skirts and heels. I'm a full time Mummy to Isabelle, I don't parent from books or apps, I find my self googling mummy terms when amongst friends. I parent from the heart and make choices on instincts. My blog is my thoughts and feelings of life, beauty and fashion, full of brutal honesty and a little bit of comedy along the way.
 Blog | Blog Lovin | Twitter | Facebook | Instagram | You Tube 
It has been wonderful to advertise these lovely blogs this month, read their posts and get to know the people behind the blogs/website. I hope you will take the time to look at them and enjoy them too 🙂

 If you would like to advertise with Kimberley's Beauty Blog the details can be found here. 

Check out these great blogs by my lovely advertisers:
Pink Champagne: Hoad Shoes – An Independent Little Shoe Shop
Pink Swirl: Beky Lou, Dulcie's Beauty Blog, Amanda Loves, Looks and Lifestyle, What Shell Says
Pink Pearl: MissLJBeauty, Satchels and Pearls, Scottish Stef's Nail, One Stop Savvy 
To advertise with Kimberley's Beauty Blog find out more info here