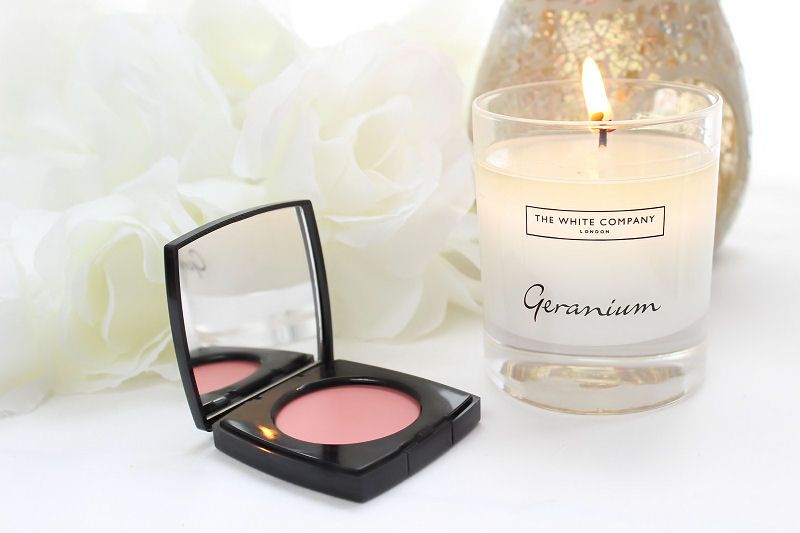 Hello Everyone! I hope you had a lovely Easter weekend, what did you get up to? I spent lots of time with family which was lovely as well as blogging, relaxing and planning some new home decor for our lounge as I fancy a change.
Today's blog post is on the latest beauty product to be added into my collection, a beautiful cream blush by Chanel. Cream products are only something I got into recently but now I can't get enough of them. For some reason I'm really drawn to them whether its a blush or shadow and really loving them at the moment.
This particular cream blush is called 'Inspiration' and it is the perfect Spring and Summer shade for those with a pale complexion like myself. Although, I'm hoping it is still something that I will be able to use once I have a tan too.
Inspiration, is a stunning pale pink which gives my cheeks a natural pop of colour and glow which I love. I'm not a fan of heavy make-up so this works perfectly for a simple every day or evening look and can be combined with a large variety of make-up.
Chanel cream blush has a soft, creamy texture which isn't as wet as other cream products I have used. This means it is much more long wearing but still blends beautifully into my skin ensuring there are no harsh lines on application.
I'm totally in love with the Chanel Inpiration cream blush and I will definitely like to add one or two more to my collection.. they are stunning. You can purchase it for £28.99 from Debenhams, although it doesn't seem to be online.
What do you think of the Chanel Inspiration blush?

Check out these great blogs by my lovely advertisers:
Pink Champagne: Hoad Shoes – An Independent Little Shoe Shop
Pink Swirl: Beky Lou, Dulcie's Beauty Blog, Amanda Loves, Looks and Lifestyle, What Shell Says
Pink Pearl: MissLJBeauty, Satchels and Pearls, Scottish Stef's Nail, One Stop Savvy 
To advertise with Kimberley's Beauty Blog find out more info here