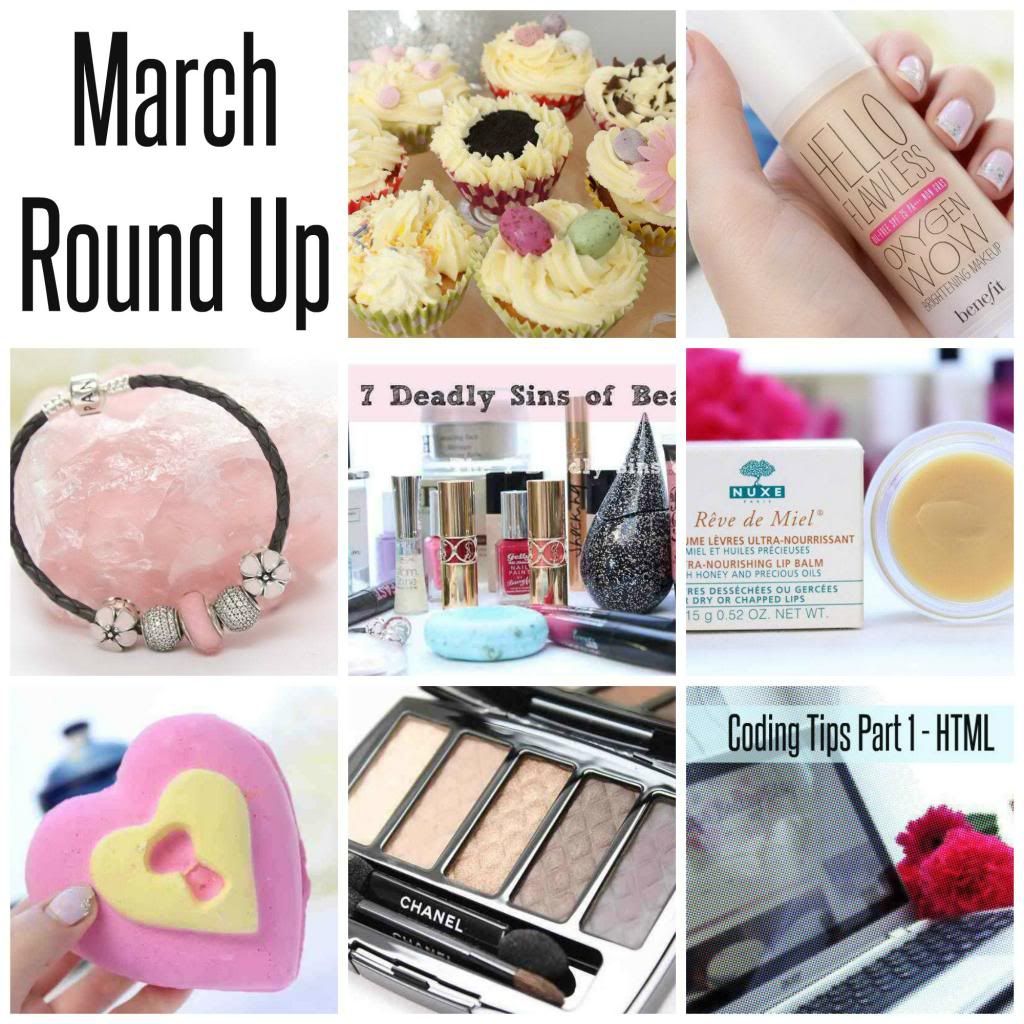 At the end of each month I have decided to do a monthly round up of my favourite blog posts during that time. Each Month I will pick eight posts which is not a lot considering a post every day (most of the time) and take a look back at them.  I've been thinking about doing this for a while but wasn't sure if it was something my readers would like so if you could please leave a comment and let me know if you are interested in seeing this monthly post that would be great.
Last month saw a variety of different posts ranging from baking, to beauty and tips so looks take a brief look at them (links to each post are in the heading).
#1 Salted Caramel Cupcakes Recipe
I love baking and last month had the chance to bake some Easter inspired cupcakes. I find baking really relaxing but hadn't had the time to do it in a while so it was really enjoyable. I chose to make vanilla cupcakes and decorate them with a salted caramel butter icing.. delicious.
Being a huge fan of Lush products it's pretty much guaranteed they will appear on my blog at least once a month and my favourite in March was the Love Locket from the limited edition Valentines collection which is in fact three bath bombs in one. Not only is it pink and heart shaped but smells delicious too. A fab product that I wish was part of the permanent range!
#3 Chanel 'That' Palette / Link
Next up was a review of the Chanel 'That' palette which I was lucky enough to get from my Boyfriend for Christmas. This is a gorgeous neutral palette featuring five stunning, creamy shades that are very wearable for both a day and evening look.
#4 The 7 Deadly Sins of Beauty Tag / Link
I did one tag during March which was really fun to do and featured the 7 deadly sins of beauty. It really got me thinking about different products and would recommend you doing this tag too!
A couple of jewellery posts appeared on my blog last month, my favourite being about my Pandora bracelet. It was great to be able to share my bracelet with you because the perfect thing about Pandora is that every piece is unique as you build up the charms etc yourself.
#6 Benefit Hello Flawless Foundation Review / Link
Last month saw a review of the Benefit Hello Flawless Foundation which has definitely become a firm favourite. This foundation is beautiful because it gives it gives you a nice amount of coverage whilst still maintaining a natural look and giving your skin a lovely glow.
#7 HTML Tips for Beginners / Link
From time to time I like to include tips on my blog and in March I shared some basic HTML advice for beginners. This included detail on how to add links, photo's and text.
#8 Nuxe Reve de Miel Lip Balm Review / Link
Last but not least was a review of the popular Nuxe Reve de Miel Lip Balm. There is a lot of hype surrounding this product so it had a lot to live up to but I loved it!
These are my top picks from last month's posts but there were many more. If you want to have a read of the above posts click on the headings and if you want to take a look at what other posts featured on blog in March have a look at the archive section in the side bar on the right. You'll find lots of posts there!
What was your favourite post on KBB from March?

Check out these great blogs by my lovely advertisers:
Pink Champagne: Hoad Shoes – An Independent Little Shoe Shop
Pink Swirl: Beky Lou, Dulcie's Beauty Blog, Amanda Loves, Looks and Lifestyle, What Shell Says
Pink Pearl: MissLJBeauty, Satchels and Pearls, Scottish Stef's Nail, One Stop Savvy 
To advertise with Kimberley's Beauty Blog find out more info here