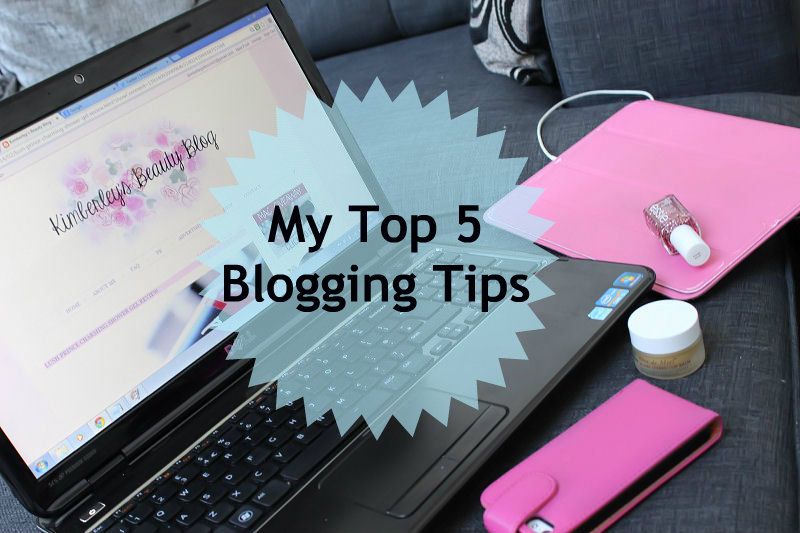 Hello Everyone! When I first thought about writing my top give blogging tips I thought it would be a few simple points but when I started writing I thought a lot more than I imagined so this blog post is a lot longer than I had anticipated.  Rather than cut it down to only do one top tip per blog post I have decided to still keep them all together as they link together nicely so please forgive me for this post being so long! Hopefully you'll still find it useful.
#1 Post Content

When people visit your blog the key thing they are looking to do is to read your posts and therefore the saying 'Content is King' is something to think carefully about.  A blog is a personal space so it is good to keep your content unique and not follow the crowd whilst still making sure the blog posts you do are in-keeping with what your readers expect. For example, my blog is primarily a beauty blog, the giveaway is the name but because I have interests in other areas such as fashion, jewellery and candles, occasionally I will post about different things too. Not only are these my passions but I also hope my readers enjoy reading a different assortment of posts as long as I don't venture to far away from my main focus.
The structure of blog posts is also important and is something that will come in time. When I look back at the first blog posts I wrote I'm not happy about the layout and size of my pictures but they show how much I have grown since I first started and it makes me really pleased about where my blog is now. It has really evolved. I guess the point I'm trying to make here is that it doesn't matter if you don't get everything right straight away. Your blog is your corner of the internet and it will naturally grow over time as you learn more things and get into the routine of blogging.
When it comes to how often should you post that is really down to personal preference. As my blog has matured I have started posting more regularly because I have a much better idea of how long a blog post takes me to write and what kind of pictures I would want to include so it is easier to manage my time. Ideally I like to blog every day but other bloggers are perfectly happy to post once or twice a week which is fine too. It just depends on how much time you have and how dynamic you want your blog to be. A top tip I have when it comes to blogging regularly if you're stuck for time is to write your posts in bulk. I work long hours so it is impossible for me to write blog posts during the week after work so instead I spend a day or so over the weekend writing up the week's blog posts in one go. Of course this is only a good idea if you feel confident writing several in one go and don't think you will have 'writers block' or the quality of your posts will be affected.
When writing a blog posts, in particular a review of a product you need to think about what you would want to know if you were reading it and hearing about the product for the first time. Therefore, I think it's important to include information such as packaging, colour, texture, prices and where to buy. There are obviously a lot more things to talk about than those points but they are product specific so I won't list them all here.
Lastly, when writing blog posts watch out for spelling errors. We all do them from time to time and often when you've been working on a blog post for some time when you re-read it you don't notice the mistakes. Due to this I always make sure I re-read my post a short time after to double check I haven't missed anything.
#2 Photographs

Photographs in a blog post make the content come alive and as a picture tells a thousand words it's important to get it right.  People often think you need to spend hundreds of pounds on a top of the range camera but the key thing is to learn how to use the functions available on your camera, be creative with your background, think about the angles of your photo's and make sure the lighting is good.  When I first started blogging I had a standard compact camera and once I had learnt how to use it correctly it produced very good pictures. Since, I have moved onto a DSLR because it is something I have thought about getting for a while and is a gadget that will definitely get lots of use outside of the blogging world too.This camera has got a lot more functions and I do find it easier to use but that's probably because I had to do a lot more research into how to actually use it because I don't have any background or knowledge of photography. I think if I had done the same research on my compact camera and spent as much time practicing I probably could have achieved similar quality blog pictures.
Touching on lighting a little more, natural lighting is the best to use so try to take your photo's in front of the window during the day if you can.  There are also other alternatives such as lighting boxes which I've heard work very well too although I have never tried them.
#3 Be Yourself 

This tip is linked to number one and is pretty self explanatory but is becoming more important as the blogging market is becoming bigger.  Blogging is definitely becoming more popular and even though I've only been doing it for eighteen months I have seen it grow massively. There are thousands and thousands of blogs out there so it's important to be yourself so your blog is unique and stands out. This may through your photo's, writing, content or layout but is definitely something to think about.


#4 Social Media

Social Media is a key part of blogging and something I started a little later than I should have. There is a massive community out there so definitely join the likes of Twitter and Facebook so you can make some new friends, find new blogs and of course let more people discover your own.
Depending on the type of blogs you have their are also chats you can take part in on Twitter which are a really great way to interact with other bloggers and learn about new products.   The beauty chats are held on a Wednesday, Friday and Sunday night at 8pm under the hashtag #bbloggers and everyone is always very welcoming.
#5 Engage with Your Readers 
 My last tip is to engage with your readers. Communication is a two way thing and if people have taken the time to reply to your blog posts, tweet or email you then you should try your best to reply to as many as possible even if it isn't straight away.  This is also a really great way to get to know your readers better and it's always fun to interact with them. It's one of my favourite things about blogging.
What do you think of my tips?

Check out these great blogs by my lovely advertisers:
Pink Champagne: Hoad Shoes – An Independent Little Shoe Shop
Pink Swirl: Beky Lou, Dulcie's Beauty Blog, Amanda Loves, Looks and Lifestyle, What Shell Says
Pink Pearl: MissLJBeauty, Satchels and Pearls, Scottish Stef's Nail, One Stop Savvy 
To advertise with Kimberley's Beauty Blog find out more info here