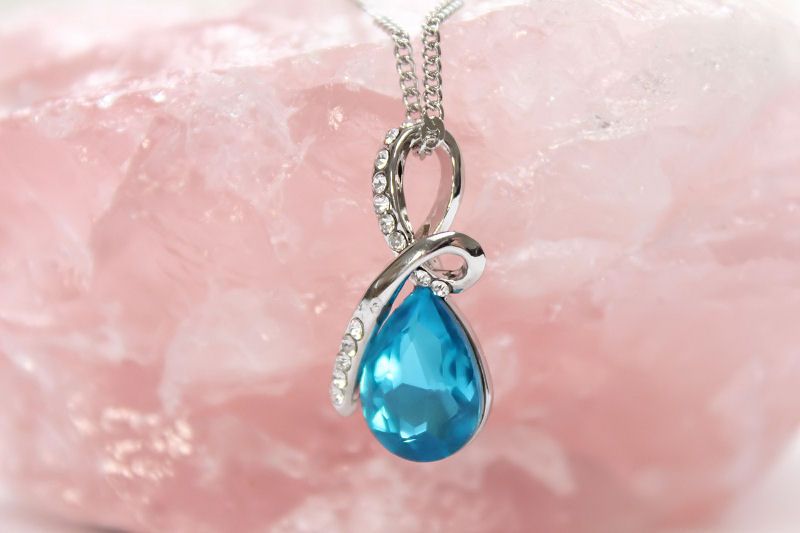 Today I have an exciting piece of jewellery to share with you from a brand I recently discovered. Narovia is a brand that offers a variety of jewellery from premium to costume and of course across a whole range including rings, bracelets, earings and necklaces. They pride themselves on selling high grade jewellery at low prices and use real crystals like Czech, Austrian and Swarovski elements as well as 18k gold plating.
One of my favourite pieces  is the *Alpha Crystal Drop Necklace which sports a gorgeous bright sky blue Austrian crystal. I love the colour because it stands out beautifully against the white gold finish and will look great during the Spring and Summer months, especially as I have blue eyes. The detailing around the stone is also very pretty and I love the delicately twisted metal covered in swarovski elements. It makes this piece of jewellery really unique and since wearing it I have had a number of comments from friends asking where it is from!
The chain of this necklace is also unique because it has link dividers running along it which is completely different from any other pieces in my collection. It adds another dimension to this piece and finishes it off really well
You can buy this gorgeous necklace from Narovia for £12.00 or check out the other pieces they have on offer. If you use discount code NAROVIA30 you will get 30% off!
What do you think of this necklace?

Check out these great blogs by my lovely advertisers:
Pink Champagne: Hoad Shoes – An Independent Little Shoe Shop
Pink Swirl: Beky Lou, Dulcie's Beauty Blog, Amanda Loves, Looks and Lifestyle, What Shell Says
Pink Pearl: MissLJBeauty, Satchels and Pearls, Scottish Stef's Nail, One Stop Savvy 
To advertise with Kimberley's Beauty Blog find out more info here