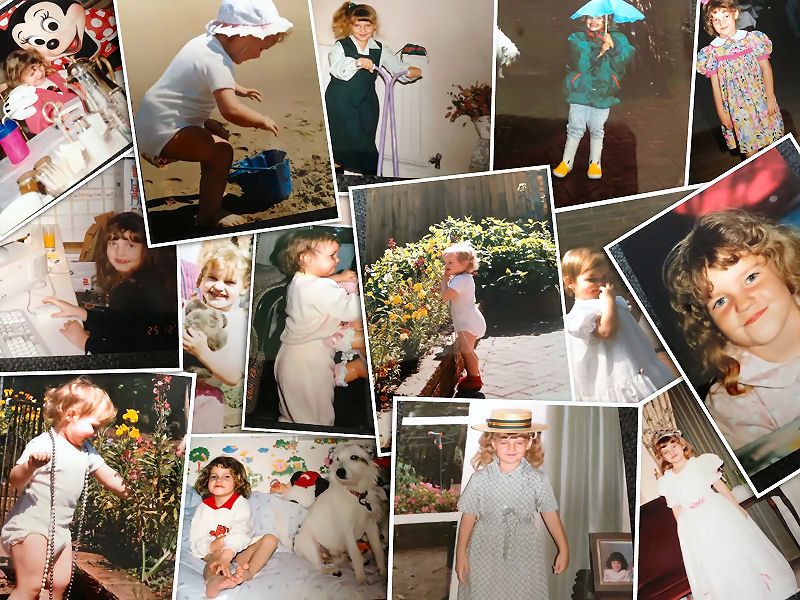 Hello Everyone! You may have heard some adverts on the radio lately by Legal and General who have been asking the nation what advice would they give their younger selves if they had the chance.  I thought this would be a really interesting post to write because it takes a lot of thought and it's interesting to look back at things and see how I would do it differently if I had the opportunity. I hope you will also find this post good to read and may even find some of the advice useful as in some instances I think it could apply to any age. I also hope you enjoyed having a sneaky peak into my childhood with the collage of pictures I have put together above. It was really fun to look back through them even if some were a bit cringe worthy!
My take on this post is to look at my entire childhood and see what advice I would give myself. Initially I thought about just choosing particular years of my life so either as a young child or my teenage years but I thought this post would be more interesting to write and more useful to you guys if it contains as much information as possible. It means it's pretty long (I got a bit carried away) but here goes, this is what I would tell my younger self if I had the chance….
Stay Young

Nowadays I notice children growing up faster and faster which I find to be sad because you should really make the most of your childhood as it's over in a flash.  I loved every minute of my childhood and grew up later than a lot of people as I was still into playing games like 40/40 and polo with my friends down the road at around 13-14 rather than being into boys and make-up. My closest friends at school were the same and looking back I'm so glad it happened that way rather than growing up too quickly.. there's plenty of time for that!
I'd tell my childhood self that it's okay to stay young as long as possible and if I enjoy doing something then just do it, it doesn't matter about age or if people consider it to be immature. Just be happy.
Picking subjects – GCSE's, A Levels and degree

At school picking your subjects for GCSE and A Levels seems like the hardest decision in the world to make. It is so hard to know what you want to do and if you're making the right decision but these things do work out in the end. Make a decision, stick to it and trust yourself.
I would tell my childhood self to stick to the academic subjects I enjoy because when you enjoy learning and increasing your knowledge it means your more likely to do well because you 'click' with the subject.


Revision

At school I got good grades but I had to really work for them. My mind set has always been that I'd rather put in the hard work now and know I've done as much as I possibly could rather than not get the results I have aimed for and know I could have done more. This means I used to revise for hours and hours to the point where my mum would have to tell me to stop and have breaks.
I would tell myself to try and take some time out because sometimes that can actually be a good thing.. your mind needs a rest!
I also found I was often told by people, particularly at school how I should be revising and it wasn't until I did my A Levels I realised what approach really worked for me. I used that throughout the whole of University. Of course it's great to take on people's ideas but I guess the point I'm really trying to make here is to take on people's advice but don't forget what works for you.
I would tell my childhood self to think about how I learn best and stick to it. Learn the technique that works best for me and take on people's advice but not necessary completely change things. If it isn't broken don't fix it!
Exams are something you either click with or you don't. Thankfully I was the former but before exams I used to be extremely nervous. Once I was in there I was so focused on the questions and answers I didn't have time to be nervous but before hand I was a nightmare!
I would tell myself to worry less about exams. Naturally, everyone is going to have some butterflies but what happens in there happens and worrying about it won't change that.
University

I found University a really hard part of my life. It was very hard being away from home, my family and friends and I found it really difficult, particularly during the first year. I hated the thought of moving away from everything I knew so well and it was a very scary and daunting experience. I'd been at the same school since the age of 4, had lived in the same home and was always very close to my family and if it wasn't for my boyfriend going to the same University I honestly don't know if I would have made it through the four years.
I would tell my younger self that although it's really hard to be away from home everything will work out in the end and it will be okay. Over time you slowly get used to it and make new friends and before you know it's over. Also, that it was all worth it. I got a 1st Class Joint Honours degree in Business Administration with Computing with a Year in Industry.
Work Experience / Career 

My first job was during university as I did a sandwich year in the middle (I would definitely recommend it because it looks really good on your CV and is great experience). I found this really difficult, not because I hadn't worked before but because the job didn't offer what I needed.  I wasn't given the trust, responsibility and work load I needed the thrive so instead I was pretty much just trying to get through each day without breaking down which often didn't happen. It was hard because if I left it would have affected my degree which I didn't want so every day was a battle. I don't want to go into details here but I was very unhappy during that time and I literally counted down the days until the year was over.
It's really hard to know what you want to do as a career and I fell into the industry I am in thanks to my dad who planted the seed. After just three years I'm a business analyst and team lead which I feel is a huge achievement. I'm working somewhere that offers me lots of opportunities, responsibility and a chance to learn new things every day.
Looking back I would tell myself to look at the positives, however hard it may be to see them at the time and to be strong.  In hindsight, the work experience taught me a lot about what I needed from a job so when I started my career it helped me know what industry and roles would suit me. I now have a job that I love 🙂 Trust yourself but also take on the advice of others who are close to you because they know you well and have knowledge of what the real world is like.
Friends

When your young your friends are a really important part of your life and it's very easy to get caught up in people's gossip and arguments which at the time seems like the end of the world.  I had lots of friends at school and would talk to everyone across the classes so as well as having a best friend I got on with everyone and was included in lots of different groups.  I loved it at the time but as you get older you realise you don't need so many people around you, just the people that really matter.  People who don't treat you right aren't worth your time and you don't need them in your life.
I would definitely tell my childhood self these things don't matter and true friends will stick by you no matter what. My two best friends are always there for me no matter what even if we don't talk every day (which most of the time we do). That's what you call real friends!
My family are such an important part of my life. They are always there for me and do so much every single day.  Sadly, I have lost some members of my family, three grandparents and several animals and I have regrets from those times. You look back and think about the things you should have done and should have said but sometimes it's too late.
I would tell my younger self to make the most of every second you have with your family, however young or old because they won't be there forever.
Boyfriends

Boys weren't something I was interested in until pretty late but I met my boyfriend pretty quickly when I first start going out to party's etc.  We were 16 when we met and have been together ever since, now 9 1/2 years which is amazing.
I never went out looking for a boyfriend like many girls do, it just happened, so I would tell my younger self to do just that. It's okay not to be into boys at a younger age and to concentrate on your studies instead.
Dreams/Ambitions

This one is pretty simple… I would tell myself that anything is possible and dreams really do come true.
Some of my dreams have come true, one I never thought possible…
Worrying, Confidence and Body Image

I'm definitely a worrier and have never been very confident or believed in myself. There isn't a particular reason why, it's just the way I am but it means when I was younger I was very quiet and shy. I've come out of my shell a lot now because I've had to due to my job. I've been pushed outside of my comfort zone and now I feel comfortable doing things I never thought I would before such as presentations.
Body image is also a key thing when you're younger. No-one is particularly happy with their body shape but there were times when I used to think I was fat when in reality I wasn't at all. I didn't have an eating disorder it was just one of those normal teenage things but it's not good to get caught up on thinking about weight. Just be happy and healthy! Looking back at pictures I wasn't fat at all so wasted all that time fretting over nothing.

I would tell myself to try and worry less (I need to take that advice now too), believe in myself and love myself as I am and not want to change. Be confident because I can do it!

You're Stronger Than You Think

I've been through some hard times in my life that is very personal and hard to talk about so I don't want to go into a lot of detail here. To give you some idea, during my first year exams at University my dad become very ill and we almost lost him. It was a terrible time for all the family and extremely hard to see him hooked up to machines and be told to say goodbye but he is strong and against all odds made it through.
I also went through a traumatic time during my second year of University exams because two of my grandparents passed away within four weeks of each other. It was the first time i'd ever lost anyone in my family and it was really hard to handle.
I would tell my younger self you are stronger than you think….
Finance

Finance is a word I hear all the time now I'm older and now I'm all grown up and I have a mortgage and bills to pay (scary!) it's more important than ever.
I would tell my younger self to save hard as it is always important to have money for a rainy day and emergencies. I'd also tell my younger self to occasionally splash out on things and enjoy them.

Thank You

As a child you don't realise the true value of things and although I always had good manners and said thank you etc when my parents did stuff for me, at the time I didn't appreciate it as much as I do now because I was too young to truly understand.
I would tell my childhood self to appreciate and make the most of everything 🙂

Snakes
To finish on a happy note…finally, I would tell my childhood self that worms are not snakes, however much I believe they are! haha 🙂
This blog post was written as part of a competition entry with Legal and General to win an amazing iPad Mini 16gb and was very fun to do! If you want to take part you still have time because the competition ends tomorrow. If you want to enter check out the competition page here if you are not a blogger and here if you are. Legal and General are running two separate competitions so everyone has an opportunity to take part 🙂 Good luck to anyone who enters!
What do you think of this post? What would you tell your childhood self?

Check out these great blogs by my lovely advertisers:
Pink Champagne: Hoad Shoes – An Independent Little Shoe Shop
Pink Swirl: Beky Lou, Dulcie's Beauty Blog, Amanda Loves, Looks and Lifestyle, What Shell Says
Pink Pearl: MissLJBeauty, Satchels and Pearls, Scottish Stef's Nail, One Stop Savvy 
To advertise with Kimberley's Beauty Blog find out more info here