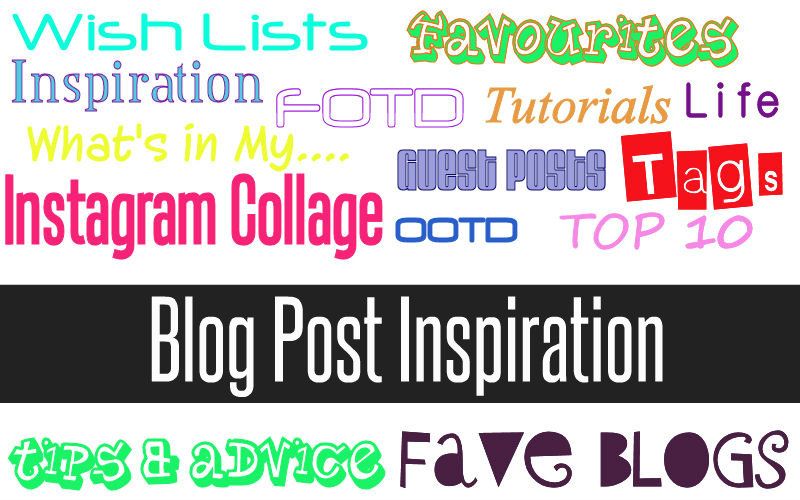 I'm yet to suffer from bloggers block 'touch wood' but when the time comes I know I've got some of the below post ideas I can fall back on.  If you're suffering from bloggers block or just fancy writing a wide variety of posts then maybe some of the below idea's will appeal to you.  Let me know your thoughts by leaving a comment below.
Wish Lists
Wish lists are really fun to write and I always love creating a mood board to go with them. The world is your oyster with these type of posts because you can create a wish list about any of your interests whether they be about beauty, fashion, accessories, home ware, places to visit etc the list is endless.
Favourites | Top 5 | Top 10 
Everyone loves to read a favourites post but you don't have to just wait until the end of the month or year to do these, you can do them any time you like. How about grouping them into categories such as beauty products, hair care and skin care, your favourite blogs etc? Or, even branching away from beauty and featuring other things you like too. Top 5 and Top 10 posts are always very interesting to read and again you can categorise these. Recently I did a post about my Current Top 3 Foundations.
Tips & Advice | Tutorials
I love reading posts about tips and advice whether they are about blogging, social media, photography or make-up and hair tutorials. I enjoy seeing how different people do things and getting inspiration. I feature these types of posts regularly on my blog too because I love writing them.
FOTD | OOTD | NOTD 
Fun posts to share with your readers are Face Of The Day (FOTD), Outfit Of The Day (OOTD) and Nails Of The Day (NOTD). They are easy and cheap to do because you don't cost you anything and the only thing you need to do is remember to take the photo's before you leave the house. I often discover new make-up products this way too as you can see how they have been incorporated into a finished look.
Tags
There are always tags doing the rounds in the blogging world so keep an eye out for ones you are interested in.  Consider temporarily popping them into your drafts so you can use them at a latter point and don't be dis-heartened if you haven't been tagged, these are generally open for everyone to do and people don't tend to mind if you haven't directly been tagged to complete it or not.
Instagram/Photo Collage
A pretty quick post to include on your blog is an instagram or photo collage. I have mixed feelings about these because I only tend to enjoy them if text has been included with them, otherwise it's just a bunch of pictures which may not necessarily mean anything to your readers. Also be wary because some people don't like picture heavy posts but this is why creating a collage is so great because you can consolidate lots of pictures in one place so you don't need to keep scrolling down the page.
What's in My…
I love reading 'What's in My' posts and this can apply to a variety of topics ranging from what's in your hand bag (day, night, beach etc), make-up bag, travel bags and so on. You can make these posts as big as you like and it's a fun way to share the essentials you carry around with you.
Things That Inspire You | Looks You Love
Rather than writing reviews why not share some of the things or people that inspire you? This could be anything from your day to day life, to blogging or make-up looks. I love reading these types of posts because they have a personal feel and can cover so many topics.
Life
If you want to write a different type of post why not try a more personal one? Maybe share some life experiences or talk about your ambitions and dreams for the future. These are great posts because they allow your readers to find out a little more about you and they may also be able to relate to the points you make.
What do you think of this post?

Check out these great blogs by my lovely advertisers:
Pink Champagne: Hoad Shoes – An Independent Little Shoe Shop
Pink Panther: Beky Lou, Dulcie's Beauty Blog, MissLJBeauty, Satchels and Pearls, Adventures of an Anglophile, Polkadella, Beauty Queen UK 
Pink Pearl:, Scottish Stef's Nail, Topdraw Fashion, Confessions of a Secret Shopper, Pink Confetti, Two Little Owls Blog 
To advertise with Kimberley's Beauty Blog find out more info here