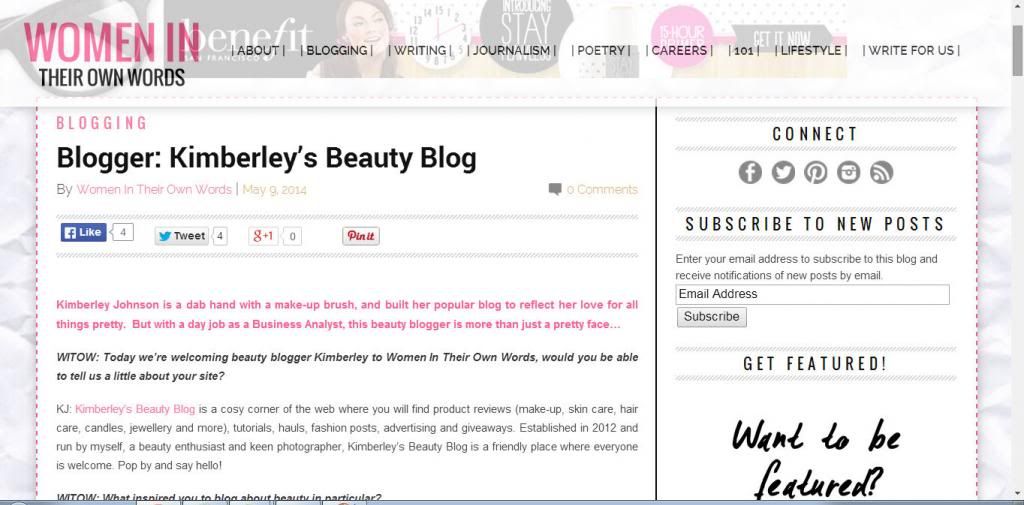 Hi Lovelies! This is a short and sweet post but an exciting one! I was recently interviewed by the lovely Sarah-Jane who has written for Hello! magazine, The Daily Sport and was a beauty insider at the well loved store for beauty bloggers, Superdrug. It is the first interview I have ever done it I loved every minute of it. The questions relate very closely to my blog and include photography, my faovurite beauty products, you tube and how I juggle blogging and work to name a few!
The article is now featured on a website called  'Women In Their Words' which was recently launched along with interviews from a couple of other bloggers.
If you would like to have a read please take a look here, I hope you like it!
What do you think of my interview?

Check out these great blogs by my lovely advertisers:
Pink Champagne: Hoad Shoes – An Independent Little Shoe Shop
Pink Panther: Beky Lou, Dulcie's Beauty Blog, MissLJBeauty, Satchels and Pearls, Adventures of an Anglophile, Polkadella, Beauty Queen UK 
Pink Pearl:, Scottish Stef's Nail, Topdraw Fashion, Confessions of a Secret Shopper, Pink Confetti, Two Little Owls Blog 
To advertise with Kimberley's Beauty Blog find out more info here