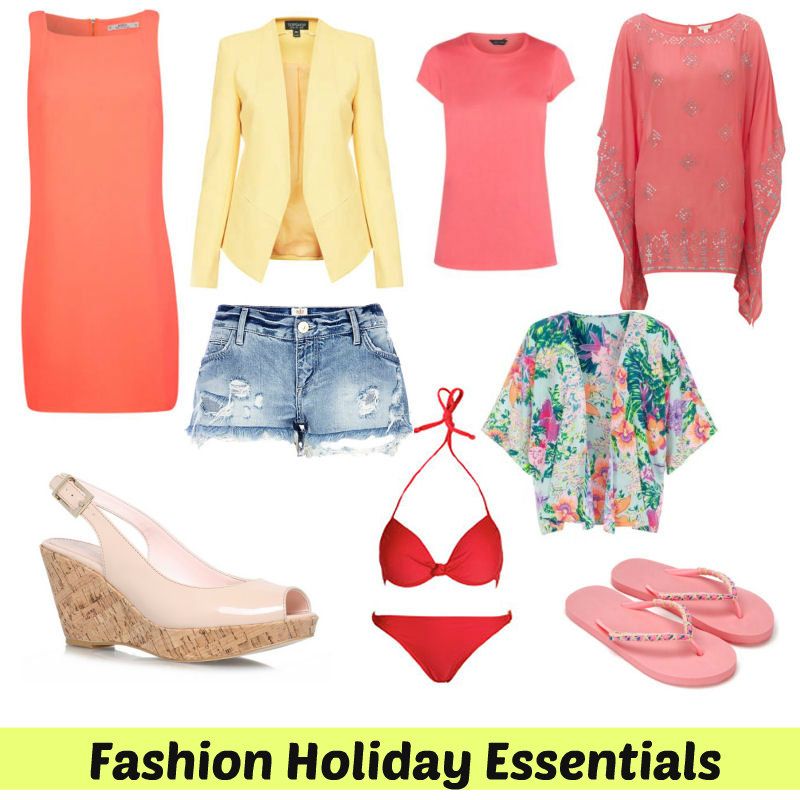 It's coming up to that time of the year when everyone starts to think about going on holiday or the weather starting to improve. In the UK we had a lovely few days last week where it was so warm I was even able to do some sun bathing but sadly it didn't last very long and the rain has returned. 
This hasn't stopped me from thinking about my holiday in July, though so this post is all about fashion holiday essentials. It isn't a complete list but definitely a good starting point and a challenge because there are so many lovely things in the shops at the moment!
River Island Light Wash Ripped Denim shorts | £25.00 
Shorts are brilliant to wear on holiday because they can be worn casually during the day when you are out and about, on the beach over your bikini or blinged up in the evening.  I love denim shorts because they are the most versatile and these ones at River Island are super cute.
New Look Green Tropical Print Crepe Kimono | £19.00
I'm loving kimono's at the moment which is great because they seem to be popping up in lots of shops. They look gorgeous with a simple outfit with solid colour if they have a heavy print and instantly transform the outfit into something more interesting. I love those with a floral print and spotted this one in New Look a few days ago.. I really wish I'd bought it now!
Topshop Slim Tailored Blazer | £48.00
I'm loving blazers at the moment too because they are another staple piece which can instantly transform an outfit. They add colour and structure and finish off an outfit really well. I find them flattering too because they pinch you in at the waist and make it looks like you've put a lot more effort into your outfit than you actually have! This lemon coloured one at Topshop is such a pretty summery colour and would be perfect for a day or evening look. On holiday I'm thinking more evening because it would be too hot to wear a blazer during the day but of course that depends on where you go.
New Look Pink Roll Sleeve Plain T-Shirt | £4.99
A must have fashion holiday essential are simple t-shirts and vest tops. They can be teamed with shorts, trousers or skirts or even your bikini to stop you from burning. I love the colour of this pink one from New Look but I would take a selection of these on holiday in different colours.
Accessorize Woven Coachella Flip Flops | £15.00
If you're going on a beach holiday you definitely need to have flip flops to protect your feet from the hot sand. They are also perfect to wear around the pool or during the day when walking about because when it's hot I hate to have my feet closed in! 
Accessorize Sienna Top Kaftan Top | £39.00
When chilling by the pool or on the beach a must have if a kaftan top which is quick and simple to throw over your bikini. This one at accessorize looks very pretty on and will turn your sun bathing attire into something suitable to walk around in when you go and grab a bite to eat.
Boohoo Myrtle Mould Push Up Bikini | £16.00
I've mentioned sun bathing a few times in this post (I can't get enough of it when I'm on holiday) and I have a slight addition to bikini's. When I go on holiday for a week I won't take one or two with me.. it's more like 7-8 oops and I'm loving this bright red one at Boo Hoo! It would look really great with a golden brown tan.
Kurt Geiger Carvela Klix Wedges | £75.00
I love to wear heels on holiday, especially in the evening and these nude pink ones from Kurt Geiger are great. I have these in another colour and wore them a lot last summer because they are very comfortable and easy to wear!
Miss Selfridge Petites Coral Cutout Dress | £35.00
Last but not least is this pretty coral dress by Miss Selfridge. I love coral shades at the moment and this piece would look lovely during the day or evening. The bright colour shouts Summer and I really like the style of it. I would definitely wear this out in the evening to dinner and drinks.
There are obviously a lot more fashion pieces you need to take on holiday with you but I hope you enjoyed looking at my mini list here. I love every one of these pieces and would love to add them into my collection for July!
What do you think of my Fashion Holiday Essentials?

Check out these great blogs by my lovely advertisers:
Pink Champagne: Hoad Shoes – An Independent Little Shoe Shop
Pink Panther: Beky Lou, Dulcie's Beauty Blog, MissLJBeauty, Satchels and Pearls, Adventures of an Anglophile, Polkadella, Beauty Queen UK 
Pink Pearl:, Scottish Stef's Nail, Topdraw Fashion, Confessions of a Secret Shopper, Pink Confetti, Two Little Owls Blog 
To advertise with Kimberley's Beauty Blog find out more info here