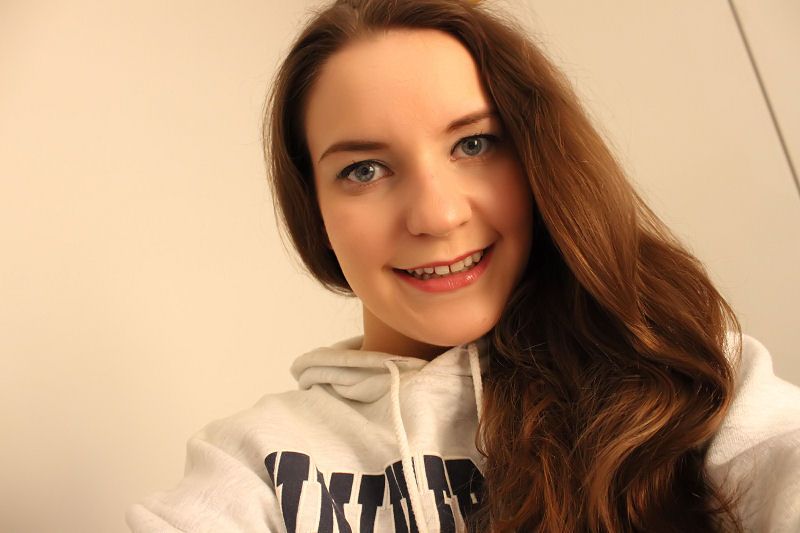 Hello Beauties! I took a a quick snap last weekend when I was testing the lighting before taking my blog photo's and filming a You Tube video (see my Channel here) but I actually quite like it because it's natural. I had just washed and dried my hair so this is what is looks like before any styling, curly and wavy. If I leave it to dry completely naturally it goes more curly but that takes so long I only really do it when I'm on holiday. As I was just chilling at home I wanted to be super comfortable so am sporting my boyfriends University hoodie, not the most glamorous look but cosy! The make-up I'm wearing is below:
– Foundation – Benefit Hello Flawless Oxygen Wow- Concealer – Benefit Erase Paste- Bronzer – Soap and Glory Solar Powder- Highlighter – MAC Soft and Gentle- Eyeshadow – MAC Ricepaper and Knight Divine- Eyeliner – Collection black liquid liner- Mascara – Maybelline The Falsies- Lip Stain – Revlon Balm Stain in Honey- Lip Gloss – Urban Decay Obsessed Lip Junkie
What do you think of my every day Spring make-up look?

Check out these great blogs by my lovely advertisers:
Pink Champagne: Hoad Shoes – An Independent Little Shoe Shop
Pink Panther: Beky Lou, Dulcie's Beauty Blog, MissLJBeauty, Satchels and Pearls, Adventures of an Anglophile, Polkadella, Beauty Queen UK 
Pink Pearl:, Scottish Stef's Nail, Topdraw Fashion, Confessions of a Secret Shopper, Pink Confetti, Two Little Owls Blog 
To advertise with Kimberley's Beauty Blog find out more info here