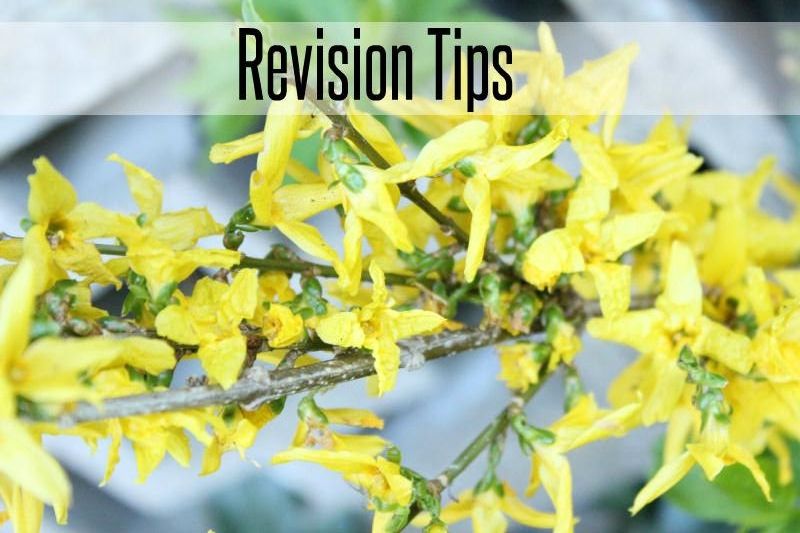 Hello Everyone! It's that time of the year when you're either already preparing for your exams, maybe you have already started or are getting ready for them so I thought it was a good time to share my revision tips with you. The key thing to remember with these tips is that there is no right or wrong way to revise, you need to do what is best for you because everyone learns and absorbs information differently but I hope you will find some of the below ideas helpful!
I've done a number of exams at school, university and work and over the years I have learnt what works best for me and stuck to that way of revising. Although I always preferred coursework as I would get very nervous before exams I performed well and even got a 1st Class Joint Honours degree in Business Administration with Computing with a Year in Industry at University.
Here are some of the tricks I picked up:
#1 Preparation
Scouts motto is to always be prepared and this also  applies to revision. If you try to take as many notes as you can throughout the working year then you won't have as much to do in the weeks leading up to the exams so instead you can concentrate on actually learning the topics instead. If you haven't done then this don't panic! It's very hard to do your coursework, homework etc plus fit in preparing for your exams (in terms of notes) months in advance so don't be too hard on yourself. If you're in the position where you haven't got those then plan how long you think they will take you and add a little bit extra for good measure (these things always take longer than you think) and start as soon as possible. Get together your notes and textbooks and start reading through them and making notes.
#2 Organisation
 It's all well and good having notes but you need to organise them in a way that makes them quick and easy for you to read. It is also important to have them organised so you can refer back to them rather than panicking that you've lost an important piece of information in the mountains of paperwork all over your room. I used to have one or two leaver arch folders per subject and use dividers to split the information into chapters (based on my textbooks usually). 
#3 Planning
You've probably heard it a million times but planning is key when it comes to revision. I didn't go as far as writing up a whole timetable but I always had a very rough idea of how long I thought I needed to revise for each subject and when I needed to start. I would sometimes switch between subjects on different days of between the morning or afternoon but most importantly I always knew what was needed in order to get through every single topic numerous times so I could feel confident I had covered everything.
I found it important to keep my 'timetable' flexible because it kept me more motivated. Revision feels like a chore and even worse if it's regimented and you have to stick to a particular subject at a particular time. Of course this makes sense if you've got one exams long before the others but if they are all clustered together quite closely I liked having the flexibility to switch if I wanted to because if you're not in the 'zone' for that particular subject or topic at that time you won't remember it.
#4 Writing, Reading or Listening
It's important to think about the style of revision that is most beneficial for you.  I used to type up my notes into bullet points as I find it far quicker to type than write. I would then highlight key words to make my notes more interesting before printing and inserting them into plastic pockets in leaver arch folders. I would then learn the information by reading through a few pages and then writing it out over and over again. I found just reading wasn't enough to digest and remember all of the information but when combined with writing and doing mini tests for myself I could get through a few sections at a time and be confident I knew it. I would also re-cap over everything I had learnt that day by either reading it all or ideally doing mini tests across everything. I would do this again the following morning before starting anything new to make sure I was building up my knowledge and not forgetting anything from previous days.
This is a very time consuming approach to revision and it needs a lot of dedication. I would revise for hours and hours each day but it was the technique that worked for me.
My boyfriend, however, would write up some rough notes and then use a dicta-phone to record himself saying them out loud. He would then play this over and over again because he found he remembered information most easily by hearing it rather than writing. You need to work out what works best for you.
#5 Lists & Diagrams
I found it key to make my revision notes fun and interesting as it made the tedious task of writing them less boring and made each page easier to remember. I would always use short bullet points for my notes because they are quicker to read than paragraphs and would create a lot of diagrams whether it be for strategic business models I had to learn or mind maps. I would do them in a whole assortment of colours and put them up all over my walls so even when I wasn't revising I would have a quick glance and remember. In the exam I would also be able to picture where it was on the wall which found it must easier to remember than detail than endless pages in a book. Post-it notes are also great to use for sticking key words and definitions on the wall!
I also wrote questions in different colours on small cards so I could quickly flick through them and test myself or learn a topic. They are also great to carry around with you because they are small. 
#6 Colours
I've already spoken a little about colours but I find it to be such an important attribute to revision I wanted to include it in it's own section. Colours are great to use whether they are on typed up or hand written notes or diagrams. Have fun with your revision and mix things up. Maybe treat yourself to some funky gel pens or felt tips that you will be motivated to use. Highlighters are very important to too!
#7 Regular Breaks
Something I was very bad for when revising was having breaks. I found it hard to stop because I felt like I was wasting time doing nothing when I could be revising and making the most of the short time I had. However, short breaks inbetween revision sessions are very important because it gives you a chance to let the information sink in and you need to rest your mind. Revision can be an intense process and in my final year of University I made more effort to have regular breaks (around ten minutes) and I found it really benefited me. Just make sure they aren't too long or too often!
#8 Tests
As you're revising try doing mini tests every now and then so then you will have confidence that you are understanding the topics and not just simply reading words that are meaningless and not sinking in. I would go through my notes and write myself short questions so this would highlight the areas I did and didn't know. These lists of questions were also great to use as a re-cap at the end of the day or just before the exam.
Also, take a look at any past papers you can get hold of and questions in your textbooks.  They are very useful to look at so you can get a feel for the type of questions that will come up and the layout of the exam. Don't be scared by them. If you don't do so well in the tests don't beat yourself up. They will highlight the areas you need to look at and it's better to know now when you have time to go over things than in the exam when it's too late. It just takes time and practice!
#9 Work Space
Choose your work space wisely as any distractions will have a very big impact on your success. I felt most comfortable sitting on my bed as I had plenty of room to spread out my notes and strangely found it easier to revise there than sitting at a table. I also never had on the computer or tv because it is just too distracting. I would however, sometimes play quiet music in the background to break up the silence but not very often.
Maybe try your bedroom or somewhere else in the house to revise. Alternatively, the library as it's a quiet space or a study room at uni.
#10 Motivation & Dedication
There's no denying revision is boring but just remember it's not forever. If you start early and dedicate yourself to it you will feel far more confident when you go into the exam rather than panicking and it will all be worth it when they are over and you get your results. My thoughts were always that I preferred putting in the hard work then and doing as much as I possibly could rather than coming out of the exam and thinking I could have done more, what if I had revised those extra few days instead of going out or watching tv etc.whatever  grade I got I always knew I did everything I could. Make the most of the time you have.
If you need motivation think about your ambitions in life and what you need to get there. Also plan some things for after your exams so you have something to look forward to and a little treat after all the hard work you have put in.
Good luck to all of you doing exams! Work hard and don't panic, it will all be worth it beauties!
What do you think of my revision tips?

Check out these great blogs by my lovely advertisers:
Pink Champagne: Hoad Shoes – An Independent Little Shoe Shop
Pink Panther: Beky Lou, Dulcie's Beauty Blog, MissLJBeauty, Satchels and Pearls, Adventures of an Anglophile, Polkadella, What Shell Says, Beauty Queen UK 
Pink Pearl:, Scottish Stef's Nail, Topdraw Fashion, Confessions of a Secret Shopper, Pink Confetti, Two Little Owls Blog 
To advertise with Kimberley's Beauty Blog find out more info here