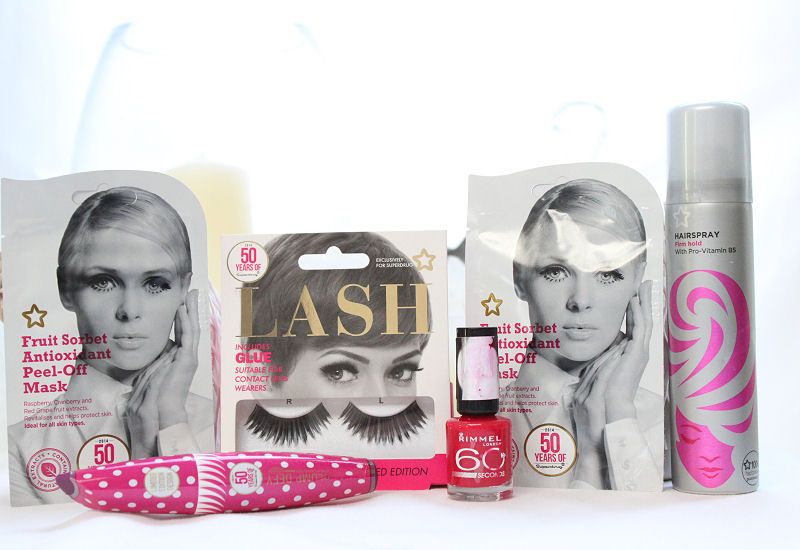 Being a beauty blogger I'm a big fan of Superdrug as they sell a wide range of products from beauty to skin care and hair care and I'm pleased to say they are currently celebrating their 50th Birthday! 
This means they have re-vamped the packaging for a variety of products to sport their eye catching trademark pink branding and I have a few here that I want to share with you:
*Max Factor Mascara  – I love the polka dot design on this clump defying mascara and I can't wait to give it a try. I haven't actually tried a mascara from Max Factor for years so I can't really remember what they are like if I'm honest…I'm interested to see the results!
*Rimmel 60 Second Nail Polish – You can tell from my blog design I love a bit of pink so I adore this hot pink nail polish by Rimmel. These polishes are really good because the formula isn't too thick or thin and they dry really quickly.
*Fruit Sorbet Face Masks – These face masks sound absolutely divine… fruit sorbet! Yum! They are suitable for all skin types and contain raspberry, cranberry and red grape fruit extracts to help revitalise and help protect your skin.
*Superdrug Intense Volume Lashes – I don't use lashes very often because I'm terrible at applying them. I rarely seem to be able to get them in the right position and as I don't wear them very often I don't really get enough practice to master how to do it! As I've got these new ones to try that will all change, I hope!
*Superdrug Firm Hold Hair Spray – I often style my hair so I'm a regular user of hair spray but haven't tried Superdrug's own version yet. I'm interested to see how it compares to my favourite which is Urban Fudge Iced Raspberry and Vanilla. I love the small packaging of the Superdrug one, though because it is perfect to pop in your hand bag and even contains pro-vitamin B5.
There are many other products displaying the Limited Edition 50th Anniversary packaging so keep an eye out for it in stores and online. Some of your favourite products may have even been given a make-over!
What do you think about the Superdrug 50th Birthday range?


Check out these great blogs by my lovely advertisers:
Pink Champagne: Hoad Shoes – An Independent Little Shoe Shop
Pink Panther: Beky Lou, Dulcie's Beauty Blog, MissLJBeauty, Satchels and Pearls, Adventures of an Anglophile, Polkadella, Beauty Queen UK 
Pink Pearl:, Scottish Stef's Nail, Topdraw Fashion, Confessions of a Secret Shopper, Pink Confetti, Two Little Owls Blog 
To advertise with Kimberley's Beauty Blog find out more info here