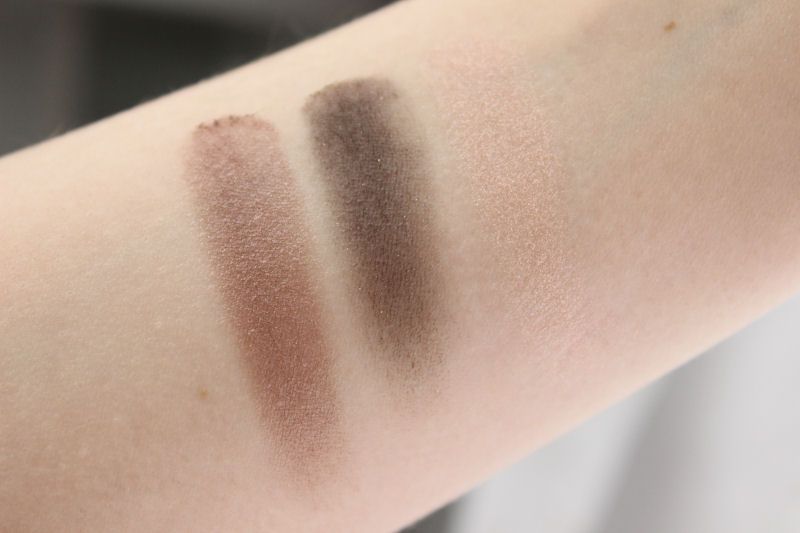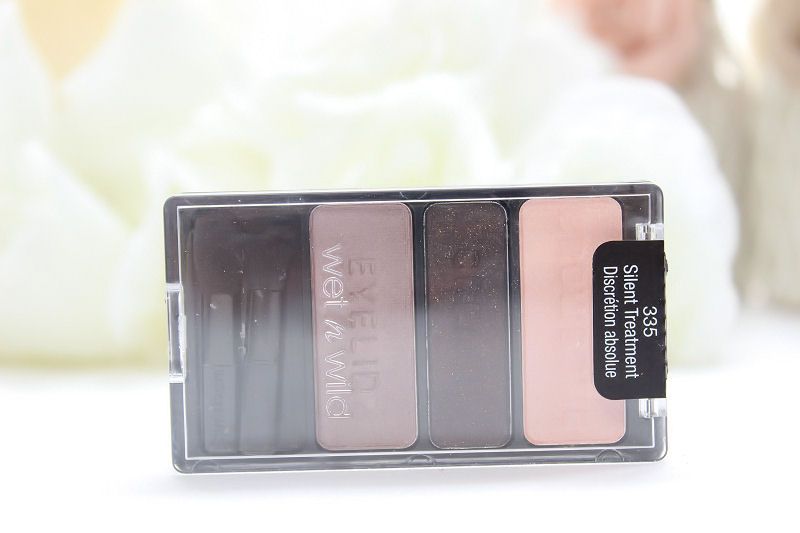 Quite some time ago I took part in a beauty box swap with a lovely girl from the USA and one of the products hidden inside was this beautiful eyeshadow so I've been able to give it a sneaky try. 
Wet and Wild eyeshadows sadly aren't easily available in the UK so I was super excited to give this one a go and I've been using it on and off since. A variety of palettes are available and this one is called 'Silent Treatment'. It contains three colours, one highlighter, one for the lid and lastly one for the crease which has these words indented in each of them which is really great for beginners and cute.
The three colours are a light pink nude which works well as a highlighter or over the lid, a pink toned taupe which again looks lovely all over the lid or in the crease and lastly a deep chocolate brown with a hint of plum and gold sparkle although the latter doesn't show after application. I love all of the colours in this palette and I find them all very wearable for both a day and evening look.
The texture of these shadows is very soft and creamy so they blend together effortlessy to achieve a flawless make-up look, however they aren't as pigmented as they are in the pan and you do lose quite a bit of colour if you blend too much so I find I need to build up the make-up look with more layers to achieve a more intense finish.
I'm sad the Wet and Wild palettes aren't available in drugstores in the UK because it's good to be able to swatch products before you buy but you can pick them up very cheaply from Amazon (£2.99) so for that price I would definitely order some more to try! The colours in the Silent Treatment palette are definitely me because I love neutrals and I've really enjoyed using them! 
If you're in the US you can buy Wet and Wild Silent Treatment from Walmart for $2.93.
What do you think of this Wet and Wild Eyeshadow Palette?

Check out these great blogs by my lovely advertisers:
Pink Champagne: Hoad Shoes – An Independent Little Shoe Shop
Pink Panther: Beky Lou, Dulcie's Beauty Blog, MissLJBeauty, Satchels and Pearls, Adventures of an Anglophile, Polkadella, Beauty Queen UK 
Pink Pearl:, Scottish Stef's Nail, Topdraw Fashion, Confessions of a Secret Shopper, Pink Confetti, Two Little Owls Blog 
To advertise with Kimberley's Beauty Blog find out more info here