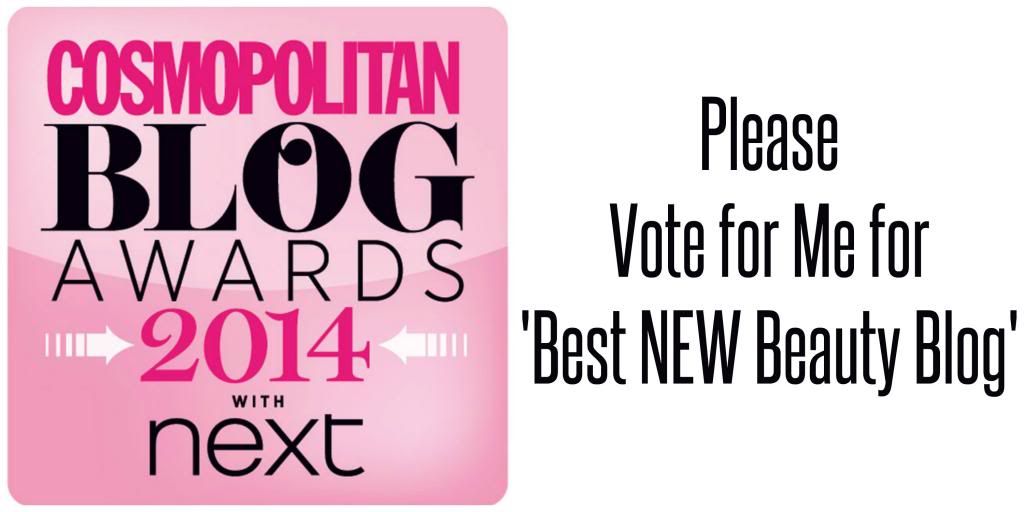 Hello Beauties! I've just heard the voting for the 2014 Cosmo Blog Awards is live so I wanted to ask a quick favour. If you enjoy reading Kimberley's Beauty Blog can you please vote for me in the 'Best NEW Beauty Blog' category on the Cosmo website here. It only takes a moment and would really make my day!  
 Once voting closes on the 2nd June 2014 the lovely people at Cosmo will be sorting through the entries and will short list a few bloggers in each category who will be lucky enough to attend the award ceremony! The voting will then re-commence online for a short time in order to determine the winner in each category.
 It would be absolutely amazing to be nominated for this award 🙂 
Thank You!

Check out these great blogs by my lovely advertisers:
Pink Champagne: Hoad Shoes – An Independent Little Shoe Shop
Pink Panther: Beky Lou, Dulcie's Beauty Blog, MissLJBeauty, Satchels and Pearls, Adventures of an Anglophile, Polkadella, Beauty Queen UK 
Pink Pearl:, Scottish Stef's Nail, Topdraw Fashion, Confessions of a Secret Shopper, Pink Confetti, Two Little Owls Blog 
To advertise with Kimberley's Beauty Blog find out more info here