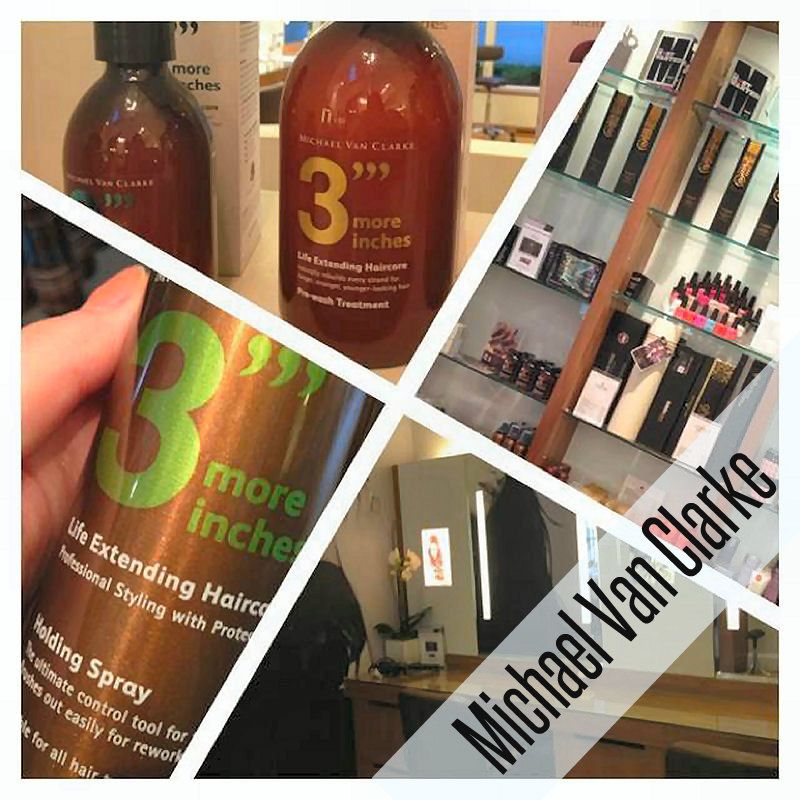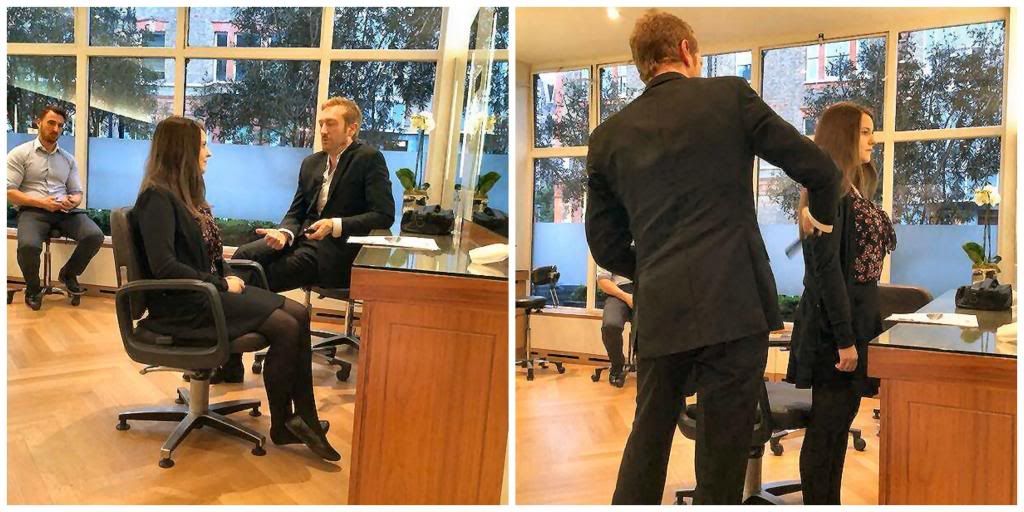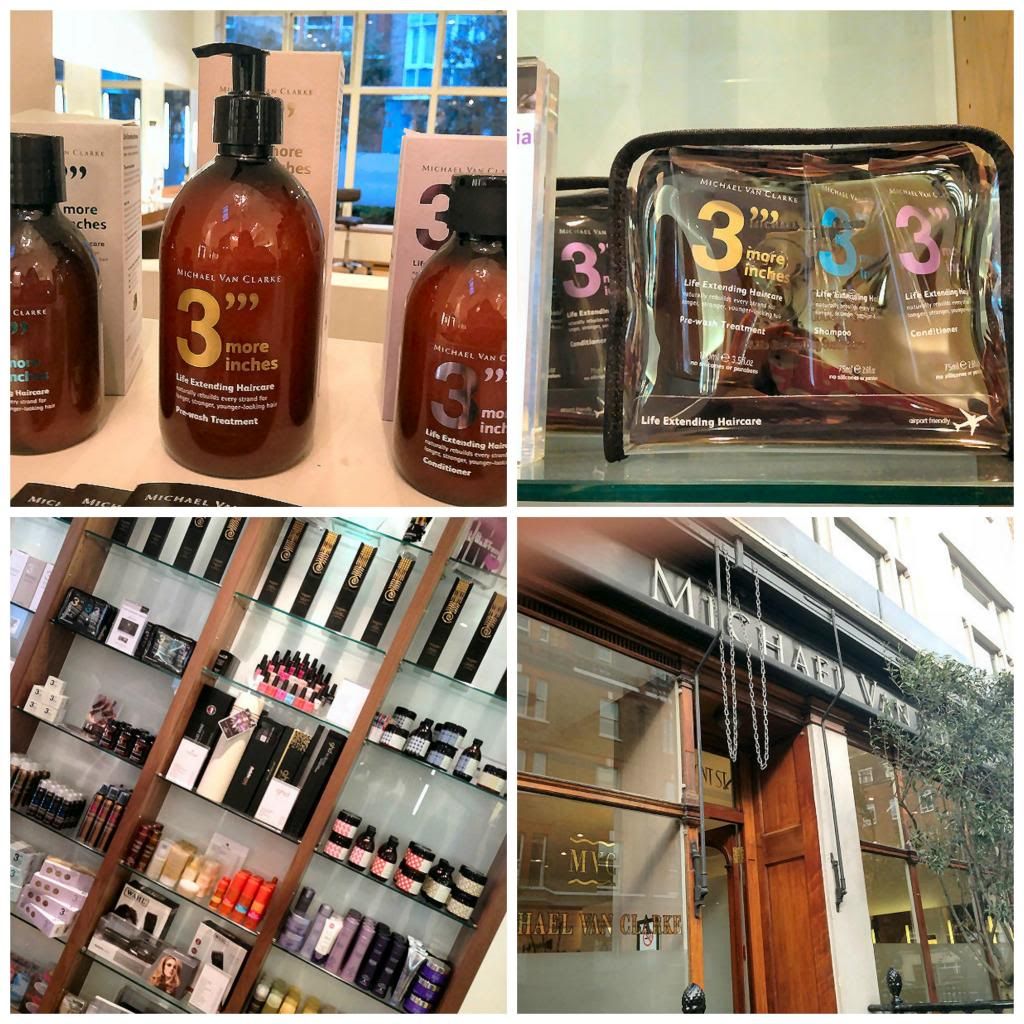 Last week I attended an event at the Michael Van Clarke hair salon in London which was amazing because not only did we get to hear more about the products but also a short history into hair care and the use of sillicones in products.
On arrival we were greeted by the lovely receptionist and were able to wonder around the salon while we were waiting for more people to arrive. The set up is really great. The salon has a fresh, clean and comfortable feel and is split into four different areas. The first being the reception and the other three for hair styling.
It wasn't long and the remaining people arrived and the champers began to flow. This was an exclusive event so there was only a handful of us but I liked that because it gave us a chance to interact with people and we had plenty of opportunities to speak with Michael himself and ask questions.
The event begun with a presentation by Michael which I really enjoyed because it was obvious how passionate he is about the hair care industry and his products. He told us how the first products were created such as the Frizz Ease brand by John Freida and educated us all more about the ingredients inside the majority of hair products we use every day, in particular the use of sillicone.
I found this really interesting as it was great for someone to actually explain the structure of our hair strands (97% protein and 3% water) and make us understand how products can affect them. I'm not going to go into a huge amount of detail now as I want to write up a separate blog post about this as it was extremely informative and helpful but in summary sillicones are in a huge amount of products whether they are shampoo, conditioner, hair spray, serums, oils etc and although they do improve the appearance of the hair they don't actually do anything to protect or repair it. This is where there is a fine line in the hair care industry.. although everything falls under 'hair care' not everything does actually care for the hair and instead is purely aimed at improving the appearance. Watch this space for more information on why this is etc
Michael also spoke about his 3 More Inches range which includes shampoo, conditioner, treatments, hairspray, mousse, tools and more. Each product took years to perfect and was created from the perspective of what professional stylists look for when working on clients hair and what the clients themselves look for in a product. The products don't contain chemical nasties and aims to add a natural bounce and volume to the hair by ensuring it does not get dried out as well as prevent the structure of each strand of hair getting more damaged. This means, after long term use your hair should be the same thickness all the way down and be far healthier.
After hearing about all the products we were lucky enough to have a hair consultation with Michael which was a great experience. In the past I have asked hairdressers about the condition of my hair because I've always been concerned due to the amount of heat I use on it and lack of hair cuts but have never really got a very confident answer because their knowledge wasn't quite as good. Michael however, spoke confidently with each person and for me, described a possible new style which isn't drastically different to what I have now but would make my hair more bouncy and fall more naturally. It was also very re-assuring to hear he though my hair looked nice and was in pretty good condition! Phew!
I had an amazing time at the event and definitely learnt a lot! I'm actually going back to the salon on Thursday to have my hair cut into the style Michael described.
If you want to try any products from the Michael Van Clarke range or visit the salon take a look the their website here. I will also be featuring in depth reviews of the products on my blog so watch this space if you want to find out more about them.
What do you think of this event? Have you tried anything from the 3 More Inches range?

Check out these great blogs by my lovely advertisers:
Pink Champagne: Hoad Shoes – An Independent Little Shoe Shop
Pink Panther: Beky Lou, MissLJBeauty, Polkadella, Lulabelloves, Lily Ann Loves, Topdraw Fashion, Athina's Boutique, Beauty Queen UK, Beauty King UK
Pink Pearl:, Scottish Stef's Nail, Two Little Owls Blog  Lazy Days Beauty, The Cleanser Beauty Blog, Samelia's World, Rianna Phillips
To advertise with Kimberley's Beauty Blog find out more info here