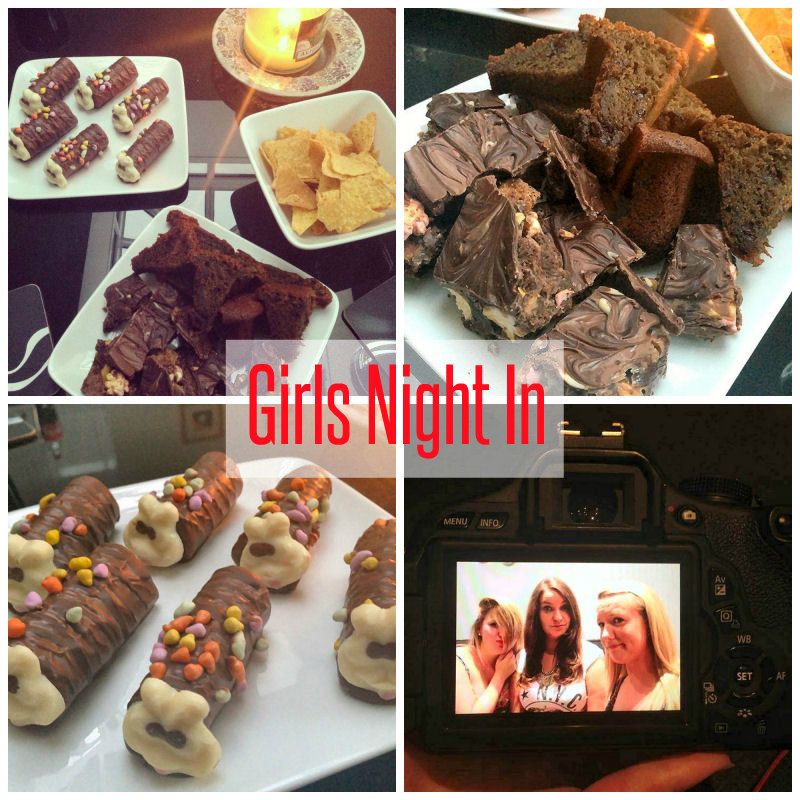 As much as I love going out I also love nights in and now that my friends and I have our own places with our boyfriends/husbands we tend to do that more often. Last week we had a girls night which originally was going to be a pamper night but we got so carried away chatting we didn't actually end up doing any but this has been the inspiration for today's blog post… ideas for a girls night in!
Pamper Night
Being a beauty blogger the obvious girly night is to do a pamper night. It's really fun for everyone to bring along some of their favourite items so you can all enjoy trying out some new products and doing each others hair, nails makeup. My friend Lizi was going to do our nails as she has the lamps etc to go with gel nails, I had the supply of hair tools and makeup and finally Emma was going to provide the yummy treats as she is a great baker.
Last week we ended up chatting and eating the snacks in the picture above (yum) and didn't get around to the beauty stuff but we will definitely arrange another night so we can! It's always fun to light some candles, do some facemasks and have a chat whilst enjoying some well deserved pampering.
Movie Night
My friends and I love to watch movies and we are big fans of Harry Potter and Twilight in particular. For the next girly night we plan to watch all of the Twilight films back to back which will be a long night but super fun!
Baking
We all like to do a bit of baking, I find it really relaxing and wish I had more time do it so what better excuse than to have the girls round and each bake something extra special? It's fun to try out new things and it's more exciting than just buying a bunch of items from the store.
Two of the yummy looking treats in the picture above were made by Emma this time. The first is banana bread with chocolate chips which brings back lots of memories for us as she had it as one of her wedding favours back in February and the second was rocky road which included marshmallows, malteasers, twix, crunchie, chocolate and more! Both were delicious!
Dinner Party
We haven't done a girly dinner party, only one with the boys too but there's no reason why you couldn't. To take the pressure off the host we tend to share the cooking by each bringing a different course which works really well. It's more cost and time effective as well as fun because everyone looks forward to each other trying their course and trying other people's too.
When you say dinner party people often think it's something older people do but we really love them! 
Cocktails
Rather than focusing on food why not focus on cocktails instead? There are soo many different ones you can make so it's fun to experiment with different combinations of drinks, some of which can make very pretty combinations!
Games Night
Game nights are always fun and something we do quite often. If we include the boys we tend to play card games like Poker or board games like the Logo Game or Articulate but when it's the girls we play games they wouldn't be interested in such as Twilight Scene It and Just Dance on the Wii. 
These kind of nights are always fun and they allow you to still chat whilst having a laugh playing a game you are all interested in.
Girly Chat
Last but not least is a simple girly chat night. Nothing beats just catching up with the girls and talking about everything from shopping to boys to work and life in general. We've all known each other since we were 4 years old so we find it really easy to talk to each other and we know each other inside out. We've shared so many memories together it's fun to reminisce and make future plans too!
Without fail every time we meet up we take a photo together as we found after school we didn't have as many when we went our separate ways at uni. Sometimes they are serious and other times are are silly like the one above but guaranteed there will always be one so we can look back and remember the fun times we have had together. Lizi is also creating an amazing photo book for the year where every day she takes a picture of something that makes her happy.. a genius idea and a good excuse to take more photo's and be thankful for what you have.
What do you think of my girls night ideas?

Check out these great blogs by my lovely advertisers:
Pink Champagne: Hoad Shoes – An Independent Little Shoe Shop
Pink Panther: Beky Lou, MissLJBeauty, Polkadella, Lulabelloves, Lily Ann Loves, Topdraw Fashion, Athina's Boutique, Beauty Queen UK, Beauty King UK
Pink Pearl:, Scottish Stef's Nail, Two Little Owls Blog  Lazy Days Beauty, The Cleanser Beauty Blog, Samelia's World, Rianna Phillips
To advertise with Kimberley's Beauty Blog find out more info here