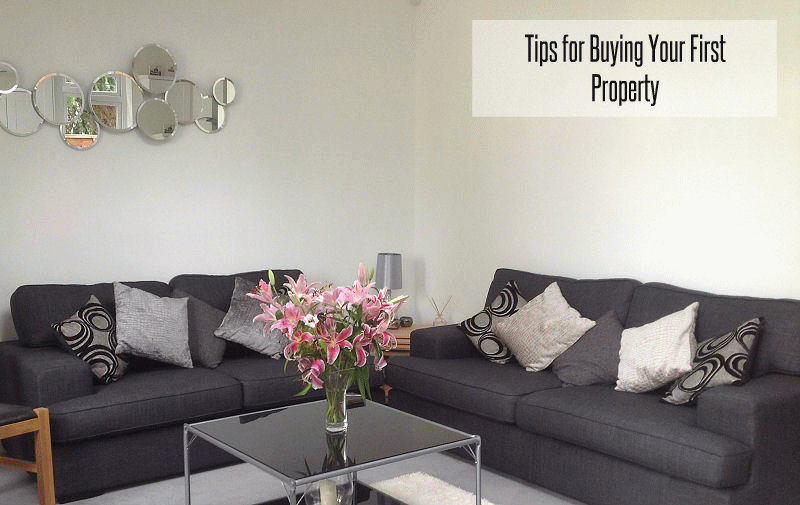 Hello Beauties, today's post is more along the lifestyle lines and is more personal too as I will be speaking about my experience when buying my first home. It's coming up to two years now so that anniversary was the inspiration for today's blog post.
So casting my mind back two years ago my boyfriend and I had graduated from University and had been together for 7 1/2 years. After living together at Uni and as we had been together for so long the next obvious step was to move in together but we hadn't actually planned to as early as we did.. it just kind of happened. My dad actually heard about a new build that had some unique features and suggested we went along to see it and the rest is pretty much history.
Despite the walls only being up to my shoulders we could see real potential and it was really easy to picture exactly where we would want everything. From the first few days I had a really good idea of exactly how I wanted each room to be designed, including our lounge in the photo above but things weren't quite as easy as that.
Firstly, being a new build we didn't actually know when the building was going to be complete for sure so when it came to getting a mortgage is was pretty risky because they only last so long. In fact, we actually only bought the property with two days left on the mortgage we had applied for so this blog post could be telling a very different story! The Legal side of things was also difficult because we didn't really have a clue what were doing but thanks to our parents we were given a lot of guidance.
Here are some tips from what I learnt along the way:
1. Save, Save, Save
Make sure you save as much as you can before looking for a property so you can be sure to look for something within your price range. We discovered that things always work out more expensive than you think they are going to be whether it be the solicitor fees, mortgage fees or interiors so the more you can save the better so you won't be disappointed.
2. Planning
Buying a place takes a lot of planning so make sure you have a really good idea of what areas you want to live in before you start hunting and also the criteria you are looking for. For example, what type of property do you want to buy? How many bedrooms? Does the location need to be near shops or a station and so on.. the list really is endless but necessary in order to save time when looking for a place.
3. Research
Research is tied in with planning but involves looking at more things. You need to do your research on the properties you choose to view but before you even get to that stage you need to think about how you're going to find the property. Of course you can scour the internet for searches such as 'property for sale in London' but it's also good to get in touch with estate agents such as Strutt and Parker so they can let you know when properties that fit your criteria become available and also give you advice. 
You should also do research on the mortgages different banks offer as well as brokers to make sure you fit their criteria which seems to be getting harder to meet each year. This is good to know because they offer different types such as fixed rate, variable, tracker and of course at a variety of rates, some of which may be more affordable than others.
When buying a property you also need to consider what solicitor you will be working with so this of course needs research too.
4. Know Your Budget
One of the key things to remember when looking for a property is to know your budget and not feel pressured to buy something you can't afford. Having a mortgage is a huge commitment and it's important you are fully aware of how much deposit you have, how much legal fees will cost and what other costs are involved such as a mortgage fee, admin fees, surveyor fees and so on. It all soon adds up and can really affect the price of property you can afford.  It may even mean you want to wait a little longer so you have more funds to buy a bigger place than purchase at the current time.
5. Legal
I've mentioned legal briefly above so I won't go on about it too much but this definitely plays an important part in property buying. You need to have a solicitor who will deal with things in a timely manner and be contactable whenever you need them but there are so many out there it's often hard to choose. It's always best to take a recommendation if you can but if not surf the internet and contact as many companies as you can about quotes. We did this and chose one that was priced mid range and it worked out pretty well. However, they weren't nearby so one downside was that we couldn't pop in to drop off documents and so on so we had the added time and expense of having to post everything!
6. Finding a Mortgage
Again, I've already mentioned finding a mortgage briefly but without this step you can't buy a place unless you can pay for it outright. There are loads of different types on offer so it can be overwhelming but search online and also ask for advice from people who work at financial institutions if you need to know more. You need to think about how much you can pay each month, over how many years you want your mortgage to be (the longer it is the cheaper the repayments) and if you want a fixed or variable rate. Variable rates are often lower so repayments can be cheaper IF the interest rate is low but this is the risky option along with trackers because of course when that interest rate starts moving so do your repayments.
I hope you enjoyed reading today's blog post and happy house hunting to any of you out there who are in the middle of buying or are thinking about it. Without doubt it is definitely one of the most stressful things I have done but I'm very lucky to have been able to get onto the property ladder at such a young age so it was definitely worth it.
*
What do you think of today's blog post?

Check out these great blogs by my lovely advertisers:
Pink Champagne: Hoad Shoes – An Independent Little Shoe Shop
Pink Panther: Beky Lou, MissLJBeauty, Polkadella, Lulabelloves, Lily Ann Loves, Topdraw Fashion, Athina's Boutique, Beauty Queen UK, Beauty King UK
Pink Pearl:, Scottish Stef's Nail, Two Little Owls Blog  Lazy Days Beauty, The Cleanser Beauty Blog, Samelia's World, Rianna Phillips
To advertise with Kimberley's Beauty Blog find out more info here