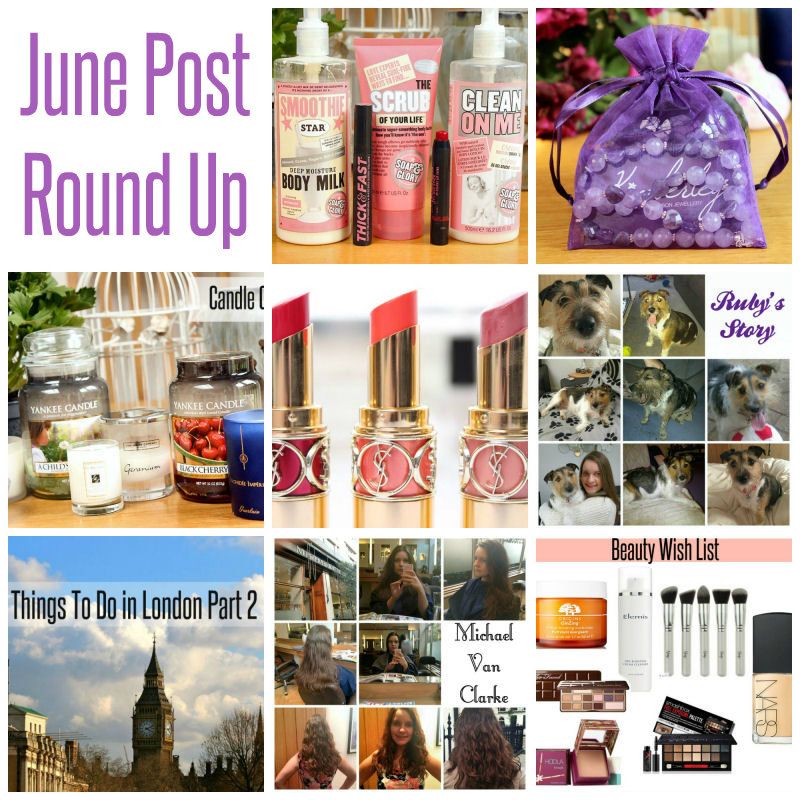 Yet another month has passed and that means it's time for another round up of my favourite posts during June. This month saw a large variety of posts from beauty reviews, to tips, favourites and events and surprisingly I found it pretty easy to pick my favourites this time, some of which I feel very passionately about.  Here they are:
My favourite post of this month marked my dog's 4th Birthday and that was a story about her life so far. She is a rescue dog and a gift from my parents for getting a 1st in my joint honours degree in Business Adminstration with Computing with a Year in Industry. We don't know much about her past but when we first brought who own it become obvious some of things she must have gone through. This post tells all about the first day we saw Roo, to bringing her home and 4 years later how she is settled and rules the roost!
#2 My Haircut at the Michael Van Clarke Salon in London
Next is a post I wrote about my experience at the Michael Van Clarke hair salon in London. The previous week I went to an event there we were all about the 3 More Inches range by the man himself and I was lucky enough to follow that up with my very own haircut. 
While I was there I learnt more about hair care, the exclusive diamond hair cut they offer and more.
#3 My Top 5 Soap and Glory Products
I've always been a big fan of Soap and Glory so I thought it was about time I wrote a blog post on my top 5 products. Even though there are loads to choose from, ranging from skin care to makeup I actually found it really easy to make my choices because these are the clear winners to me. I love each and every one of them, particularly the Sexy Mother Pucker Gloss Sticks.. they are amazing.
This month also saw another lifestyle post, this time about things to do in London. This is part of a mini series I am doing that was inspired by my boyfriends Birthday back in March when I was trying to think of places to take him as a surprise.
This post is the second in the series and covers a few interested places in London to visit whether you live there or are a tourist.
#5 My YSL Rouge Volupte Collection
My all time favourite lipsticks are definitely either by Chanel or YSL and this month saw a post about my YSL Rouge Volupte Collection. I have three lipsticks in total which are all beautifully pigmented shades which the moist hydrating luxurious formula I have ever used.
I'm a little addicted to candles. I burn them pretty much every day as I find they create a really nice ambiance in a room, are relaxing to watch due to the pretty flicker of the flame and can make an entire house fill with their wonderful fragrance.
When I first started burning them several years ago I didn't realise there is actually a set method that should be used in order to prolong the life of a candle and make sure it burns correctly. This blog post is also about tips I have read about over the years or discovered myself.
Next is a post all about my current beauty wish list. This ranges from makeup to brushes and skincare and is definitely the list of products I am lusting after at the moment.
#8 Handmade Kimberley Wilson Amethyst Necklace Review 
Last but not least is a review I wrote about a gorgeous hand made amethyst necklace by Kimberley Wilson. This isn't a brand I had heard of before blogging but is one I really like. This is one of the reasons why I love blogging so much. You can discover amazing small businesses that have so much on offer. This unique piece of jewellery is stunning.
What was your favourite blog post on Kimberley's Beauty Blog during June?

Check out these great blogs by my lovely advertisers:
Pink Champagne: Hoad Shoes – An Independent Little Shoe Shop
Pink Panther: Beky Lou, MissLJBeauty, Polkadella, Lulabelloves, Lily Ann Loves, Topdraw Fashion, Athina's Boutique, Beauty Queen UK, Beauty King UK
Pink Pearl:, Scottish Stef's Nail, Two Little Owls Blog  Lazy Days Beauty, The Cleanser Beauty Blog, Samelia's World, Rianna Phillips
To advertise with Kimberley's Beauty Blog find out more info here