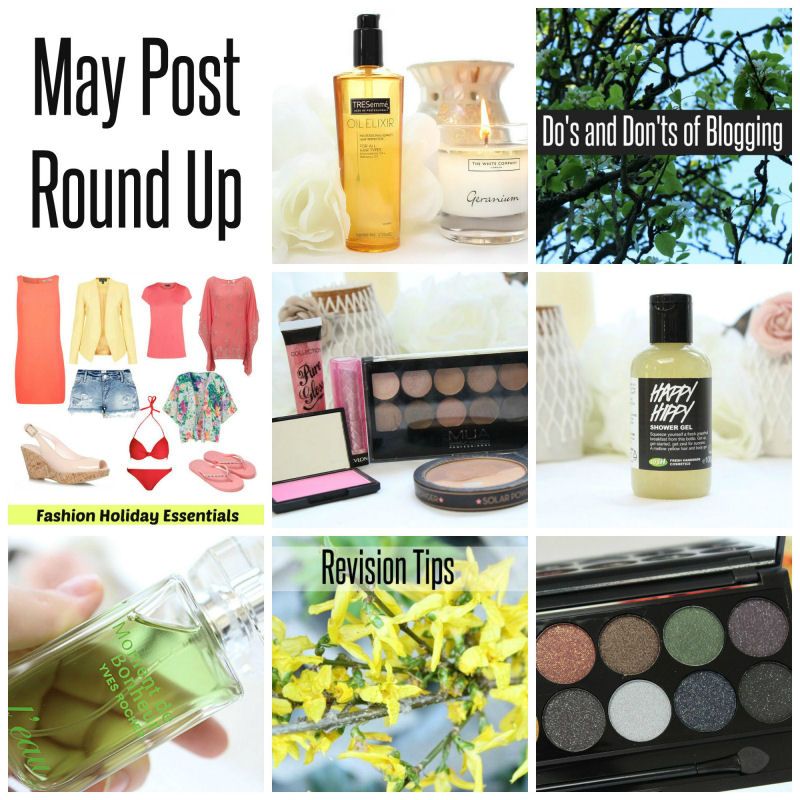 It's the end of another month and that means it's time for a monthly round up post! It's been an exciting month so it has been tricky to choose just 8 favourite blog posts and I was sad to leave out some of my other favourites such as the Smash Box Event and La Roche Posay but I'm happy with my selection so here goes…..
#1 Sleek Sparkle 2 Eyeshadow Palette Review | Link 
I recently noticed that Sleek hasn't appeared on my blog very often and I wanted to change that because it is a really good, high quality, affordable highstreet brand.
This month saw not one but two blog posts, one being a review of the Sleek Sparkle 2 palette and the other being a review of my Sleek Blush Collection.
#2 Yves Rocher Moment de Bonheur Perfume Review | Link
I love perfume and the most recent addition to my collection was Moment de Bonheur by Yves Rocher. This is a wonderful scent to wear during the day which was much needed because almost all of the other fragrances I have are more suitable for the evening.
This unusual scent is bright green so screams Spring and Summer. It is also the first product I have used by Yves Rocher so it was great to give it a try and share my thoughts with you guys.
#3 Lush Happy Hippy Shower Gel Review | Link
I'm a big fan of Lush so of course one their products had to appear on my blog in the past month and this time it was Happy Hippy. This is a refreshing shower gel which is wonderful to use in the morning to brighten you up and the smell is fresh, crisp and clean.
#4 6 Must Have Spring Beauty Products from the Highstreet | Link
Last month I did a post about my 6 Must Have High End Spring Beauty Products so it was only right I also included my favourites from the Highstreet too.
I love each and every one of these products and it was great to share them with you all.
#5 Tres Semme Oil Elixir Review | Link
I love Tres Semme products and the most recent one to be added to my collection is the Oil Elixir. The product is very much like Moroccan Oil but considerably cheaper so it is a brilliant alternative if you don't want to spend so much.
Having long hair, I love to use treatments on it so this has been a great product to use and incorporate into my routine. Hair care is probably the regime I mix up the most because my hair adapts well to trying new things but I always go back to my favourites.
#6 Top 10 Revision Hints and Tips | Link
I remember revising hard for my exams year after year during April, May and June so I really feel for those of you who are in the middle of studying. I'm glad all that is behind me now I'm in the big world of work but I learnt a lot during school and university so I wanted to share my experience and tips with you all.
#7 Fashion Holiday Essentials | Link
This month got me thinking about my holiday in July so I thought what better post to have than a fashion holidays essentials one? I haven't actually booked my holiday yet as I want to do something last minute but I love the sun, sea and sand so it will definitely be something along those lines.
This was a really fun post to put together because there are so many nice things in the shops at the moment and I definitely plan on buying some of these items (if not all of them oops) soon in preparation for my own holiday.
I tried to think a little outside the box with this one to keep the post interesting so it isn't a full list of essentials but definitely some of them!
#8 The Do's and Don'ts of Blogging | Link
I love writing posts about blogging and this month saw one about the Do's and Don'ts of blogging. This proved popular and was really enjoyable to write and I hope it helped some of you!
If there are any other blogging type posts you want to see leave a comment below and I will include them. It could be tips, advice, help, tutorials.. anything you like.
What was your favourite post on Kimberley's Beauty Blog during May?

Check out these great blogs by my lovely advertisers:
Pink Champagne: Hoad Shoes – An Independent Little Shoe Shop
Pink Panther: Beky Lou, Dulcie's Beauty Blog, MissLJBeauty, Polkadella, Lulabelloves, Lily Ann Loves, Topdraw Fashion, Athina's Boutique, Beauty Queen UK, Beauty King UK
Pink Pearl:, Scottish Stef's Nail, Two Little Owls Blog  Lazy Days Beauty, The Cleanser Beauty Blog, Samelia's World, Rianna Phillips
To advertise with Kimberley's Beauty Blog find out more info here