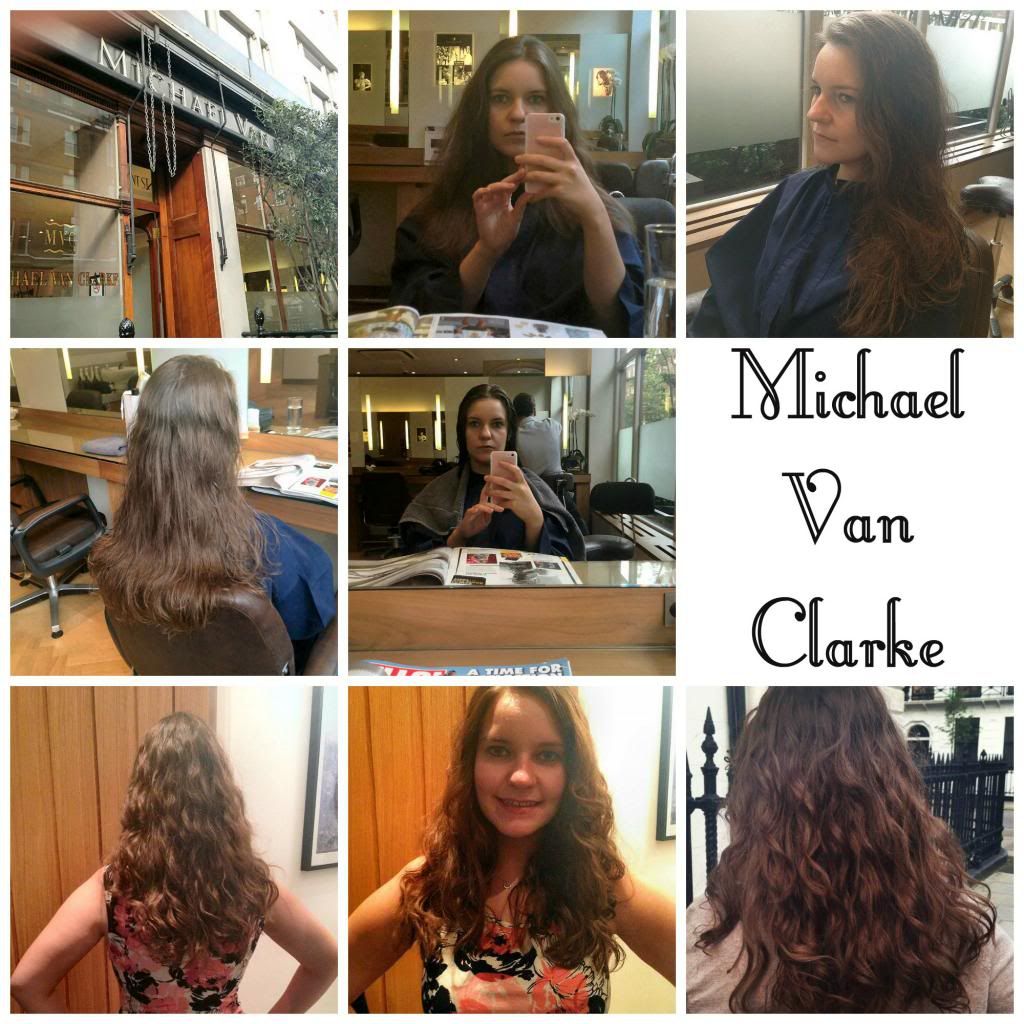 Hello Everyone! A couple of weeks ago you may have seen my blog post about the Michael Van Clarke event I attended in London where I found out a lot more about hair care, the industry and Michael's 3 More Inches products. I was lucky enough to make a return visit last week to have a *haircut which was amazing because at the event I had a hair consultation with Michael which made me feel really confident about what needed to be done.
When I arrived at the salon I was greeted by one of the lovely girls on the reception and given a gown to protect my clothes as well as a drink. It wasn't long until my hairdresser Lina popped over to say hello. She took me to one of the stations where we spoke a little about the notes Michael had made from the consultation, what I was looking for from a hair cut and her opinion on my hair.
I was a little nervous when I first arrived at the salon because I've had bad experiences at hairdressers in the past but I was soon put at ease and really felt that Lina listened and took into account what I wanted which made me feel much more comfortable. I love my long hair so I didn't want to lose too much length but at the same time was aware my hair was looking a little dry and worse for ware at the ends so something definitely needed to be done to rectify it. We agreed to only take off around an inch, to add long layers to add more shape and dimensions to my hair (my others had grown out and hadn't been cut in properly) and to remove as many split ends as possible.
Following this chat I was guided over to the basins where I sat in a massage chair and relaxed while my hair was washed with the 3 More Inches products. The products made my hair feel fresh and clean and also had a lovely subtle scent. Next I was guided back to the hair station where Lina blow dried my hair and took another look at it now that it was freshly washed. I love that she took time to look at my hair rather than just jumping in to get the cut over with straight away. She took a lot of care and attention and made sure I would leave with healthier hair and I style I would love.
At Michael Van Clarke they use the diamond cut technique which takes into account how the hair falls and the shape of the head. The hair is also cut dry so the hairdresser can see how it moves and falls so knows exactly how and where to cut in order to achieve the perfect style. It made me feel much happier having my hair cut dry as in the past hairdressers have ignored my request to remove as little as possible and have cut off 5 inches or so of my hair meaning that when it is dried (it is naturally curly) it shoots up and is too short for my liking. 
In total I was at Michael Van Clarke for around two hours and I really enjoyed the experience. The salon had a really comfortable feel, the staff were very friendly and made you feel at ease and it was clear they were passionate about hair and very knowledgable. I asked lots of questions so I could understand what Lina was doing and how I can improve my hair care routine. For example, to only dry my hair until it is damp rather than until it is bone dry like I do at the moment and to stop using my straighteners As I have heat damage.
My final style wasn't hugely different to what I already had which was perfect because I didn't want a dramatic change.  At the same time, it was obvious how much healthier my hair looked and diamond cut and products added an extra dimension and bounce to my hair as it fell much more naturally than it did before. Since having the cut loads of people have commented on my hair whether it has been straight (ish.. with no straighteners) or curly and some have even said it's the best cut I've ever had.  Without doubt I will be going back!
As I have some heat damage to my hair I will be making a real effort to try and use my styling tools less and so far it's going well.  Instead of reaching for my straighteners every day out of convenience I now blow dry my hair with a round brush which although takes longer it gives my hair a pretty texture and curl I actually prefer and my hair still looks smooth. The only reason why I really used my straighteners so much was to reduce the frizz but now I can achieve that without them it's much better for my hair. I'm not saying I will never use them but I attend to only use heated styling tools on my hair 1-2 a week maximum if possible which should really help to improve the condition of my hair. The products in the 3 More Inches range also have been working really well and leave my hair soft and smooth without the use of any sillicones!
Overall I really enjoyed my experience at the Michael Van Clarke Salon and I can definitely see a positive difference in my hair. I'm looking forward to going back and love the extra volume and bounce my hair has!
What do you think of my experience at Michael Van Clarke?

Check out these great blogs by my lovely advertisers:
Pink Champagne: Hoad Shoes – An Independent Little Shoe Shop
Pink Panther: Beky Lou, MissLJBeauty, Polkadella, Lulabelloves, Lily Ann Loves, Topdraw Fashion, Athina's Boutique, Beauty Queen UK, Beauty King UK
Pink Pearl:, Scottish Stef's Nail, Two Little Owls Blog  Lazy Days Beauty, The Cleanser Beauty Blog, Samelia's World, Rianna Phillips
To advertise with Kimberley's Beauty Blog find out more info here