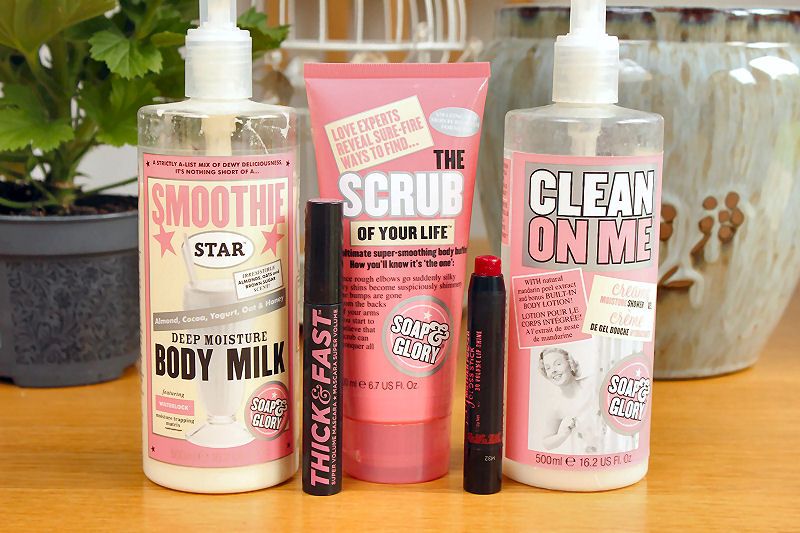 Soap and Glory is a fantastic high street brand for both skin care and makeup as they have a huge range of products available which are a high quality but affordable. You can't miss the statement baby pink packaging and the familiar original scent which is featured in so many of their products when you're walking through the drugstore.
Here are my favourites picks from all the wonderful products on offer:
1. Sexy Mother Pucker Gloss Stick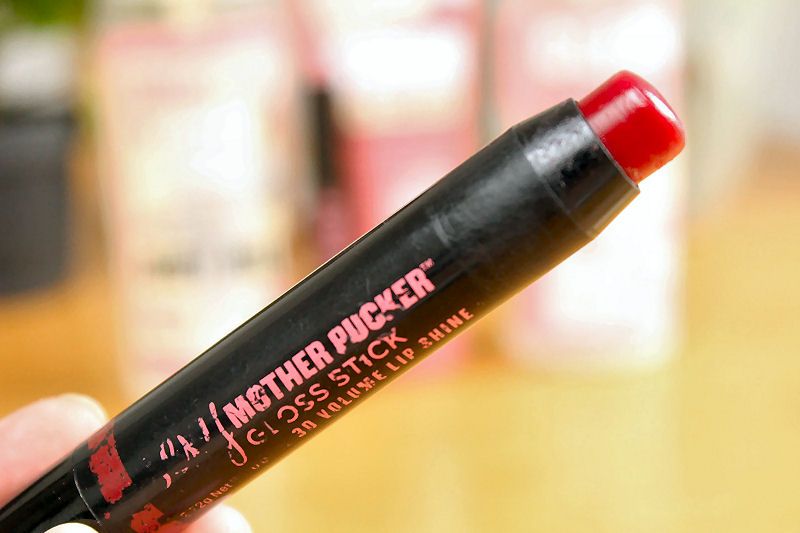 My all time favourite Soap and Glory products are definitely the gloss sticks. These are available in around five pretty colours ranging from nude to pink and red and they are definitely a must for every makeup bag. 
The texture of the product is very light and sheer so they are easy to use on the go but are buildable so if you want a little more colour you can achieve it. They are not at all drying and like the name suggests give your lips a beautiful glossy finish. 
I also love the packaging of these gloss sticks because they are simple and sleek so they don't take up too much space in your makeup bag. There is also a twist applicator so there is no need for things to get messy with sharpening!
Next is another makeup product and that is the Thick and Fast Mascara. This is a great mascara to use during the day because it isn't too dark or heavy and it does a great job at separating the lashes and making them look fuller and more voluminous. The formula isn't clumpy in the slightest and you're not left with spidery lashes… Perfect!
3. Scrub of Your Life Exfoliator


Soap and Glory have a lot of exfoliators on offer but my favourite is definitely the Scrub of Your Life. This is because the packaging is in a squeezy bottle rather than a tub so when you use it in the shower you don't run the risk of water running into it and making the product slushy and horrible.
As for the product itself? I love it because not only is it a gentle exfoliator for my sensitive skin but it feels like it is working and also foams so it can also be used as a body wash too. The smell is also amazing because it has my favourite scent.. the original, which is floral, sweet and girly.
My favourite shower gel on offer by Soap and Glory is Clean On Me because the scent is amazing! It is the traditional scent which is rich, floral and girly which I love. It's pretty long lasting too so even after your shower you can still smell it on your skin.
The formula of Clean On Me is creamy so it feels nourishing on the skin and it lathers up really well.  The packaging is also great because the pump mechanisms is quick and easy to use. It also makes it easy to control how much product is dispensed. This huge bottle easily lasts months!
Last but not least is the Smoothie Star Body Lotion. I was tempted to go for the Righteous Butter but then I remembered this beauty. Smoothie Star is a lovely body lotion because firstly the smell is incredible. It is totally different from any others I have used in the range because it is sweeter and definitely reminds me of popcorn.. it's lovely!
The formula is equally as nice because it isn't as thick as the body butters so it absorbs much quicker and glides over the skin a little easier. It makes my skin feel nourished, smooth and soft and this is a product I really enjoy using.
The packaging is also great because again it has the pump mechanism so it's really easy to distribute the right amount of product and due to the transparent bottle you can see exactly how much you have left.
I have a giveaway to win 6 Soap and Glory products. Click here to enter!
What do you think of my picks? What is your favourite Soap and Glory product?

Check out these great blogs by my lovely advertisers:
Pink Champagne: Hoad Shoes – An Independent Little Shoe Shop
Pink Panther: Beky Lou, MissLJBeauty, Polkadella, Lulabelloves, Lily Ann Loves, Topdraw Fashion, Athina's Boutique, Beauty Queen UK, Beauty King UK
Pink Pearl:, Scottish Stef's Nail, Two Little Owls Blog  Lazy Days Beauty, The Cleanser Beauty Blog, Samelia's World, Rianna Phillips
To advertise with Kimberley's Beauty Blog find out more info here