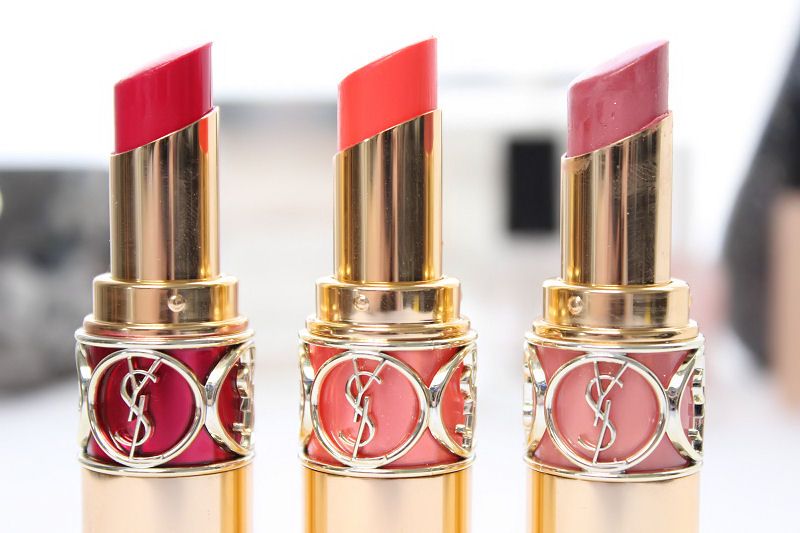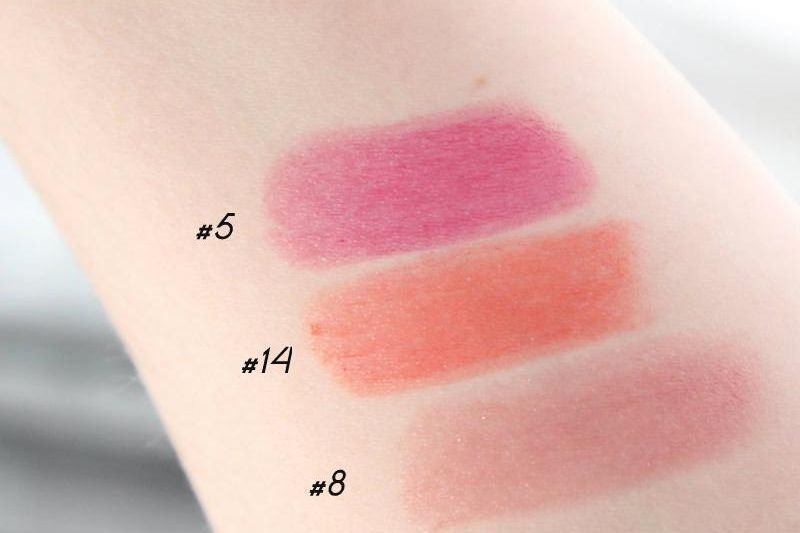 One of my all time favourite brands for lipstick is YSL and although the odd post on them has popped up from time to time I wanted to include my Rouge Volupte Shine Collection with you in one place.
I love YSL lipsticks firstly because of the gorgeous packaging. The gold casing is stunning against the intricate detail in the middle displaying the YSL brand name and the pop of colour giving you a sneaky peak at the colour hidden inside. For me, these are without doubt the best packaged lipsticks on the market.
Moving onto the product itself, the texture of each lipstick is the same. Extremely smooth, buttery soft and hydrating which means they apply beautifully and are extremely comfortable to wear. I hate wearing lipsticks that dry out my lips because it's one of those products that isn't particularly long lasting and after re-applying several times throughout the day or evening your lips but become very dry and uncomfortable and if you're unlucky this can also cause you lipstick to go patchy.  Thankfully this doesn't happy with the Rouge Volupte Shine range because the formula is so moisturising, however they do still need to be re-applied.
The finish of all three lipsticks in my collection are very glossy as they name would suggest which I love. The pigmentation differs between shades so be sure to swatch them before you buy but all are buildable. The colours I have are:
#8 Baby Pink – This is a 'your lips but better' colour and is such an easy shade to wear every day if you want a subtle hint of colour on your lips. This is my most worn shade.
#14 Orange – This shade is a soft orange and wasn't one I was planning on adding to my collection. I bought this at the airport and they actually gave me the wrong colour which I didn't discover until I was on the plane so admittedly I was a little disappointed. Orange isn't really my colour so this is my least worn shades but it works perfectly with orange or coral outfits so it I'm in hindsight I'm glad to have it in my collection.
#5 Deep Berry Pink – I love this shade and it is the first YSL lipstick I got. It reminds me a little of MAC Girl About Town but the texture is lighter and the colour richer.
Priced at £25.00 the YSL Rouge Volupte lipsticks are expensive but I definitely think they are worth it. I can't rave about them enough. Personally, I would rather spend more on one of these lipsticks than have several cheaper ones but that is just my personal preference. There are loads of fantastic highstreet brands too but the YSL lipsticks are my 'Holy Grail' product.
What do you think of my YSL Lipstick collection?

Check out these great blogs by my lovely advertisers:
Pink Champagne: Hoad Shoes – An Independent Little Shoe Shop
Pink Panther: Beky Lou, Dulcie's Beauty Blog, MissLJBeauty, Polkadella, Lulabelloves, Lily Ann Loves, Topdraw Fashion, Athina's Boutique, Beauty Queen UK, Beauty King UK
Pink Pearl:, Scottish Stef's Nail, Two Little Owls Blog  Lazy Days Beauty, The Cleanser Beauty Blog, Samelia's World, Rianna Phillips
To advertise with Kimberley's Beauty Blog find out more info here