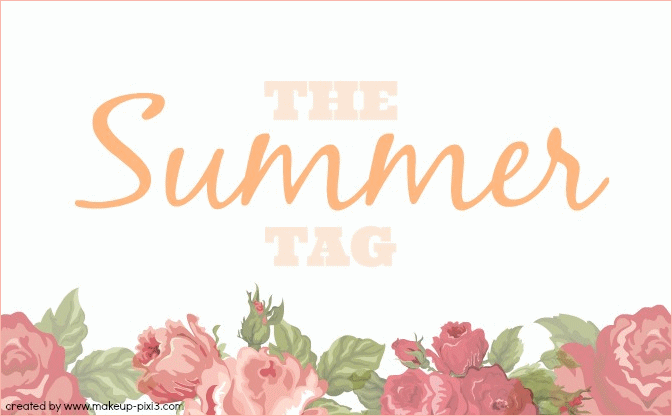 Today I spotted this tag on Beauty Queen UK and as I enjoyed reading it I thought I would also take part. The tag was created by the lovely Georgina over at Makeup-Pixi3 and it is open for everyone to take part.

If you decide to do this tag, there are one or two stipulations which are:
"Feel free to consider yourself tagged as well, IF you do it, please remember to credit me as the source of the tag, and feel free to use the image above too.  Either tweet me or (ideally) leave a comment with your post URL of the tag, and I'll add it to the bottom of this post so others can find all the summer tag posts 🙂  Lets get on with the questions"
1.  What's your favourite thing about Summer?
I love the Summer because the weather improves and along with it everyone's mood. I love to see the sun shining bright and as I'm a sun worshipper I enjoy the heat too. Nature is also at it's peak as the flowers are blooming bright, the birds singing load and more animals seem to be out and about. I also really enjoy swapping my snuggly Winter clothes for my pretty skirts and dresses which are often more colourful and going to Summer BBQ's, picnics and meet ups with friends.
2.  Do you have a favourite Summer drink?
The drink that always reminds me of Summer is Pimms. This is a cool freshing drink mixed with fruit, lemonade and ice which is perfect for this time of year. 

During Summer I also tend to drink more fruit juices but I have no idea why. My favourites are orange, cherry, apple and lychee.
3.  Is there a location you like to go to each Summer?
I love going to the beach during the Summer because you can enjoy the sun and the heat but you also have the gentle sea breeze which makes it less intense. I enjoy going there with my family and we often take my dog along too. It's a really lovely day out.
4.  Favourite makeup look for Summer?
I like to keep my Summer makeup light and fresh so I tend to use a BB cream or light foundation such as Nars Sheer Glow of Chanel Vitalumiere Aqua. I always wear a pale pink blush and highlighter and usually keep my eye make-up to the minimum leaning more towards lighter shades during the day and maybe slightly more smokey in the evening. As for lips I either go for baby pink like MAC Creme Cup or a deeper, richer pigment like MAC Girl About Town which is a stunning bright pink.
5.  Dresses or skirts?
Both.  I actually tend to wear dresses and skirts all year around particularly when it comes to work because it's easier. You can just select a simple dress from your wardrobe and team it with some accessories yet it looks like you've made a lot more effort with your outfit.

In Summer I also prefer wearing dressers or skirts because they are cooler and more feminine. I have a few maxi dresses in my wardrobe which I love but I'm yet to actually wear those.. I can't get used to them being so long (because I'm short) but I really like the look of them on other people. I'm going to try and find a way to style them this Summer, though!
6.  Sandals or ballet pumps?
I prefer sandals because they keep my feet cool and they look so pretty and delicate. I've got quite a few in my collection and I love that they are so easily available in Summer. You can go somewhere like Selfridges and spend a lot on a designer pair or pick up an equally as beautifully sandal from Primark.
7.  Do you prefer to wear your hair up or down for Summer?
No matter what time of year I prefer to have my hair down but on the odd occasion, I suppose around once a week I will wear it up. For me, it doesn't make a difference what season it is unless I'm on holiday in which case I will always wear my hair up to prevent getting bad tan lines.
8.  Deep smokey eyes or bold lips?
I tend to avoid deep smokey eyes in Summer because I prefer a fresher less made up look although I will do a more subtle smokey eye in the evening. I do, however, wear bold lips, as mentioned above although I won't always wear these.
9.  Favourite perfume for Summer?
This is tough because there are so many scents I love at the moment so I'm going to name a few. For day time I have been loving Mia by Ted Baker and Moment de Bonheur by Yves Rocher because they are light, fresh and girly. For the evening I like to switch between Viva La Juicy by Juicy Couture and Midnight Rain by La Prairie although there are also several others I enjoy to wear.
10.  Last but not least, favourite music for Summer?
I always find questions about music difficult to answer because I have such a large taste in music. There isn't a particular band or artist that I really like to listen to, it really is a large mixture of songs! Some of my favourites are Ellie Goulding – How Long Will I Love You, One Direction – Best Song Ever, Emeli Sande, Paloma Faith and more.

What do you think of this tag? If you take part please leave your link below so I can have a read.

Check out these great blogs by my lovely advertisers:
Pink Champagne: Hoad Shoes – An Independent Little Shoe Shop
Pink Panther: Beky Lou, MissLJBeauty, Polkadella, Lulabelloves, Lily Ann Loves, Topdraw Fashion, Athina's Boutique, Beauty Queen UK, Beauty King UK
Pink Pearl:, Scottish Stef's Nail, Two Little Owls Blog  Lazy Days Beauty, The Cleanser Beauty Blog, Samelia's World, Rianna Phillips
To advertise with Kimberley's Beauty Blog find out more info here