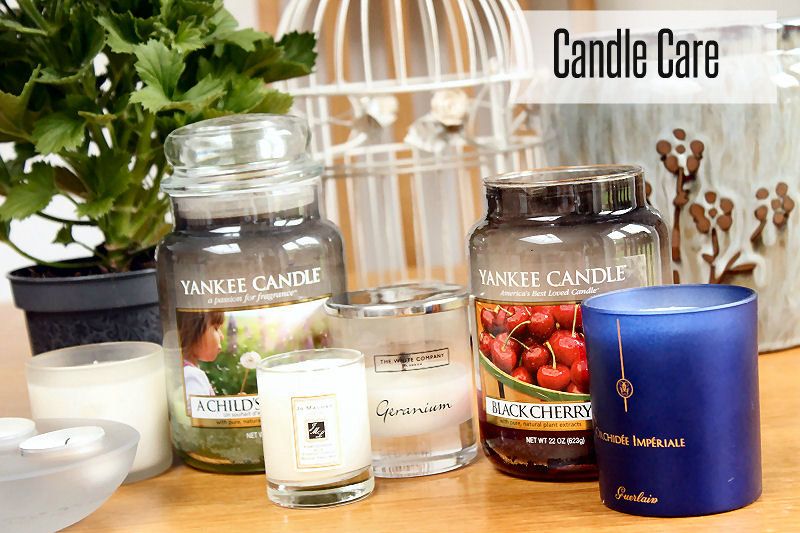 I love burning candles because they create a good atmosphere in a room, are relaxing to watch and can fill an entire house with a beautiful fragrance. When I first starting burning them I pretty much just lit them and left them to it but some of you may be suprised to hear there are actually some steps you can take to make sure your candles burn better and last longer…. here they are:
Pre-Care
When you first burn your candle you need to make sure you have a couple of hours spare to allow the top layer of wax to pool right to the edge of the glass. This is because candles have a memory so if you are patient and do this step it means you candle will continue to burn evenly and you won't end up with an uneven surface that is often described as 'tunnelling'.  If you do end up with an uneven surface there are a couple of things you can do though.
1. You can create a lid for your candle using foil which will help contain the heat and encourage the wax to burn more evenly. Leave a hole in the top to let the smoke come out, though.
2. The less common method (which I discovered myself so it may not be correct) is to gently push the sides of the wax down with a spoon or scrape them so they will fall into the melted wax. You need to be careful it doesn't swamp the wick as it will affect the burning but I prefer this method because it's quicker and it doesn't ruin the look of the candle like foil can.
You also need to make sure you don't burn your candle near any flammable objects or near a draft because this can cause the candle to smoke so a black soot will gather around the top of the jar.
After-Care
Once you have burnt your candle the first time there are a few more steps to take to ensure it lasts as long as possible.
1. Trim the Wick – After the first burn the wick on your candle should only be half a centimetre so make sure you trim it before the next burn as you want to do this when it is cold.
2. Lid – If your candle comes with a lid make sure you always put it in place between uses as this will help prevent the fragrance from fading but more importantly stop dust and dirt from gathering on the surface of the candle.
3. Storage – To keep your candles in the best condition store them in a cool dark place away from sunlight.
4. Reusing Jars – I often re-use the jars from my candles either to store things like makeup brushes or to make my own candles. Before doing the former, you need to make sure all of the wax is removed from the jar which can be easier said than done. You can either do this by running it under warm water and using washing up liquid to remove the wax or freezing the jar to allow the wax to shrink, making it easier to remove. Both techniques take a little patience but it's worth it.
Do you have any other tips for burning candles?

Check out these great blogs by my lovely advertisers:
Pink Champagne: Hoad Shoes – An Independent Little Shoe Shop
Pink Panther: Beky Lou, MissLJBeauty, Polkadella, Lulabelloves, Lily Ann Loves, Topdraw Fashion, Athina's Boutique, Beauty Queen UK, Beauty King UK
Pink Pearl:, Scottish Stef's Nail, Two Little Owls Blog  Lazy Days Beauty, The Cleanser Beauty Blog, Samelia's World, Rianna Phillips
To advertise with Kimberley's Beauty Blog find out more info here