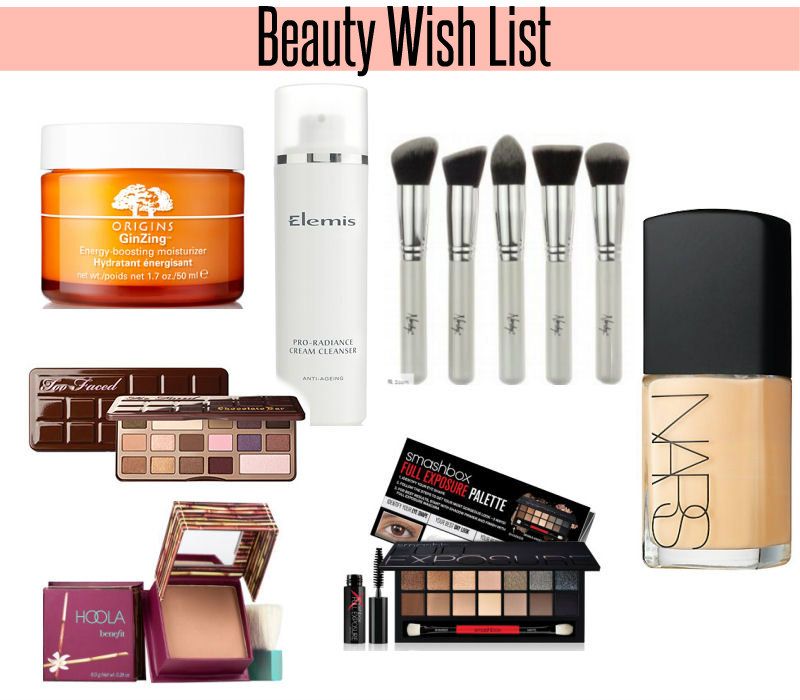 Benefit Hoola Bronzer | Link | £23.50
Initially, when I was looking for a high end bronzer it was a hard decision between Nars Laguna and Benefit Hoola. At the time I chose Nars because I had never tried any of their products before and I was intrigued to find out what they were like but now I have used 3-4 pans I fancy a change and would love to try Benefit Hoola. I will definitely go back to Laguna at some point as it is a beautiful product and my 'holy grail' bronzer but I think it may be time for a change.
Nars Sheer Glow Foundation | Link | £31.00

I've been wanting to try Nars Sheer Glow for ages but I've been a little put off because I love Chanel Vitalumiere Aqua so much. Although I do use other foundations from time to time it's the one I always go back to because nothing else seems to compare.
Nars Sheer Glow has had brilliant reviews and I think it will work well with my combination skin. It also gives the skin a gorgeous glow hence the name rather than a matte finish which is exactly what I look for in a foundation. Before buying the full size I definitely want to try a sample first though because I only like very light foundations and I'm not too sure what the consistency of this one is.
Too Faced Chocolate Eyeshadow Palette | Link | £45.00

I've never tried any products by Too Faced before but every time I see a blog post on one or go to one of the counters I'm struck by how beautiful they are. Their blushes look gorgeous and I've been tempted many times by them but most recently I have been lusting after the Chocolate eyeshadow palette which contains some really pretty neutral shades.
Smash Box Full Exposure Eyeshadow Palette | Link | £38.00

I love Smash Box products.  They are brilliant value for money, easily available and I'm yet to find one I haven't liked. I've had my eye on the Full Exposure Eyeshadow Palette since it was released because it looks like the perfect collection shades for me. I'm definitely a neutrals girls and by the look of this palette I would wear every one of these shades.. it looks so pretty!
Nanshy Face Brush Set | Link | £34.95

Despite being a beauty blogger my brush collection isn't particularly large and I'm finding that I really need some more so I can rotate them rather than having to find time to deep clean them quite so often.
I have the Nanshy eye brush set which I love and I would love to add the face brush set to my collection too. They are exactly what I am looking for! My all time favourite foundation brush is the Sigma F80 Flat Kabuki and it looks like Nanshy sell a very similar one which I really want to try.
Elemis Pro Radiance Cream Cleanser | Link | £29.00
I have never actually tried any products by Elemis before (shock horror) but I keep hearing so many good things about them I would love to give them a try. I'm not too sure what products in particular but maybe this Radiance Cream Cleanser as it sounds lovely.
Origins GingZing Moisturiser | Link | £23.00

I'm nearing the end of my REN moisturiser and I'm not sure whether to re-purchase it or try something I little different. It is working very well with my skin type so the liklihood of me changing isn't very big as I don't like to mix up my skin care routine very often but I'm very tempted to try the Origins GinZing moisturiser.
I've heard so many good things about this moisturiser and I love the Drink It Up Face Mask so I'm intrigued by it.

What do you think of my beauty wish list? Have you tried any of these products? 

Check out these great blogs by my lovely advertisers:
Pink Champagne: Hoad Shoes – An Independent Little Shoe Shop
Pink Panther: Beky Lou,, MissLJBeauty, Polkadella, Lulabelloves, Lily Ann Loves, Topdraw Fashion, Athina's Boutique, Beauty Queen UK, Beauty King UK
Pink Pearl:, Scottish Stef's Nail, Two Little Owls Blog  Lazy Days Beauty, The Cleanser Beauty Blog, Samelia's World, Rianna Phillips
To advertise with Kimberley's Beauty Blog find out more info here