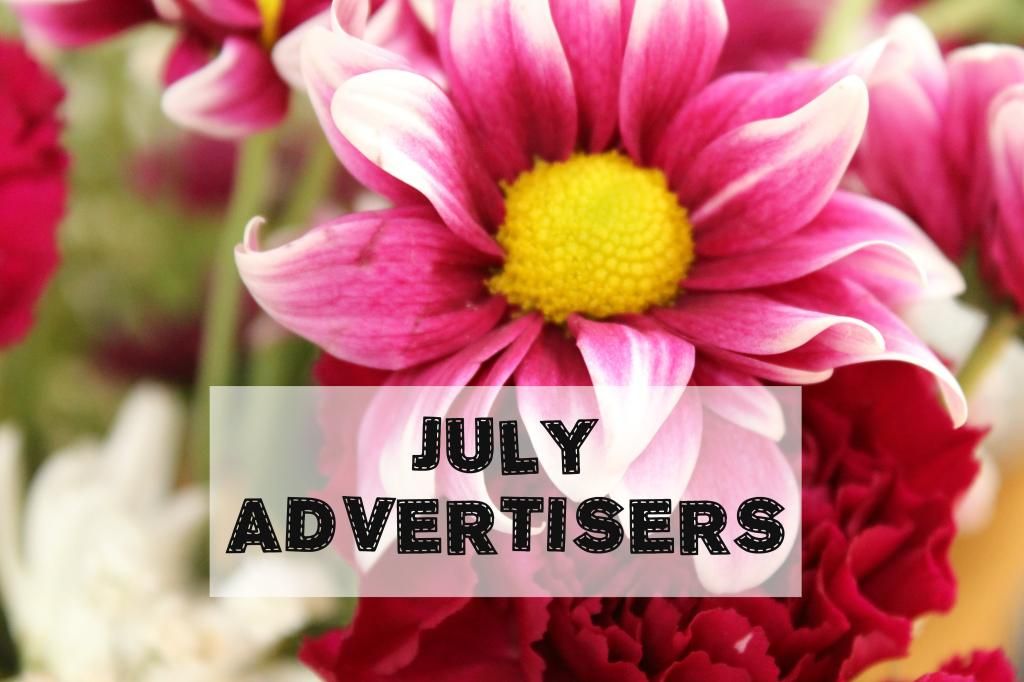 Hello Beauties, as we are nearing the end of another month it's that time when I share the lovely advertisers that have been sitting in my side bar. I hope some of you have already had a sneaky peak at their blogs/website and have found some great new reading material but for those of you who haven't here is a little more about each of them:

So here we go.. please let me introduce my July Advertisers….



Established in 1898 Hoad Shoes is situated in the heart of Sevenoaks providing footwear for all the family. We pride ourselves on excellent customer service, superb product knowledge and a vast range of products from fashion boots and shoes to extra wide fittings. We have recently opened our online shop hoadshoes.co.uk selling a wide range of products such as Gabor, HB, Pedro Miralles, Dubarry and Timberland to name a few. We offer free postage on all online orders and a click and collect option if you are local to the area. We also write a blog www.alittleindependentshoeshop.blogspot.com all about fashion footwear trends, buying trips, brand information and the goings on at our little shop.
 Website | Twitter | Facebook | Pinterest | Instagram


My name is Beky and I started BekyLou in late September of this year; I've had an overwhelming response and it's become such a hug part of my life. BekyLou is a beauty,fashion and lifestyle blog in which I share all of my beauty/fashion loves and lusts with you all, review products and also mix in some personal lifestyle posts such as 'My Journey with Anxiety and Depression', which has been my most viewed and most personal post to date. I'd love it if you could take a peep over via my links below and follow – I'm aiming for 300 bloglovin followers by the end of January! 
 Blog | Twitter | Facebook | Instagram |  Blog Lovin


Hay everyone, 
How are you today? My wee blog contains a bit of everything but beauty is my passion. I am getting married in June so expect a few post on that. As with a wedding coming up I'm on a fitness and weight loss kick ATM.  I am currently running a series called inspirational people on Sunday to give us all a boost that dreams can come true! 
MissLJBeauty
Xoxo
 Blog | Twitter | Instagram |  Blog Lovin

Hello Daniella here the ultra violet haired miss behind Polkadella. I enjoy sharing my latest buys, pretty things & my very own thoughts. Bargain is my favourite word and BYGOF is my favourite sentence. Come over say hey & enjoy some rambles
Blog | Twitter |  Blog Lovin | Instagram

Welcome to my 'full of Bean's' blog!
How did I get into blogging?  Well, I have an obsession with all things makeup and it has turned into quite a passion. Months ago one of my mates recommended I start a blog, as I am always buying and trying new things. I didn't think much of it at the time, however one day I sat down, discovered Blogger and the rest, as they say is history. It's turned into quite a hobby of mine, maybe one day it will lead to greater things…
If you wish to continue on this amazing  journey with me, please come say hi.  Everyone is welcome.
Love Georgie x
Blog | Twitter |  Blog Lovin | Instagram


Peacock Beauty is a blog dedicated to colorful makeup and beauty discoveries for the everyday girl.  As a former gamer-girl and first time make-up wearer at the age of 28, I am eager to try EVERYTHING. You will find a wide variety of products and viewpoints from my makeup and beauty journey. I review products from a fresh angle, post  pictures of my make-up experiments, chat about it on YouTube and much more (the back of my hand is permanently swatched).
Blog | Twitter |  Blog Lovin | Instagram

Hi I'm Sophie, your average 20 something girl, with a massive passion for writing. Over at Eskay Beauty I talk about everything from my latest make-up loves, fashion finds, shoes obsessions, nail ideas as well as some life stuff thrown in to the mix. Life as a 5ft 9 curvy girl can be tough, especially when your love heels!! Come and have some good ol' laughs with me about how average jeans have fallen out with my ankles and men think they just met the BFGG (BIG FRIENDLY GIANT GIRL) but I promise I dont bite 🙂
Sophie xxx
Blog | Twitter |  Blog Lovin | Instagram | Facebook | You Tube | Pinterest




Hello, I am Anna-Maria the writer of Topdraw Fashion. I believe fashion, beauty and fitness alls rom together and this is what my blog is all about. I love bringing you guys fashion tips, amazing beauty finds and fitness tips and tricks. I post every other day, and sometimes more if i can and along with this i have just started a youtube channel. At the end of every week I do a 'Deal of the Week' post where I find 5 of the best deals for you and where to find them. Hope you stop by and follow my journey here.
 Blog | Blog Lovin | Twitter | Instagram


Here at Athina's Boutique we believe every girl should look and feel fabulous at all times no matter what they are wearing.  We love all things fashion and beauty here be it the clothes we wear or the accessories which accompany them, and this is our way as woman to express ourselves. 

All our products here are handpicked for you, we take our time and pick items that we believe are you will enjoy and like the most.  We share our expression of fashion through our Instagram page and give the credit to those who pieces they are. 



Laura, a Beauty & Lifestyle Blogger from North East Scotland.   I am a coffee drinking, mother of 2 wife of 1.. (lol).   Lipstick lover – never usually seen without a bright red lip.  A fan of all things sparkly.  'A Scottish Lass' is my night time retreat, a place I can share my loves and meet new friends. You will find an array of different posts on my blog, normally beauty lustings but a few lifestyle posts in there too.
Holy Grails
Some of my Holy Grail products are :  YSL Touche Eclat Foundation, Mac Ruby Woo Lipstick, Mac 'Constructivist' paint pot & Clarins Flash Balm.  
Favourite Shops
Boots, Sephora (when given the chance) & Oasis
online – Selfridges,
Celebrity Crush – Bradley Cooper
 Blog | Twitter | Blog Lovin | Instagram  


Hey everyone!I'm Stef from scottishstefsnails.blogspot.com and I am really excited to be featured in Kimberley's post! My blog documents my polish discoveries including swatches and reviews of polishes and nail products. I also post about easy nail art designs that I would like to think that everyone can have a go at. The nail art designs I write about are usually quite expressive rather than precise and intricate so you don't have to worry about whether your nails looks perfect. I love a good beauty/fashion tag post too! Hopefully you will be able to find inspiration from some of the polishes in my blog if you are ever feeling bored with your nails. I love interacting with all the lovely bloggers out there so feel free to leave me a comment or tweet me anytime!
 Blog | Blog Lovin | Twitter | You Tube |

SAMELIA's WORLD shares with you the Adventures of SAMELIA's personal life as the working, mother of Terrell Owens youngest son Atlin… And the progression of her professional career as a celebrity skin care, makeup artist & men's grooming expert. In a unique way showcasing how the fashion, sports, music and entertainment industries, intersect and MOST of importantly, how they All contain elements of BEAUTY!


Dulcie's Beauty Blog – A Beauty and Lifestyle blog where I share my beauty favourites and my reviews of products I've tried and products I've liked. Make-up is my thing, with nails as a close second.  Created with inspiration from my beautiful friends, the blog features my make-up looks and outfits, nail polish favourites and skin care picks. A creative space, Dulcie's Beauty Blog brings beauty products, style and fun together.
 Blog | Twitter | Blog Lovin | Instagram





Hi I'm Lisa, and I write over at Lisahh-Jayne, a beauty and lifestyle blog. I'm your average 23 year old girl, who's got a complete and utter addiction to beauty products, mainly lipsticks and nail varnish. I usually write about my mission to find good skin care products, make up, and how I need to stop spending so much money on cosmetics.
 Blog | Twitter | Blog Lovin | Facebook
 If you would like to advertise with Kimberley's Beauty Blog the details can be found here. 

Check out these great blogs by my lovely advertisers:
Pink Champagne: Hoad Shoes – An Independent Little Shoe Shop
Pink Panther: Beky Lou, MissLJBeauty, Polkadella, Beans Beauty Blog, Peacock Beauty, Eskey Beauty, Topdraw Fashion, Athina's Boutique, A Scottish Lass, Samelia's World
Pink Pearl:, Scottish Stef's Nail, Dulcie's Beauty Blog, Lisahh-Jayne
To advertise with Kimberley's Beauty Blog find out more info here