Hello Beauties! If you spend time on twitter you probably would have noticed lots of tweets flying around about Makeup Revolution products. They are a brand that I only heard of recently but after looking at the website I have been very impressed by the extensive range of products they have on offer and their low prices. This brand seems to be getting more and more popular and I'm very excited by their products because they look so beautiful.  
What better way to share these products with than in a haul post?! Lets get started!
*Salvation Palette – What You Waiting For? | £6.00 | Link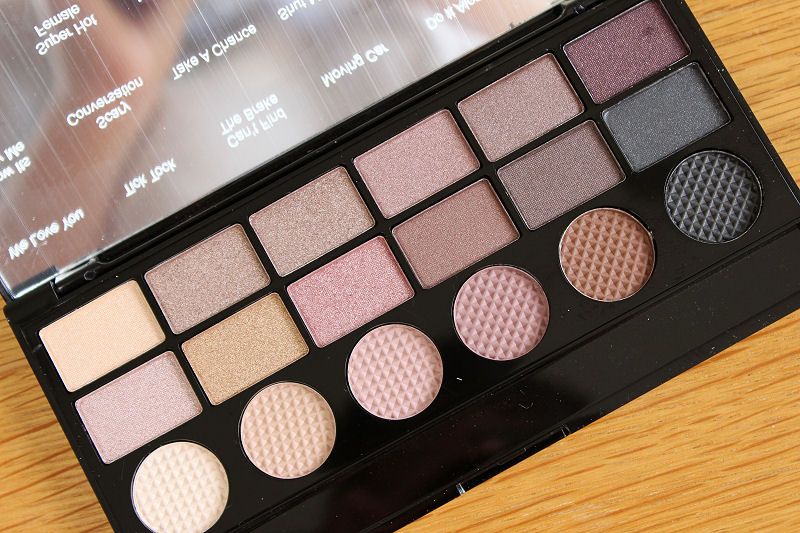 This gorgeous neutrals palette was only released a week or so ago and I love every single colour in it. Each shade is very wearable and is the perfect palette to achieve both a day or night look whether you're looking for simple coverage over your lid or something more smokey.  I also love the detailing of each shadow and the mixture of shapes because it makes this palette look interesting and more unique. It's also amazing you get eighteen shades! Twelve have a pretty shimmer, 6 are matte and all claim to be super pigmented so I'm very excited to start using these!
Although the packaging is simple, it shows off the product perfectly and for the price you can't fault it. The case feels sturdy and is very slimline so it is easy to store and carry around. 
*Scandalous Lipstick in Crime | £2.00 | Link // *Salvation Intense Lip Laquer in Gave You All My Love | £3.00 | Link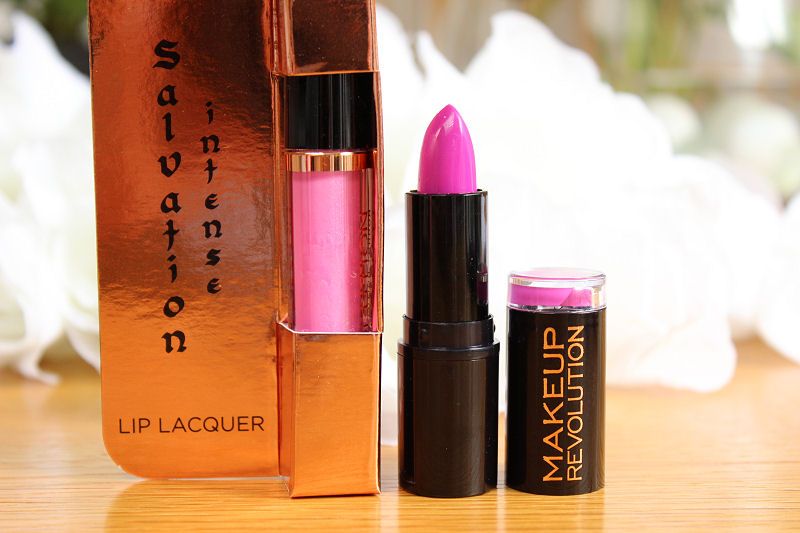 Next up are two lip products that look very pretty in their packaging.  Firstly the lip laquer aka lip gloss is a beautiful bubblegum pink which would look amazing during hot summer days or to brighten up an evening look. The formula has a slight sheen but doesn't have shimmer or glitter which makes a nice change because I don't have any others like it in my collection. From the swatches I have done it also seems very pigmented and has a high shine finish so it will look beautiful on it's own or over a lipstick. The packaging is also cute!
The second lip product I have is a lipstick called Gave You All My love. This is an unusual shade for me because I tend to always choose pink lipsticks or the occasional red so this is actually the first purple lipstick I own.. I'm excited to use it! I've actually been thinking of experimenting with more purple toned lipsticks and oranges because I see them on other people and really love them so this couldn't be more perfect. I also like that the lid shows a hint of the colour lipstick inside (which is a perfect match) so if you have multiple of them in your collection you can easily get your hands on the one you need.
*Amazing Volume Mascara | £2.00 | Link


The next product in my Makeup Revolution haul is the 'Amazing Volume' mascara in ultra black.  I'm really picky when it comes to mascara's because I don't like plastic wands or formula's which make my eye lashes look spidery or clumpy so this one sounds right up my street. The shape of the wand is my favourite type and the formula doesn't seem to be too thick or thin. I have high hopes for this product!
*Redemption Iconic 1 Palette | £4.00 | Link
Last but not least is the popular neutrals palette Iconic 1. I love the way the shades are lined up in this palette like soldiers and the mixture of easy to wear matte and shimmery shades. The colours definitely remind me of the Urban Decay Naked 1 Palette but the price is considerably cheaper!
When the shades are swatched they are beautifully soft, smooth and pigmented so I definitely think I will be creating lots of pretty makeup looks with them!
I love that Makeup Revolution is taking the beauty blogging world by storm. They have a huge range of products available that appeal to a lot of different tastes and their prices are very affordable. I definitely have my eye on the blush and contour palette as well as their highlighters!
I've had a sneaky try of some of the above products because they look too good to resist but I will definitely be using them more and more over the next few weeks. Watch this space for an in-depth review of each of these products!
What do you think of my Makeup Revolution Haul?

Check out these great blogs by my lovely advertisers:
Pink Champagne: Hoad Shoes – An Independent Little Shoe Shop
Pink Panther: Beky Lou, MissLJBeauty, Polkadella, Beans Beauty Blog, Peacock Beauty, Eskey Beauty, Topdraw Fashion, Athina's Boutique, A Scottish Lass, Samelia's World
Pink Pearl:, Scottish Stef's Nail, Dulcie's Beauty Blog, Lisahh-Jayne
To advertise with Kimberley's Beauty Blog find out more info here