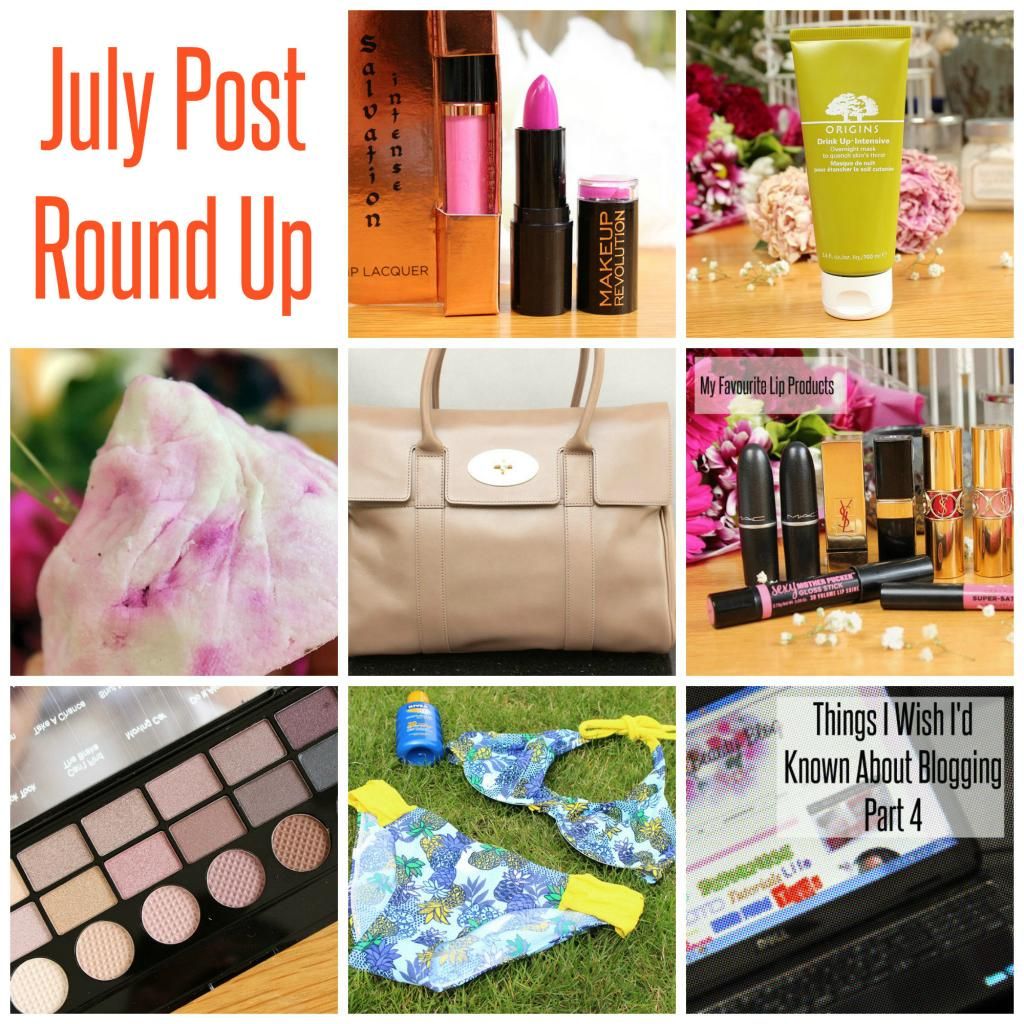 Yet another month has passed and we are well into the Summer here in the UK. We've been having some really beautiful weather here although I've been at work most of the time so I haven't been able to enjoy it as much as I would like. Anyway, today's post is all about a monthly round up of my eight favourite posts from the past month. Here they are:
Juggling a Career and Blogging | Link
It's not easy juggling and job and blogging at the same time so I decided to write a blog post all about it. I spoke about the tips I have discovered over the past eighteen months and what I do in order to ensure I regularly post and communicate with my readers. It's definitely a challenge and varies week on week depending on what else I need to fit in my personal life or events I am attending but there are some set things I follow to make sure I get everything done.
My All Time Favourite Lip Products | Link
An exciting blog post I shared this month was about my all time favourite lip products. There were 10 in total and covered a range of finishes, colours and brands. I really enjoyed taking the pictures for this post as well as writing it.
Things I Wish I'd Known About Blogging Part 4 | Link
A few months ago I started my 'Things I Wish I'd Known About Blogging' series and this month saw post number four go live. This features a few things I have learnt since I started blogging but would have been really useful to know when I had first started out.
Makeup Revolution is a really brilliant online affordable brand which I discovered through blogging. They have a whole host of products on offer and I have been very impressed with all of the ones I have tried. Check out my haul in this post.
Origins Drink Up Intensive Face Mask Review | Link
During the end of June and July I found I was suffering from dry skin so I was on the look out for a new product to help with this. The one I turned to was the Origins Drink Up Intensive Face Mask that you use overnight and I was blown away by the results. This month I wrote a review all about it so I could share it with you.
Mulberry Bayswater in Taupe | Link
I splashed out on a luxurious purchase this month, my very first Mulberry bag! I absolutely adore it and have shared all the details with you in this blog post.
Lush French Kiss Bubble Bar | Link
A monthly round up wouldn't be complete if if didn't feature a Lush product and July saw one I was given to me by my best friend. The French Kiss Bubble Bar is perfect for relaxing because it smells of lavender, it looks gorgeous and can be used multiple times.. what more could you ask for?
Lauren Pearl Bikini Review | Link
Last but not least, there was a fashion related blog post featuring a gorgeous bikini from Lauren Pearl. I'm a little addicted to bikini's so was really pleased to discover this brand and this particular one has a really unusual tropical print that I love.
What was your favourite post on Kimberley's Beauty Blog this month?

Check out these great blogs by my lovely advertisers:
Pink Champagne: Hoad Shoes – An Independent Little Shoe Shop
Pink Panther: Beky Lou, MissLJBeauty, Polkadella, Beans Beauty Blog, Peacock Beauty, Eskey Beauty, Topdraw Fashion, Athina's Boutique, A Scottish Lass, Samelia's World
Pink Pearl:, Scottish Stef's Nail, Dulcie's Beauty Blog, Lisahh-Jayne
To advertise with Kimberley's Beauty Blog find out more info here