Hello Beauties! I have another post for you today about Michael Van Clarke hair products because as promised in my posts about the event I attended and hair cut at the salon I would do in depth reviews of the products I am using. In order to give these products a good try and because I have quite a few from the range I have refrained from using any others so I can give them a true test so for the past six weeks all I have been using to wash and style my hair have been by Michael Van Clarke. I'm not going to talk about all of them here, instead this post will focus on those included in the Travel Kit which are the shampoo, conditioner and pre-wash treatment. 
The *travel kit is a really affordable way to try new products and of course is ideal to use if you're going away because not only is everything in a miniature size so it is lighter and more compact but they also come in a very handy plastic case which is ideal to store toiletries in or to take on the plane.
Our hair goes through a lot day to day whether it be being exposed to the environment, colouring or heat from styling tools so it can easily get damaged particularly at the ends as this hair is older. To help combat this, Michael brought out a new range of  hair care called the 3 More Inches range that contains a cashmere protein and amino acid blend in order to help slow down the ageing processing and help your hair grow longer, faster and healthier. This range also contains no chemical nasties such as sillicones so when it is referred to as hair care it really is looking to improve the state of your hair rather than hide it by just improving the appearance like many products on the market seem to do.
The 3 More Inches range took years of research and was tested on staff and customers in Michael's own London salon in order to make sure the formula was as good as it could be.  As it contains no sillicones it aims to help the hair stay hydrated rather than block out moisture so the water that is lost through drying and styling the hair can be replenished from the atmosphere. Getting more into the science part, the cashmere molecules in this range are also the same size as water molecules so if any of these have been lost they are replaced so prevent the hair becoming more damaged or split as the structure of the hair is maintained rather than falling apart. 
Hidden inside the travel kit, as already mentioned, are three 3 More Inches products which I will now speak about in more detail:
Now I've spoken a little about the range lets move onto the shampoo itself.  The formula is very thick and concentrated so you don't need to use as much as normal (around a teaspoon size) so although it is more expensive than your highstreet products it does tend to last longer. The formula lathers up well when it is added to the hair and as you massage it in you can also smell the subtle floral scent which is delicious.  Before even using conditioner my hair is left feeling soft.
Conditioner  | £17.00 for 250ml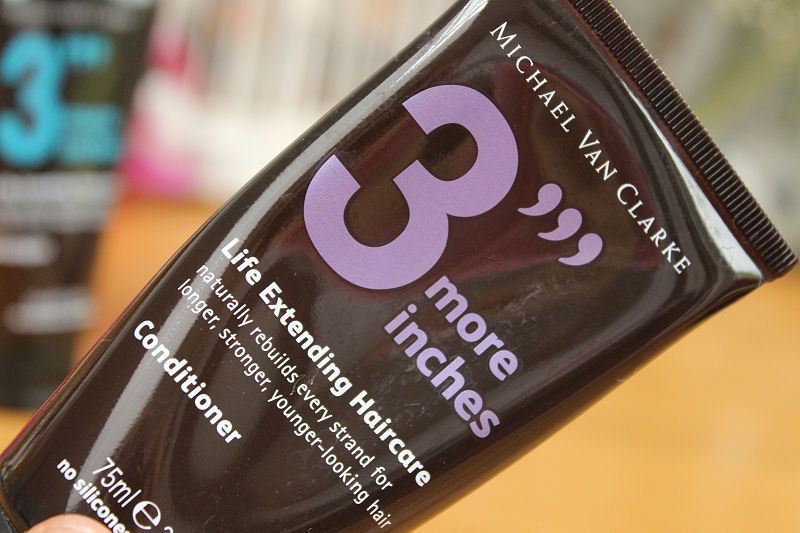 Without fail I always use conditioner because it seals the hair and protects the outer cuticle. It also adds an additional level of heat protection as the 3 More Inches range includes this so you don't have to use specific heat protectors which is good because the less products you can use on your hair the better.
The conditioner is equally as lovely as the shampoo and sports the same pretty subtle floral smell. I apply it straight after the shampoo and again use around a teaspoon. Although the packaging seems to comb it through I rarely do because I forget to take my comb into the shower so I simple just massage it into my hair and wash it out.
After use my hair is left even softer and smooth to the touch.
Pre-Wash Treatment | £29.00 for 500ml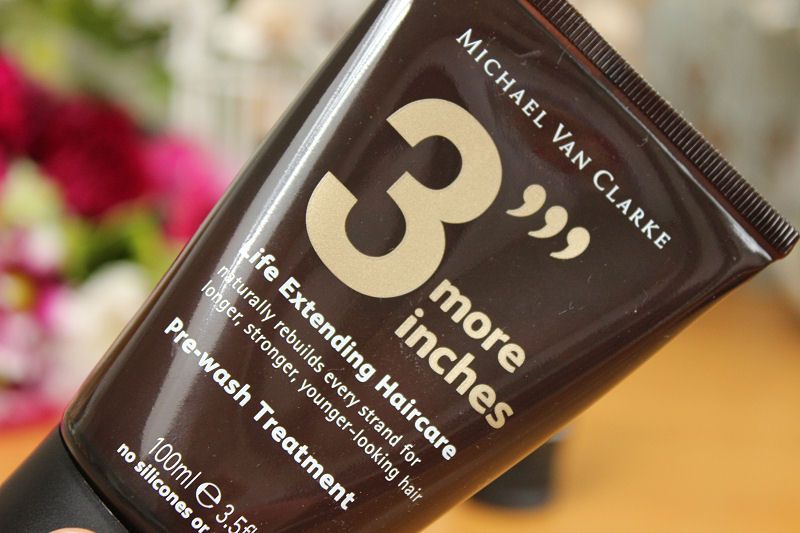 A pre-wash treatment isn't something I had ever used before and at first I thought it would be a bit time consuming but now it's something I enjoy doing. Once a week I apply the 3 More Inches Pre-Wash Treatment all over my dry hair which feels odd because I've only been used to apply treatments to wet hair but it means that it penetrates each individual strand of hair rather than just working on the surface.
The formula is very thick and you simply put some in your hand and run it through your hair, a bit at a time until it is completely wet. At this point you sit and wait either an hour or until the product Is fully dry. I wait until the product has completely dried as I apply mine once a week over the weekend and write up some blog posts while I'm waiting so it's no trouble at all. 
On application my hair does feel heavy but as it dries it lightens and once it is fully dry and I wash it out the texture of my hair doesn't change (it's soft and smooth) but it's voluminous, healthy and shiny.
After the first couple of uses of these products my hair looked dull, slightly dry the ends and a little lifeless due to the sillicones being washed out and my hair getting used to this new formula but on the third wash everything changed. When I blow dried my hair it was beautifully voluminous, it had a healthy glow, was far easier to manage, and had a wonderful bounce. The transformation was amazing and since using these products I've lost count of the amount of people who have commented on how nice my hair looks and I can definitely see the difference too. Not only does my hair look better but as mentioned above it is so much easier to manage. Previously, my hair would frizz very easily so I had to carefully time when I would dry my hair after washing and make sure I had products with me to apply if there was any rain or humidity (I have naturally curly hair so it has a life of it's own when faced with different weather conditions). Now that has all changed. It doesn't matter if I leave my hair to dry naturally, blow dry it or partly dry it, it remains smooth and voluminous and there is no sign of frizz so it has made my life far easier! 
It's safe to say I love these hair products! I have also found I don't need to wash my hair as often. If I wanted to I could easily go a whole week because the volume stays in my hair and it doesn't get greasy. I don't choose to do this because I like the feeling of freshly washed hair but it's good to know that I'm washing my hair because I want to not because I have to.
If you want to purchase Michael Van Clarke hair care products they are all available on his website as well as other places such as Beauty Bay (they currently have a discount), Selfridges and Space NK (online only). The price of the travel kit featured in this post are £24.00 and is a really great way to try out these products.
What do you think of these Michael Van Clarke Products? What are your favourite hair care products?

Check out these great blogs by my lovely advertisers:
Pink Champagne: Hoad Shoes – An Independent Little Shoe Shop
Pink Panther: Beky Lou, MissLJBeauty, Polkadella, Beans Beauty Blog, Peacock Beauty, Eskey Beauty, Topdraw Fashion, Athina's Boutique, A Scottish Lass, Samelia's World
Pink Pearl:, Scottish Stef's Nail, Dulcie's Beauty Blog, Lisahh-Jayne
To advertise with Kimberley's Beauty Blog find out more info here