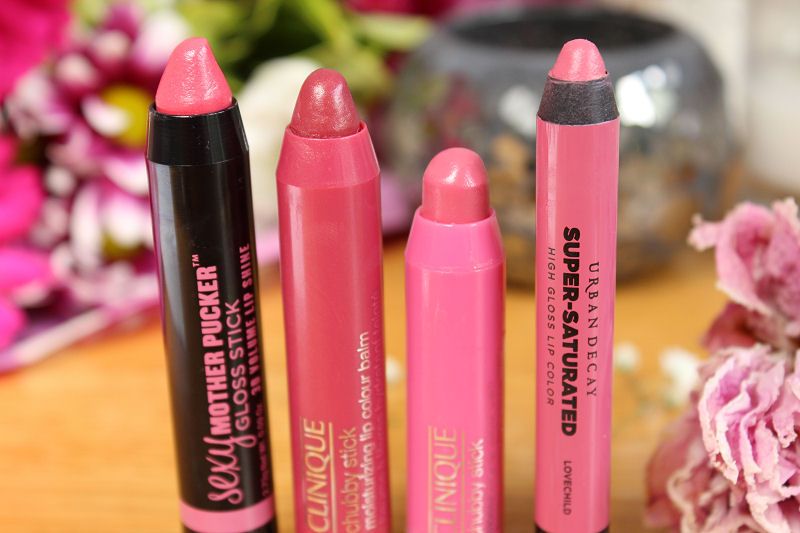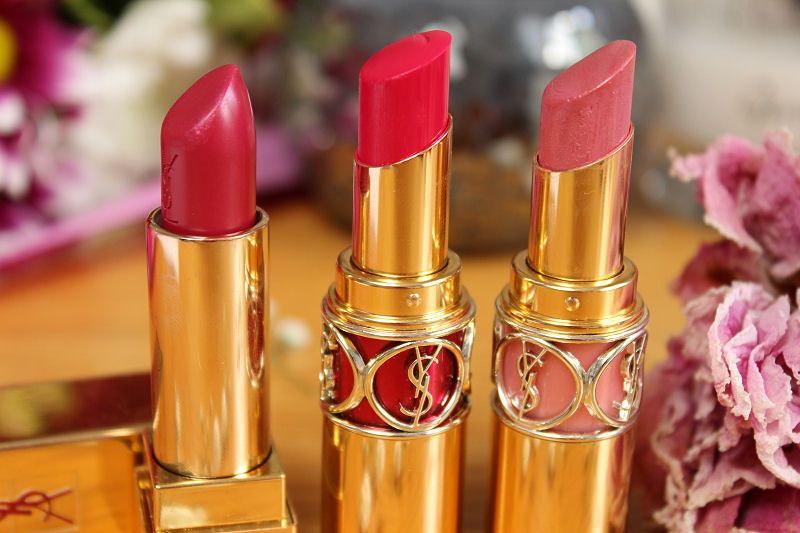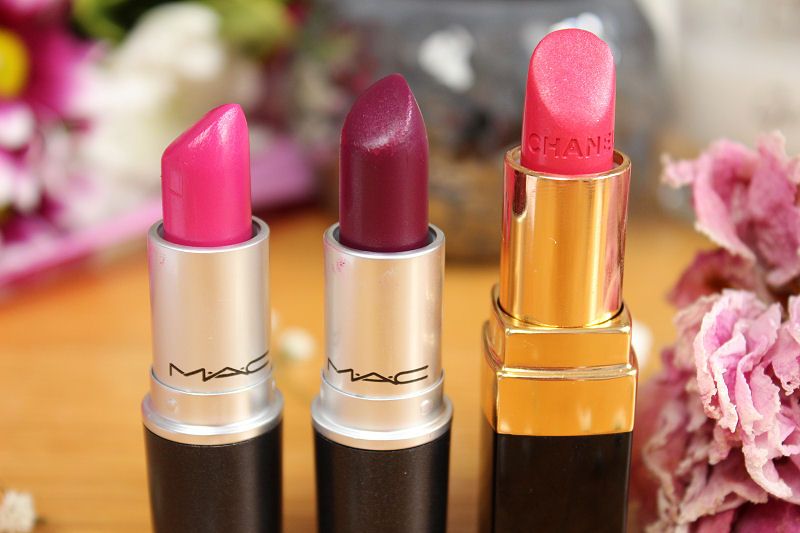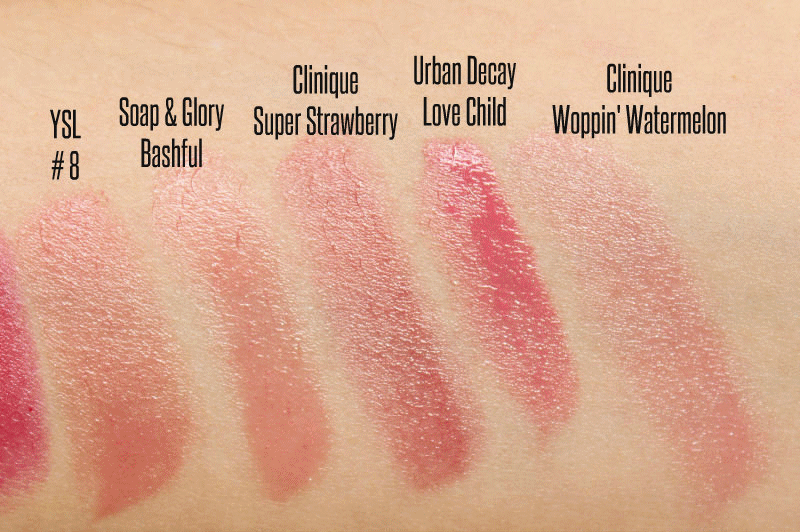 Hello Beauties, in today's post I will be sharing my all time favourite lipsticks. These are the ones that I reach for most often and can be described as my 'go to' lipsticks.  In most cases these are lip products I tend to wear all year round too because I love them so much. Of course from time to time I wear others too but without doubt these are my favourites.  Here's a little more about each of them.
First is MAC Girl About Town a pretty bright pink which is rich with deep pigmentation and blue toned. I like this lipstick because firstly the shade suits my skin tone well whether I'm on the paler side or sporting more of a golden glow. It also makes my teeth look whiter which is an added bonus. The formulation is soft, smooth and creamy because the finish is a Cremesheen, my favourite finish from MAC and this lipstick is not at all drying. Despite the colour being bright it also doesn't bleed so there is no need to wear a lip pencil.
Next is the MAC Rebel which in the black bullet casing looks like a scary dark shade but when it is swatched it is in fact a deep berry shade which looks gorgeous with a smokey eye in the evening. I really love this lipstick because it's different to any others in my collection and the formula is creamy and hydrating on my lips so it is comfortable to wear. The finish is Satin.
One of my favourite brands for lipstick is up next and that is Chanel. I love their timeless packaging because the simple black and gold looks elegant and expensive.  The shade, Le Braiser,  is what I would describe as a mid-toned pink because it isn't a pale nude but at the same time isn't a bright pink like Girl About Town so it's perfect to wear during the day or evening when you want a pop of colour on your lips but nothing too in your face. This pretty shade from the Rouge Coco range is very easy to wear and the flawless formula is soft, creamy and luxurious meaning it feels very hydrating on the lips. I love it.
Next is the first of three YSL lipsticks, again one of my all time favourite lipstick brands and that is number 60 from the Rouge Pur Couture range which means the package is a chunky gold case which the YSL brand simply stamped on the front. This packaging feels expensive and can be doubled up as a handy mirror but isn't my favourite as I do prefer the Rouge Volupte Shine range as it's so delicate. The formula smells sweet and fruity and again is super creamy and soft so it feels moisturising on my lips. The shade is also a really deep pink that has a gorgeous shine and glides over the lips perfectly. This lipstick also has SPF 15.
The second YSL lipstick I have is from the Rouge Volupte Shine Collection and this is number 5 a rich berry pink that has a very glossy finish. This is a darker pink than MAC Girl About Town and shiner but both are equally as beautiful. As for the formulation, it's very creamy and hydrating so it applies like a dream.  The packaging is also stunning because it has the pretty gold casing and intricate detailing in the middle giving a hint of colour with the brand entwined inbetween.
The last YSL lipstick is another from the Rouge Volupte Shine range and that is Number 8 a pretty pink/nude which is really easy to wear. This shade looks beautiful when teamed with simple day time makeup or a heavier look in the evening. The finish again, is high shine and the formula is very hydrating. This is probably my most worn lipstick out of all the ones features here because it goes with any makeup look I wear, the formula is comfortable to wear and it can easily be applied on the go.
Soap and Glory Bashful is next on my list and is from the Sexy Mother Pucker Gloss Stick range. I love these lip products because the formula again is soft and hydrating, it applies well and can easily be re-applied throughout the day without going patchy. The formula isn't sticky in the slightest and this pretty pink/nude shade can easily be applied on the go without a mirror. It is actually a very close dupe for the number 8 YSL lipstick as you can read in my post here.
*Clinique Super Strawberry from the Chubby Stick range is next on my list and is another great go to product because it is a 'your lips but better' product. It can easily be applied on the go and again is very moisturing on the lips. It has a sheer coverage but is buildable so you can make the colour as dark as you like and I like the retractable packaging.
I'm a big fan of Urban Decay products and their lip products are no exception. The Super Saturated High Gloss Lip Colours are stunning. The formula is so smooth and creamy it literally melts onto your lips and they have a beautiful shimmer running throughout them which make your lips look full and plump. As the formula is so moisturing it is very comfortable to wear and the shade Love Child is a pretty pink/nude which is really easy to wear and apply on the go. The only down point is that you have to sharpen them which can be pretty messy and wasteful.
Last but not least is another Clinique Chubby Stick but this time in the shade Woppin' Watermelon. This is a light pink shade which adds a really subtle baby pink colour to the lips and looks lovely with subtle makeup during the day. It is the perfect lip colour to wear if you want to wear a lip product but don't want anything too heavy or over the top.
I love each and every one of these lip products and really enjoyed sharing them with you all in today's post. I hope you enjoyed reading 🙂
What do you think of my picks? What are your all time favourite lipsticks?

Check out these great blogs by my lovely advertisers:
Pink Champagne: Hoad Shoes – An Independent Little Shoe Shop
Pink Panther: Beky Lou, MissLJBeauty, Polkadella, Beans Beauty Blog, Peacock Beauty, Eskey Beauty, Topdraw Fashion, Athina's Boutique, A Scottish Lass, Samelia's World
Pink Pearl:, Scottish Stef's Nail, Dulcie's Beauty Blog, Lisahh-Jayne
To advertise with Kimberley's Beauty Blog find out more info here