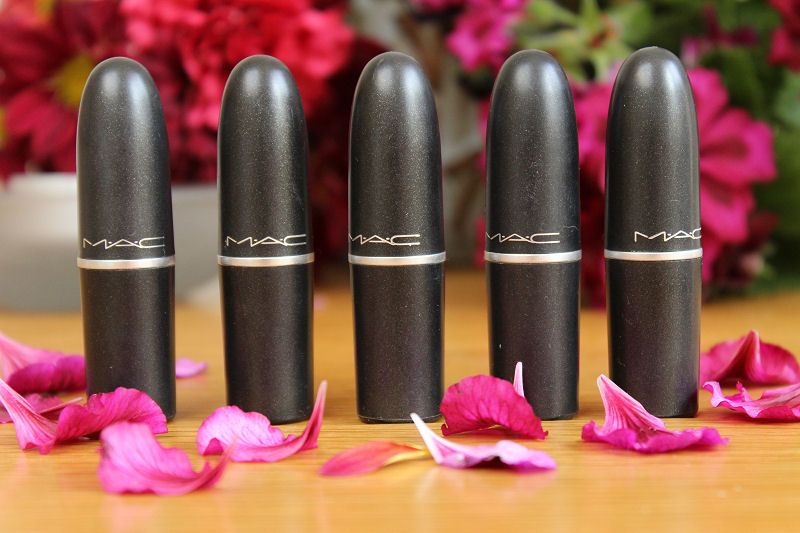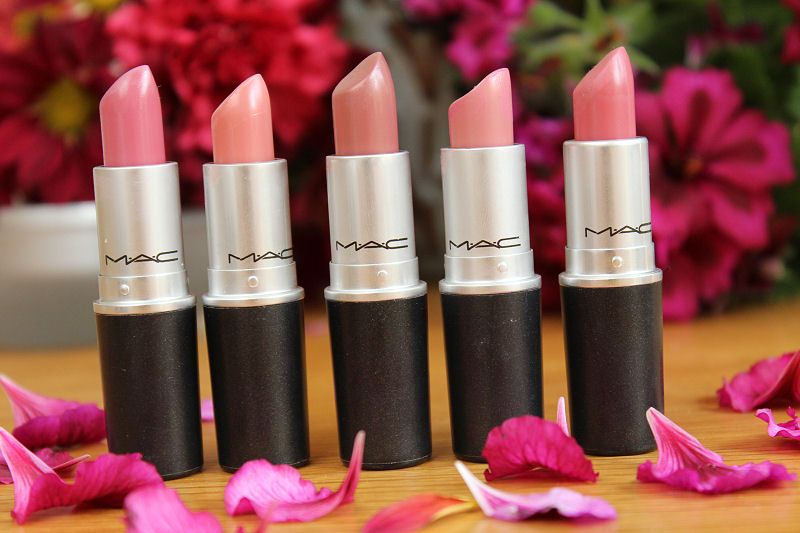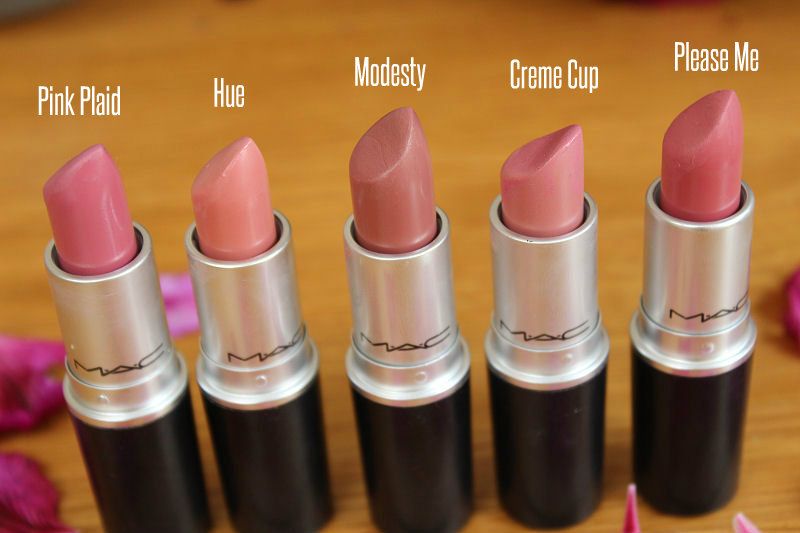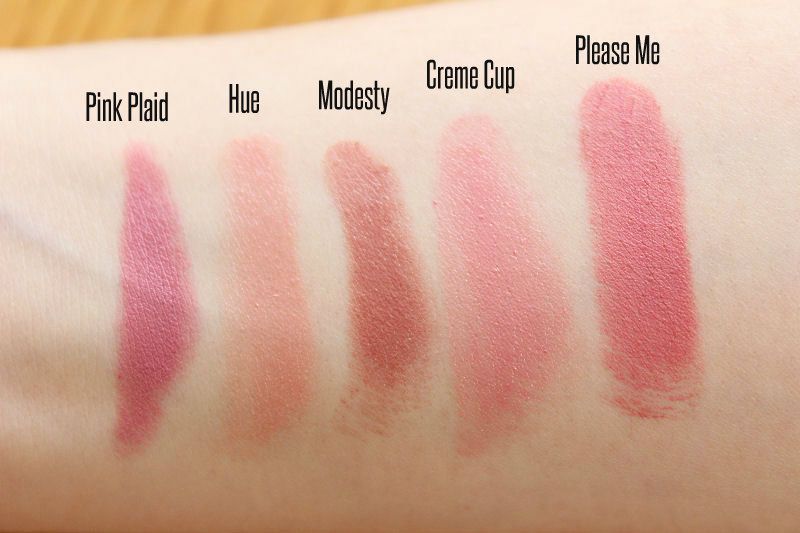 Good Morning Beauties, how are you all? I know I seem to say it at the end of every month but I can't believe we're nearly at the end of another one. June has flown by far too quickly.. how are we halfway through the year already?! July could potentially have some exciting times in store, of course spending time with my friends and family but a long awaited holiday may be on the cards too.  I say may because I haven't actually been able to book anything yet because i'm in the 500,000 long passport queue and patiently waiting for it to arrive but I have got the time booked off work just incase. It will be a real shame to have to cancel it because I could really do with a relaxing break as things have been stressful but lets see what happens.. keep your fingers crossed guys!
Anyway onto my pink/nude MAC Lipstick collection. When I lined the lipsticks up for these photo's I was shocked to see how similar they looked because I am always very careful with my selections so I don't end up with any dupes. This proves how important swatches are though because as you can see from the photo above, each and every one of these lipsticks is completely different.
The lipstick I'm going to talk about first is Pink Plaid. The shade of this lipstick is a gorgeous blue toned pink which has a slight purplish tone to it. Despite loving the colour I don't often wear this lipstick, though as it has my least favourite finish which is Matte. It's not that I don't like matte finishes in general, I just find the formula a little drying so I always use a lip balm underneath.  Also if you're lips are dry in any way it doesn't apply too well so using an exfoliator like the Lush Lip Scrub is a must to stop it getting patchy. I really love this shade so this Summer I'm going to make a bigger effort to reach for Pink Plaid, it doesn't seem right to leave it sitting in my Muji drawers.
Next is Hue which is the lightest lipstick I own. This lipstick looks great if you're pale or have a slight tan and the formula is Glaze. I don't often hear much said about this finish but I like is because it is light, soft and creamy. It also leaves the lips with a beautiful shine which when swatched looks almost like a shimmer. It's very pretty.
Modesty is the darkest pink/nude lipstick I own and is one that people may refer to as a 'mumsy' colour. I however, really like it because it can make a nice change to add a slightly darker pop of colour to my lips and it goes with a whole host of make-up looks. The shade has a hint of colour but is more on the nude/brown side than the others in my collection. The finish is a Creamsheen which means the formula is hydrating on the lips and the formula is a dream to apply.
My most worn MAC lipstick from my collection Creme Cup because it's just one of those simple easy to wear shades. The colour is well pigmented and the shade is what I would describe as a baby pink so it's really pretty to wear all year round but particularly during Spring and Summer. The finish is a Cremesheen which is my favourite from MAC along with Amplifed as they are the most moisturising and comfortable to wear. The creamy formula is also really smooth so it applies well and lasts reasonably well considering it's a lipstick.
Next is Please Me which a deep pink similar to Pink Plaid but less blue toned. It's that lovely shade that sits nicely between a baby pink and deep pink so it is very easy to wear and goes with a variety of different make-up looks. The finish, however, is Matte which I wish wasn't the case as I do find it drying on my lips.
Last but not least is a shade that is missing from the above photo's. Syrup is another pretty shade from MAC and also one of my most worn. At the time taking these photo's I couldn't find it but I came across it in one of my handbags a couple of days later and as like it so much I wanted to still mention it here.
I hope you enjoyed looking at my pink/nude MAC lipstick collection. Sometime over the Summer I plan to write a blog post on my entire MAC lipstick collection as well as my eyeshadow's, I just haven't got around to it yet as my MAC lipsticks never all seem to be in one place at once.
I really enjoy using MAC lipsticks because they are a high quality, reliable product no matter what finish you have. They are all reasonably long lasting and sport the same black bullet packaging which I love and of course the trademark chocolate vanilla smell but the price has crept up over the years and now at £15 they are getting a little on the pricey side. I hope they stop increasing the price now as much beyond this I would stop buying them as I would rather pay a little extra and get a Chanel or YSL lipstick which I see to be in a different league.
If you want to check out the other lipsticks MAC have on offer or to make a purchase check out their website here.
What do you think of the pink and nude lipsticks in my MAC collection? Which is your favourite MAC lipstick?

Check out these great blogs by my lovely advertisers:
Pink Champagne: Hoad Shoes – An Independent Little Shoe Shop
Pink Panther: Beky Lou, MissLJBeauty, Polkadella, Beans Beauty Blog, Peacock Beauty, Eskey Beauty, Topdraw Fashion, Athina's Boutique, A Scottish Lass, Samelia's World
Pink Pearl:, Scottish Stef's Nail, Dulcie's Beauty Blog, Lisahh-Jayne
To advertise with Kimberley's Beauty Blog find out more info here