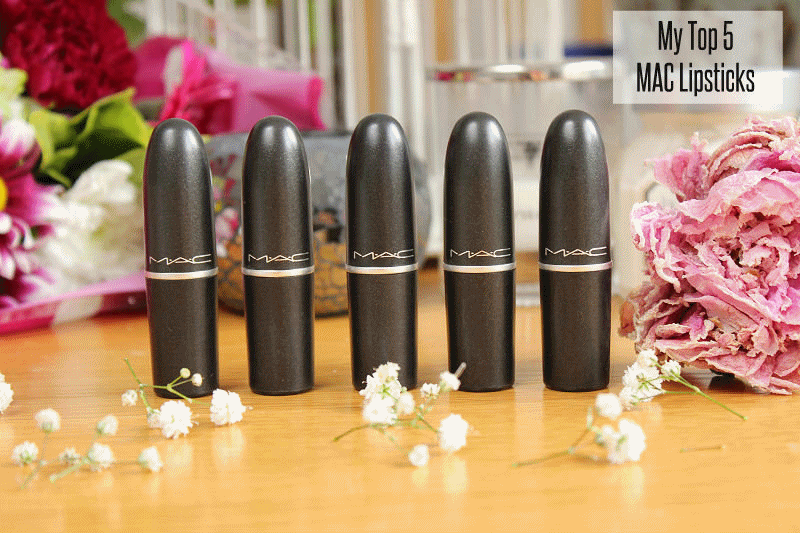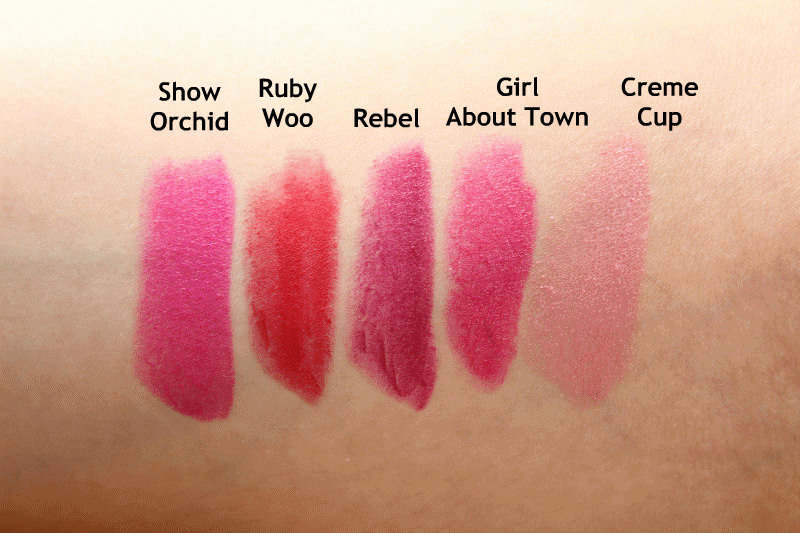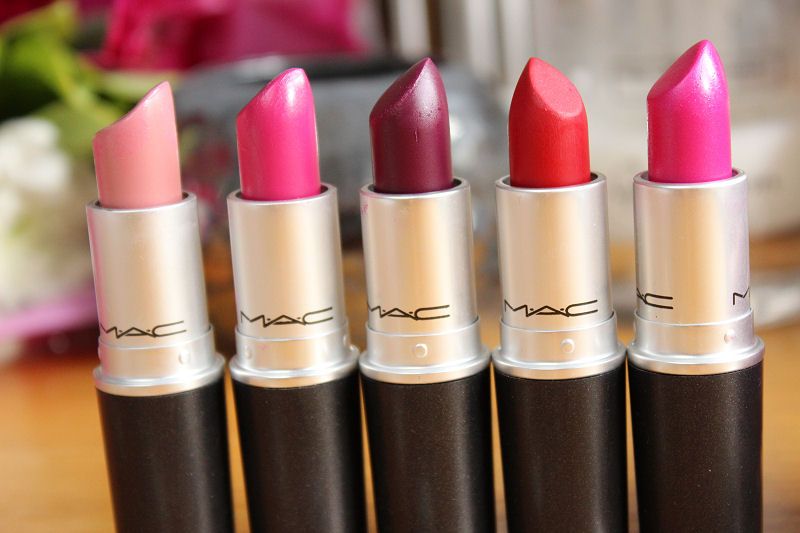 Hello Everyone! Sorry about this being a picture heavy post but I found it hard to pick between them so I just decided to include them all so you can see the products at different angles. You would have already guessed by now that this post is about my favourite MAC Lipsticks, a brand that pretty much every beauty blogger will have been or still be a fan of at some time or another.
When I first decided to write this post I went through my MAC Lipstick collection and picked out my favourites which was actually really easy. I knew exactly which ones I was looking for as these are all my go to shades and the most worn in my collection.
I'm going to start with the most easy to wear shade and that is Creme Cup. The finish of this lipstick is a Cremesheen which means it has a soft, smooth and creamy texture. This along with Amplified are my favourite finishes because I find them the most comfortable to wear and hydrating on my lips. This is the shade I always choose when I want an natural, no fuss make-up look and because this is a baby pink shade it goes with a large variety of makeup looks for both day and night.
Next is a stunning pink lipstick called Girl About Town. This is a beautiful blue toned shade which has an Amplified finish and although it is bright I often wear it during the day and evening in Spring and Summer. I love this colour because it suits my skin tone really well whether I'm looking a little pale or have a glowing tan and as it is blue toned it also makes my teeth look whiter. The formula is soft, creamy and smooth so it applies very well and doesn't go patchy or bleed. The colour is also extremely pigmented so you need to use very little to get a gorgeous pop of colour to your lips.
Rebel is the darkest lipstick I own and is one that looks completely different in the packaging compared to the swatch. In the casing it looks like a scary deep colour but when it is applied to the lips it is actually a very rich berry which is much more wearable than you think. I absolutely love this lipstick! The finish is Satin which is hydrating and to be honest I don't see any difference between this and Cremesheen. Both are equally as creamy and moisturing on the lips. 
As Rebel is a darker shade I rarely wear it in the day and prefer to wear it in the evening with a neutral smokey eye. The combination is really pretty and shows off this lipstick really well.
Show Orchid is a shade I had trouble getting hold of because it's a pro colour and is only available at certain MAC stores so I was very excited when I finally got my hands on it! It is a beautiful bright pink which may be a bit too bright for some people but I love to wear it, especially in the summer when I have a tan. It is brighter than Girl About Town and also has a very slight shimmer to it. It's a richer shade which is not as deep but still blue toned so it suits my complexion well. The finish is an Amplified which again means it is creamy, hydrating and very pigmented.
Last but not least is Ruby Woo which I actually first bought because of the name (my dog is called Ruby hehe). I really like wearing red lipsticks but I don't use them as often as my pinks as they are definitely my go to colours but when I do reach for Ruby Woo I enjoy wearing it. The finish is Matte which is my least favourite because it can be a little drying so I always make sure I wear lip balm underneath it, particularly if I will be re-applying it thoughout the evening. I really like Ruby Woo because it is blue toned and what I would describe as a true red. I find orange lipsticks don't suit me as well so I tend to avoid those and lean more towards these shades. It's really pretty and makes a refreshing change from your typical pinks.
If you want to take a closer look at the lipsticks MAC has on offer or the ones featured in this post you can view them at the MAC website. They are priced at £16.00 each.
What do you think of my top 5 MAC lipsticks? Which are your favourite?

Check out these great blogs by my lovely advertisers:
Pink Champagne: Hoad Shoes – An Independent Little Shoe Shop
Pink Panther: Beky Lou, MissLJBeauty, Polkadella, Beans Beauty Blog, Peacock Beauty, Eskey Beauty, Topdraw Fashion, Athina's Boutique, A Scottish Lass, Samelia's World
Pink Pearl:, Scottish Stef's Nail, Dulcie's Beauty Blog, Lisahh-Jayne
To advertise with Kimberley's Beauty Blog find out more info here