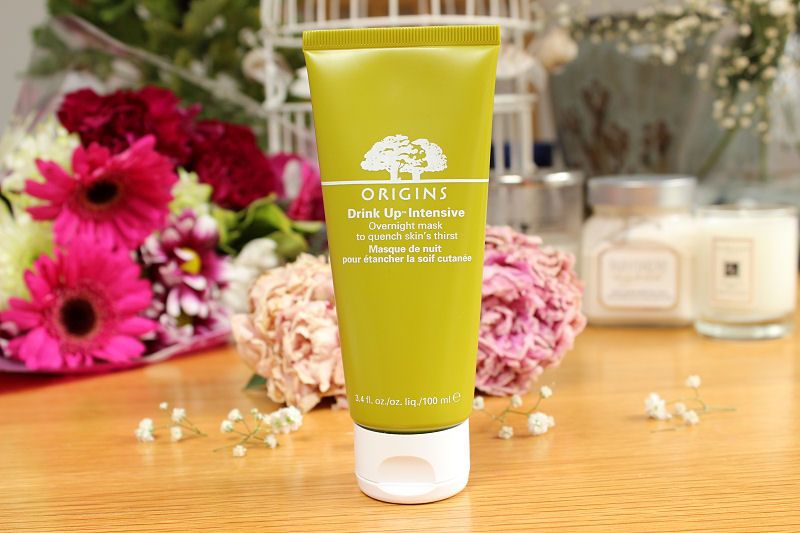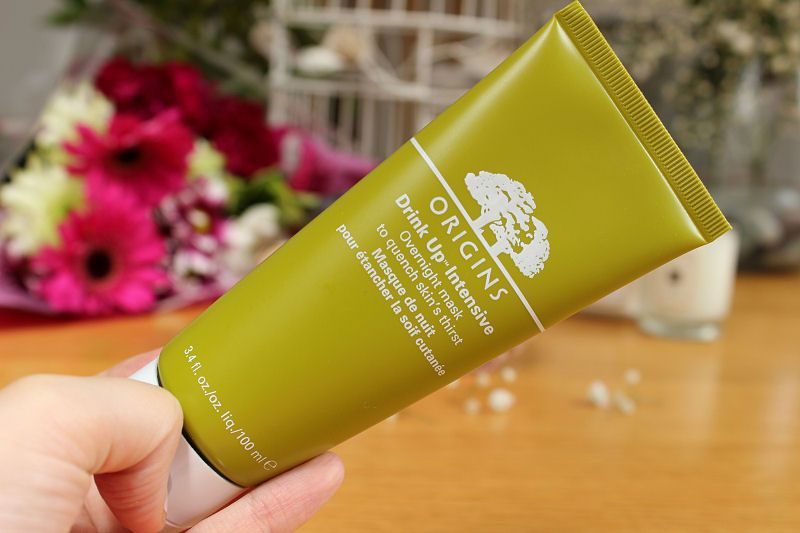 I'm really excited about writing today's blog post because it features a product I am really passionate about, the Origins Drink Up Intensive Face Mask.  
I've always been pretty lucky when it comes to my skin *touch wood* as I haven't suffered badly with spots and blemishes, I don't have oily prone skin or particularly dry skin. It's pretty much normal most of the time. Of course I have days where some areas aren't like this but as I only get that occasionally I've found it pretty easy when it comes to having a skin care regime and I'm able to use minimal products. Recently, however, that all changed. My skin was getting drier and drier and the products I had always relied on didn't seem to help so I decided to try something new. The cause however, I still don't know. I assume it's because of the strange weather we've been getting in the UK where one day it's dull and raining and the next bright sunshine and hot. Anyhow, I needed to do something because my makeup application wasn't going well as it was clinging to dry patches and not looking very nice no matter how much I moisturised. 
The first product that sprung to mind to help with this was the Origins Drink Up Intensive Face Mask. I'd heard a lot of people rave about it and even thought about purchasing it on a couple of occasions but as I didn't have particularly dry skin at the time I didn't.  There are two in the range, this one which is used overnight and another which you wash off after ten minutes. When purchasing I decided the overnight version would be more suitable as I was looking for something that was quick and easy to use so with that in mind I headed to Selfridges Beauty Haul to make my purchase.
The packaging of the Origins Drink Up Intensive Mask suits the product well. The bright green packaging feels refreshing and makes me think of nature which suits the natural ingredients inside this product. These include Plant Glycerin, Hyaluronic Acid and Apricot Kernal oil which is said to instantly quench compromised skin with moisture. There is also Avocado Oil and Mango Butters that are said to 'build up a reservoir for tomorrow' and Japanese Seaweed that helps prevent future moisture loss. 
This sounded perfect so as you can imagine I had very high expectations for this product. The packaging says to use it twice a week or as desired so I used it for three consecutive nights as I wanted to get as much moisture into my skin as quickly as possible. 
The formula of the Drink Up Intensive Mask isn't too thick or thin and smells delicious. It has a light, slightly sweet fruity smell but it isn't sickly or gloopy in the slightest and glides over the skin like a dream. You need to use very little which is good because you use up less product. The cream also absorbs reasonably quickly into the skin so you don't have to wait a long time before going to sleep if you apply it directly before going to bed. This is perfect for me because this is when I always apply mine.
The following morning my skin looks amazing. It has a healthy glow, looks plumper and is very hydrated. The name of this product couldn't be more perfect because it is literally as though my skin drinks up the formula making it feel smooth, refreshed, awake and hydrated. My skin also feels extremely soft to the touch. The combination of all of these things means my makeup applies like a dream in the morning. 
I still use my normal moisturiser which is currently Origins Make a Difference which again is suitable for dry skin but the mask has worked just as well with other morning moisturisers I have used. Now I have been using this product for over a month I have reduced the amount of times I use it to twice a week which works very well for me. My skin has continued to be hydrated and smooth inbetween uses and this is a beautiful, convenient product I cannot fault in any way.
You can buy the Origins Drink Up Intensive Mask for £23.00 and without doubt it is worth every penny. This is definitely going to become a holy grail product for me and is something everyone should have in their skin care regime. I really can't rave about it enough.. it's amazing!
What is your favourite face mask? Have you tried this one by Origins?

Check out these great blogs by my lovely advertisers:
Pink Champagne: Hoad Shoes – An Independent Little Shoe Shop
Pink Panther: Beky Lou, MissLJBeauty, Polkadella, Beans Beauty Blog, Peacock Beauty, Eskey Beauty, Topdraw Fashion, Athina's Boutique, A Scottish Lass, Samelia's World
Pink Pearl:, Scottish Stef's Nail, Dulcie's Beauty Blog, Lisahh-Jayne
To advertise with Kimberley's Beauty Blog find out more info here