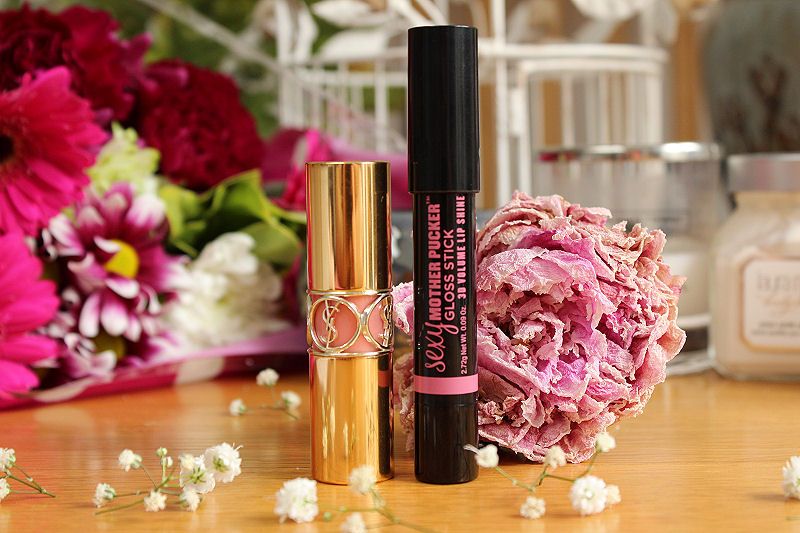 Hello Beauties! When I recently bought the Soap and Glory Sexy Mother Pucker Gloss Stick in Bashful I made an exciting discovery…. it is a very close dupe to the YSL Rouge Volupte No.8 Lipstick that I have been raving about!
The YSL lipstick is one of my all time favourites. The packaging is absolutely stunning and I don't think any other brand compares at the moment. The gold casing makes the product look and feel expensive and I love the intricate detail in the middle showing a hint of colour inbetween the entwined YSL branding. As for the lipstick itself? It's equally as gorgeous. No 8 in the Rouge Volupte range has a beautifully soft, creamy formula which applies like a dream and is smooth and hydrating on the lips. It isn't particularly long lasting but as this shade is a pretty baby pink it's easy to apply on the go and because the formula is so moisturising it doesn't matter how many times you re-apply, your lips aren't left feeling dry or looking patchy.
Another lip product I have also raved about are the Soap and Glory Gloss sticks however, until recently I only owned the red which is called Plum Jam. Last week I purchased Bashful as I love plum jam but wear pinks more often and it wasn't until I swatched it with YSL No 8 during a lipstick post that I realised they are practically the same. 
Of course, the packaging varies dramatically, Soap and Glory being more edgy and basic than it's luxurious YSL counterpart but the twist mechanism works well and I still like it. The formula is also very similar as it is soft, creamy and nourishing on the lips and the shade sheer but buildable. As you can see from the swatches above, both colours are almost identical to each other so much so that if I was shown both I definitely wouldn't be able to tell the difference. You wouldn't think it by looking at them side by side in the packaging though because Bashful looks alightly darker but its the swatches and application on the lips that count… And those are the same. Both lip products also have the same beautiful shine, are comfortable to wear and a dream to apply.
Besides the packaging there is of course one major difference between these two products and that is the price tag. The YSL Rouge Volupte lipstick in No. 8 is priced at £25.00 whereas Soap and Glory Bashful is only £8.00 so in comparison is a complete bargain!
What do you think of this dupe?

Check out these great blogs by my lovely advertisers:
Pink Champagne: Hoad Shoes – An Independent Little Shoe Shop
Pink Panther: Beky Lou, MissLJBeauty, Polkadella, Beans Beauty Blog, Peacock Beauty, Eskey Beauty, Topdraw Fashion, Athina's Boutique, A Scottish Lass, Samelia's World
Pink Pearl:, Scottish Stef's Nail, Dulcie's Beauty Blog, Lisahh-Jayne
To advertise with Kimberley's Beauty Blog find out more info here