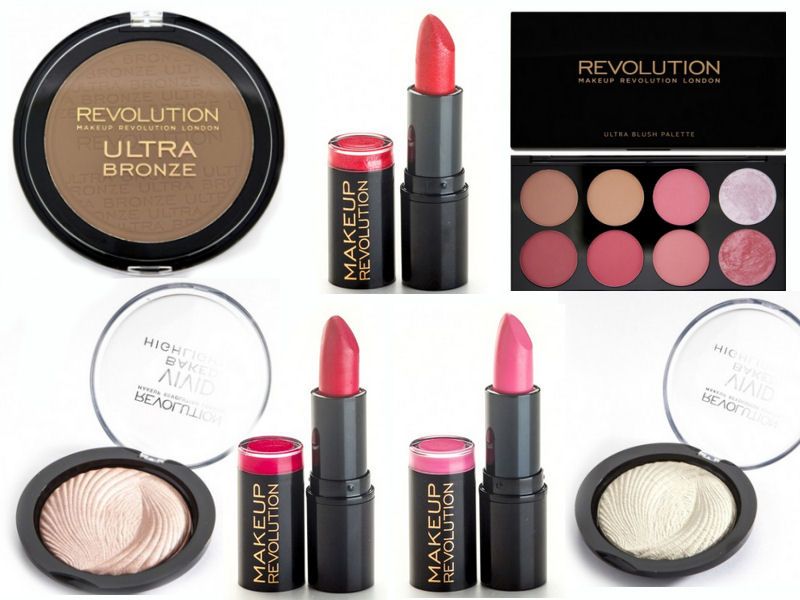 After getting some gorgeous beauty bits from Makeup Revolution which were featured in my haul post last week I have been using the products non stop and I've been super impressed by the quality of them. As they are so cheap I did wonder how well they would perform but I have really enjoyed using them and I cannot fault a single product. Watch this space for some in depth reviews of each but in the meantime here are the other Makeup Revolution products I've got my eye on…
Amazing Lipstick in Chic | £1.00 | Link 
The first of three lipsticks in my wish list is Chic which is a deep pink/red shade. I have one Makeup Revolution lipstick already in my collection and I absolutely love it. The formula is really hydrating, soft, smooth and creamy and the colour pay off amazing. I'm hoping others in the range are just as good.
Amazing Lipstick in Sweetheart | £1.00 | Link
The second lipstick is Sweetheart which is what I would describe as a bright bubblegum barbie pink. I love to wear shades like this in the Summer because it adds a really lovely pop of colour to any makeup look.
Amazing Lipstick in Dazzle | £1.00 | Link
This is the darkest lipstick pictured above and is a beautiful deep rich pink which reminds me of Girl About Town by MAC. I'd love to try this lipstick to see how it compares and because I love the formula so much.
Highlighter Peach Lights | £3.00 | Link
I recently saw a review on the Makeup Revolution Highlighters and ever since they have been on my wish list. They look so pretty in the pan and again remind me of the way MAC products are displayed. I also really love the peach colour as it's different from any of my other highlighters and would finish of a makeup look really nicely.
Highlighter Golden Lights | £3.00 | Link
Next is another highlighter, this one 'Golden Lights' which looks like a really subtle, pretty shade that would go with every makeup look. Again, I like the look of it in the pan and I think it would look really lovely on my cheek and brow bones.
Ultra Blush and Contour Palette in Sugar and Spice | £6.00 | Link
This blush and contour palette looks gorgeous. I love the shades and it would be perfect for travelling as you can create so many different makeup looks with just one palette. I like that some shades are neutral whereas others are deep and rich and others lighter pinks. The other blush and contour palette available is equally as nice and contains more neutral shades.. I really struggled to choose between them but as this has more of a mix of colours I chose this one.
I am a huge fan of the Nars Laguna bronzer but having just finished my fourth pan and it being an expensive product I am on the look out for an alternative. I think Laguna will always be my holy grail bronzer but I'd definitely like an alternative in my collection so it doesn't get used up so quickly and as I have been enjoying other products by Makeup Revolution I'd definitely be interested to give this a go too.
What do you think of my Makeup Revolution wish list?

Check out these great blogs by my lovely advertisers:
Pink Champagne: Hoad Shoes – An Independent Little Shoe Shop
Pink Panther: Beky Lou, MissLJBeauty, Polkadella, Beans Beauty Blog, Peacock Beauty, Eskey Beauty, Topdraw Fashion, Athina's Boutique, A Scottish Lass, Samelia's World
Pink Pearl:, Scottish Stef's Nail, Dulcie's Beauty Blog, Lisahh-Jayne
To advertise with Kimberley's Beauty Blog find out more info here