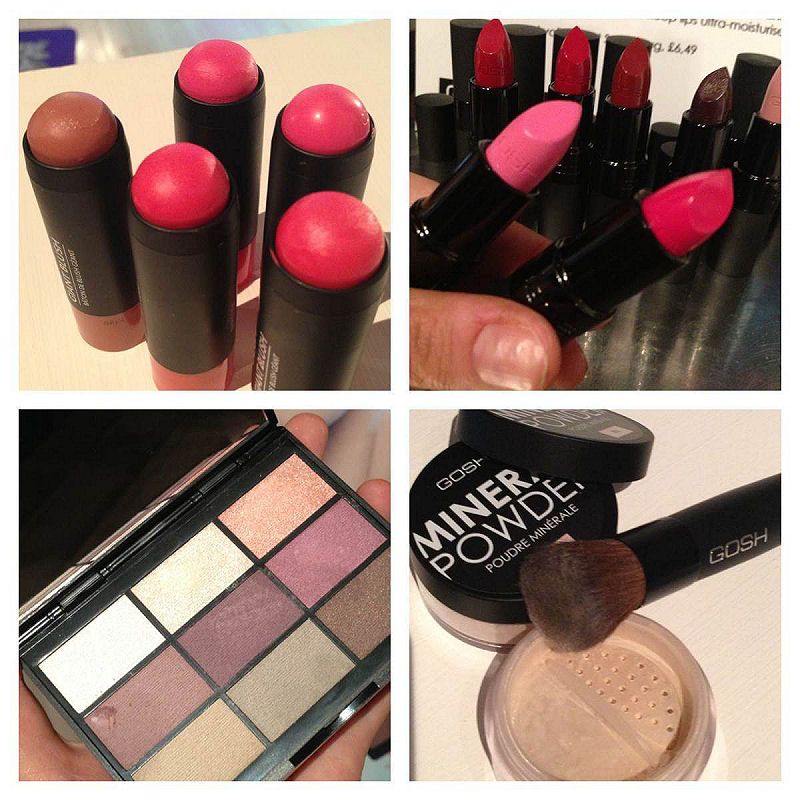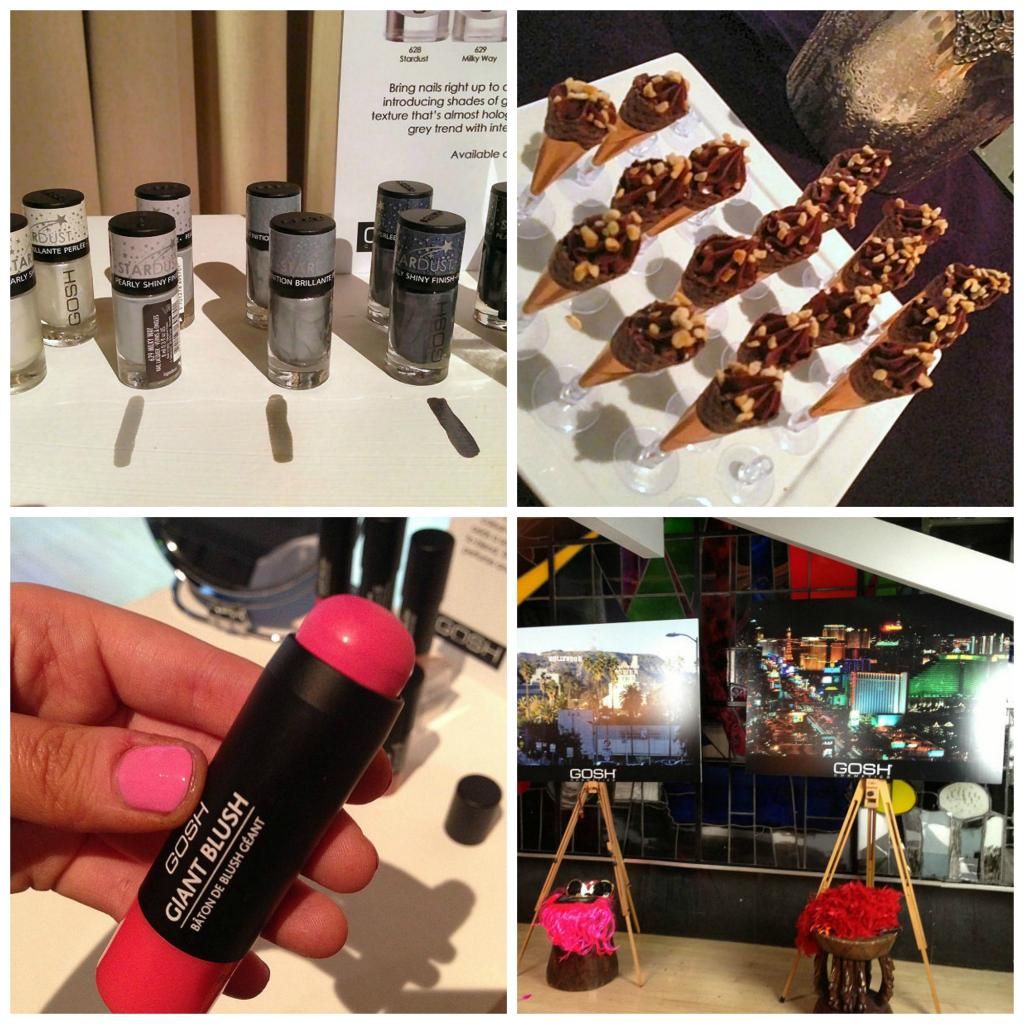 Last week I was lucky enough to attend the launch of the GOSH Autumn Winter collection in London. The venue was a large room in a hotel that was the perfect setting as there was lots of space to view the products and features such as a huge stained glass window which made a beautiful back drop.
I attended the event with Rachel from Beauty Queen UK and on arrival we were greeted by the lovely PR girls who as always were very welcoming. After selecting one of the delicious drinks (lychee lemonade) and sampling the pretty canapes we headed straight over to the makeup stands displaying the gorgeous new AW collection. 
Eyeshadow Palettes
The first stand we looked at had three beautiful palettes that each had nine shades in them. All of them looked beautiful and sported a large range of colours so there is something for everyone whether your a fan of brights (To Play With in Vegas palette), blue tones (To Have Fun With in LA palette) or neutrals (To Enjoy in New York). My favourite palette is the New York palette and is the one pictured above. It's very pretty! The shades are super pigmented, there is a good variety of shades and the sleek palette shows them off perfectly.
Velvet Touch Lipsticks
Next we had a look at the pretty lipsticks on offer, eight to be precise and swatched our favourites. I loved the look of the two pictured above, two pretty pink shades that were very pigmented. I've used GOSH lipsticks before and really liked them so it's great to see more have been added to the collection!
Giant Blush
The blushes are a product that really excited me when I saw them and are a favourite of mine along with the New York Eyeshadow palette. I love the concept of these blushes because they are super easy to use on the go as they can be applied without a brush and are also multiple purpose. All three shades are beautiful and easy to wear.. I look forward to trying them!
Mascara and Brow Gel
Other products we looked at included an eye brow gel that is available in three shades and two mascara's.  The first, the Crazy Volume Mascara is in funky bright pink packaging and is said to give lashes a major volume boost that lasts for hours whereas the second, Double Precision Mascara, is two ended in order to add precise definition and volume.
Mineralise Powder and Brush
Last but not least we looked at the Mineralise Powder and Brush which looked lovely. Four different shades are available and the product aims to provide luminous flawless skin with medium to full coverage. I'm excited to try this product because I've never tried one like it, it's also paraben and perfume free.
Once we had a look at all the products we were treated to a manicure (which after seven days still looked flawless) and also a make over using the new products in the collection. It was really great to try out the products and ask the makeup artist more about them. I really loved the finished look  and can't wait to try them out for myself! The New York palette and blushes were definitely the stand out products for me from this collection!
The GOSH AW collection is now available in Superdrug stores and definitely worth a look as the products are beautiful! The website is here. 
What do you think of the GOSH AW Collection?

Check out these great blogs by my lovely advertisers:
Pink Champagne: Hoad Shoes – An Independent Little Shoe Shop
Pink Panther: Beky Lou, MissLJBeauty, Dulcie's Beauty Blog, Peacock Beauty, A Scottish Lass, Topdraw Fashion, Delabelle's Beauty Blog, Lisahh-Jayne, 
Pink Pearl:, Scottish Stef's Nail, Oh Hello Mango, Tam Loves Tea, Mummy's Beauty Corner
To advertise with Kimberley's Beauty Blog find out more info here